Instant Pot Duo Plus Review
Get up to speed on Instant Pot's popular 9-in-1 pressure cooker
Similar to its predecessor, the Instant Pot Duo, the Instant Pot Duo Plus has become a popular option in the kitchen.
It offers a range of upgraded features and programmable options that provide versatility and ease of use.
Read our full review below to find out if the additional options are worth it.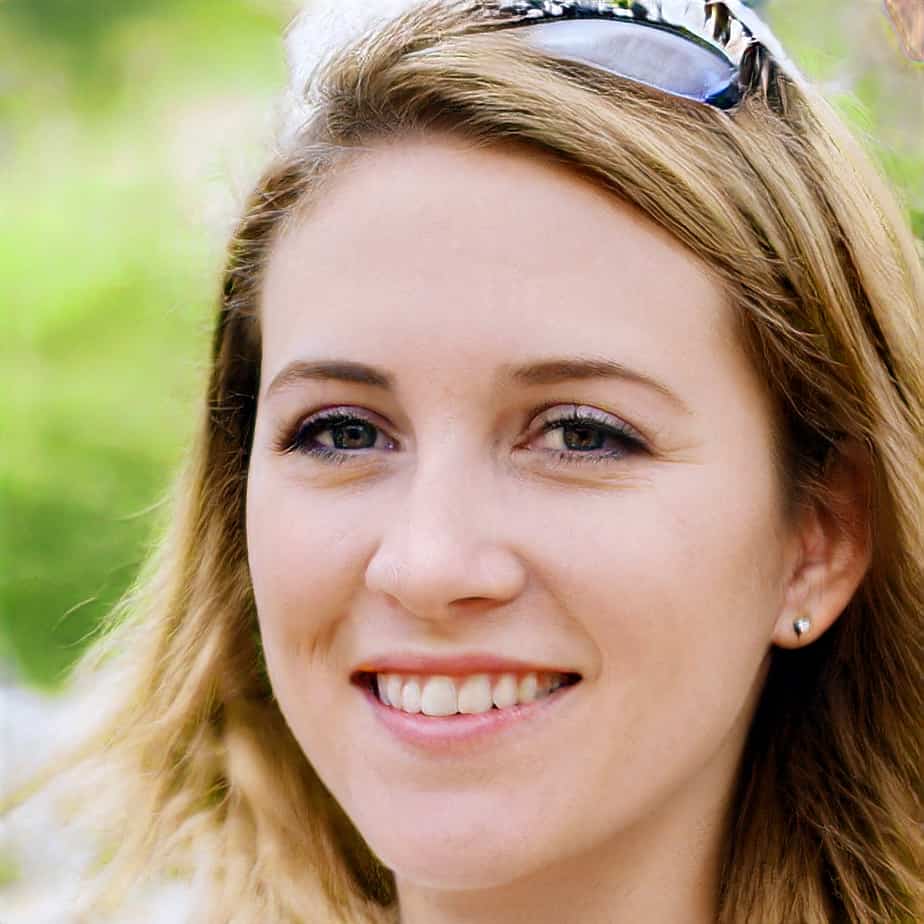 9-in-1 Kitchen Appliance

The Instant Pot Duo Plus features 9 cooking programs that can replace 9 common kitchen appliances including Pressure Cooker, Slow Cooker, Rice Cooker, Saute, Warmer, Steamer, Egg Maker, Yogurt Maker, and a Cake Maker. In addition, the Instapot Duo can also function as a sterilizer.

The Cake, Egg, and Sterilizer options are the newest additions in the model. The Sterilizer program allows the users to pasteurize milk and sterilize different baby bottles jars and utensils.

12 Custom Pre-Set Temperatures

The Instant Pot Duo Plus includes 12 pre-set temperatures, similar to the Instant Pot Duo and Smart Wifi, allowing customers to quickly reach their desired temperature.
15 Smart Built-In Programs

The smart built-in programs of the Instant Pot Duo Plus is just similar to its previous model. But, it adds one new option which is the Cake Program.

The complete list of 15 programs are as follow:

Pressure Cook
Manual Cook
Slow Cook
Keep Warm
Soup
Meat and Stew
Bean and Chili
Rice Cooker
Multigrain
Porridge
Saute and Simmer
Poultry
Steam
Cake
Yogurt

LCD Display and Button Controls

Unlike the Instant Pot Duo, the Duo Plus model offers a blue easy-to-use LCD display interface. The display offers quick access to all of the Instant Pot's pre-programmed cook settings and provides key information like cook times, temperature, and more.
10 Safety features

Similar to the other InstaPot models, the Duo Plus also offers 10 safety features, providing a safe and secure product to customers. These include:

Steam Release,
Anti-Block Shield
Safety Lid Lock
Lid Position Detection
Automatic Temperature Control
Overheat Protection
Automatic Pressure Control
Electrical Fuse
Thermal Fuse
Leaky Lid Detection
The Instant Pot Duo Pro is available in three sizes: 3 quart, 6 quart, and 8 quart.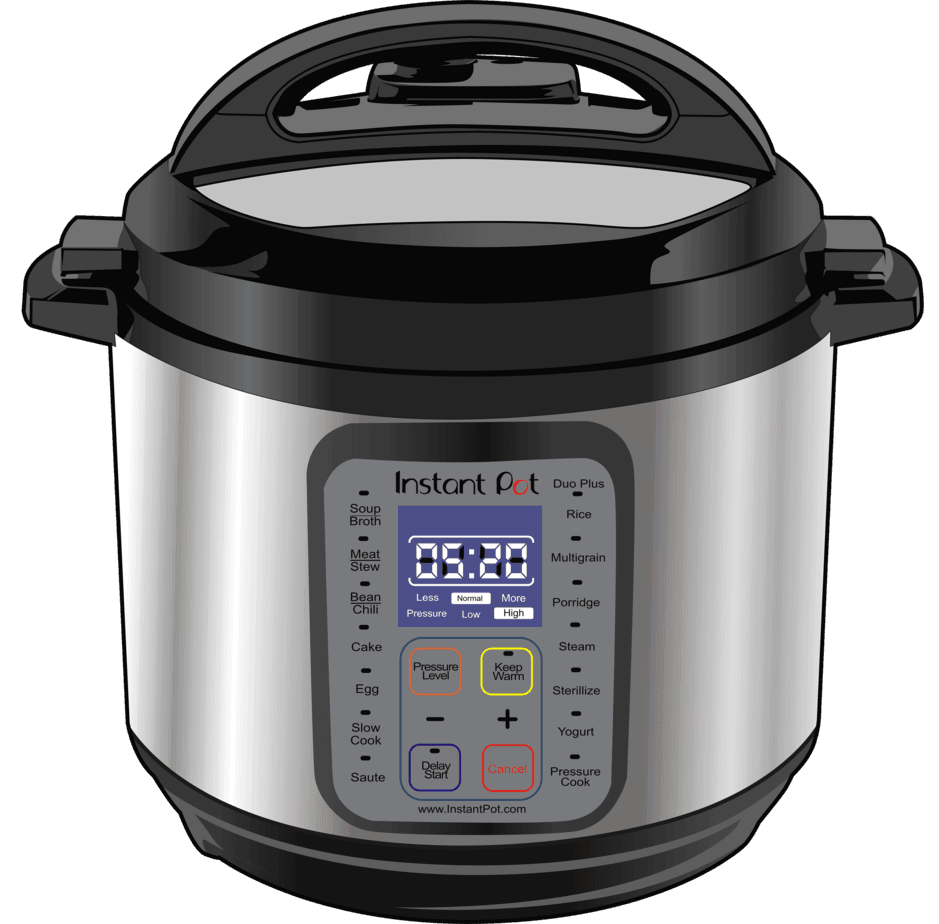 3 Quart
For 2-3 individuals, ideal for single dishes, sides, rice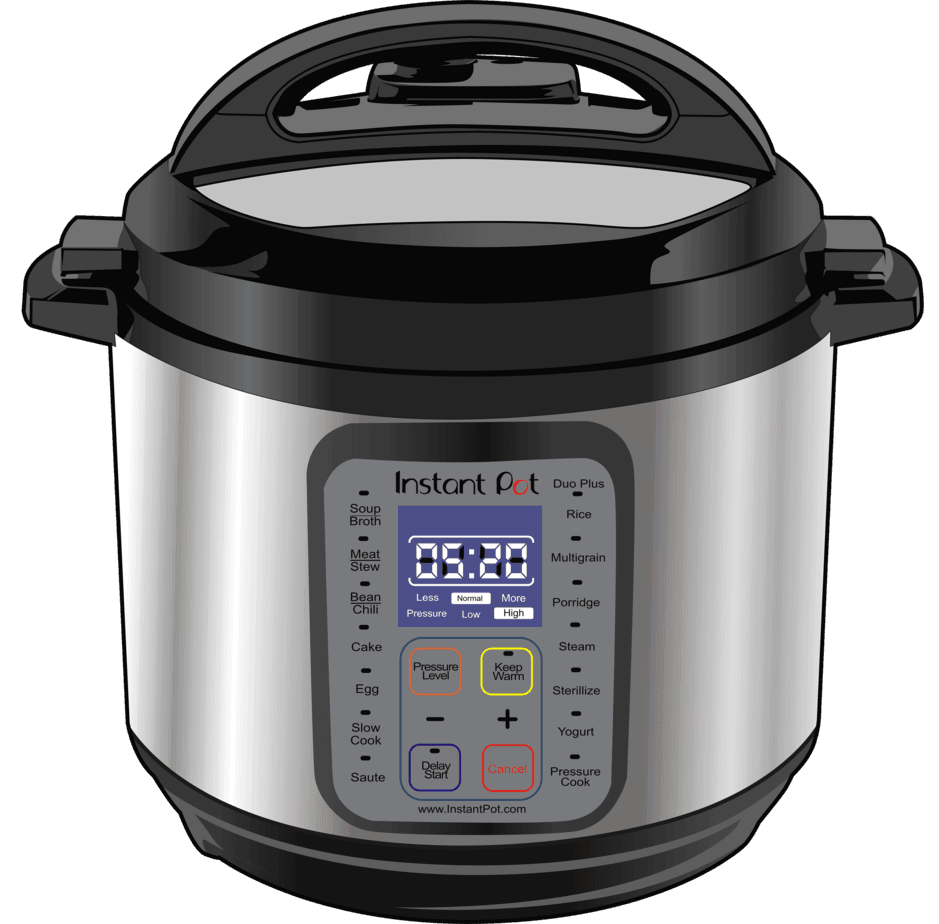 6 Quart
For families of 4-6 people, most popular option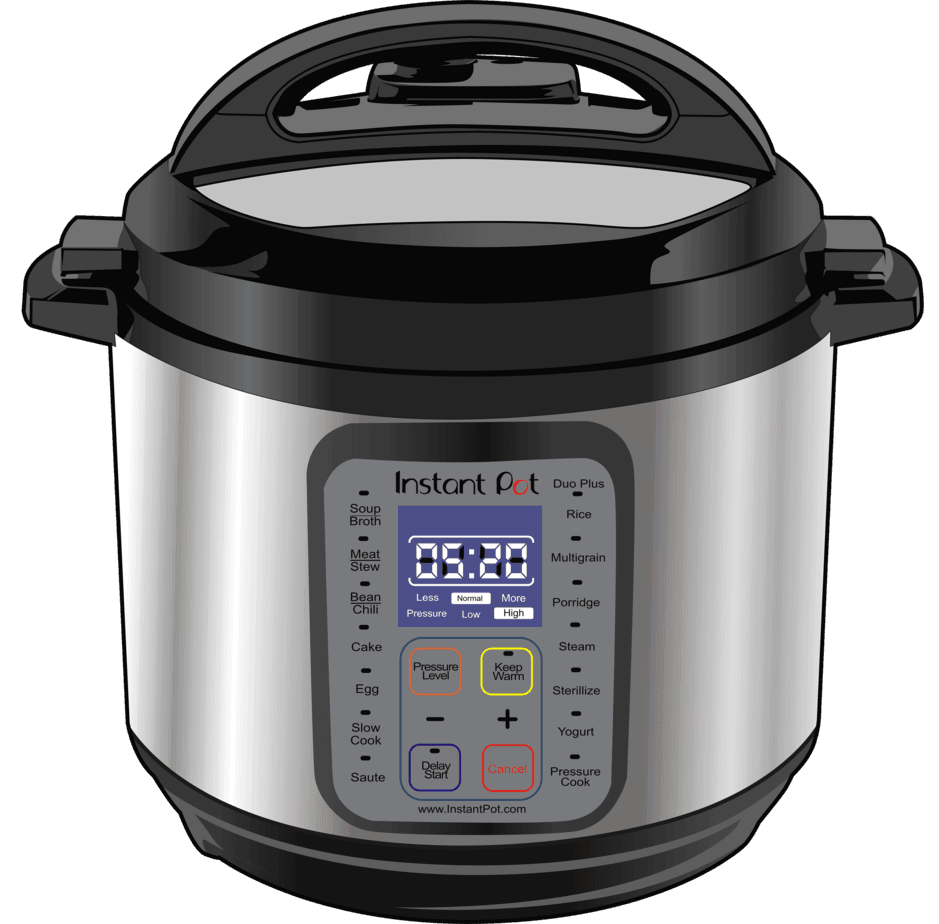 8 Quart
For larger families of 6+ people, great for big meals
New Functionality

If you think that the Duo series needed some improvements, then this Duo Plus model might be a good fit. It added a cake cooker, egg cooker, and sterilize feature.

3 Size Options

The Instant Pot Duo Plus is available in 3 sizes - 3 quart, 6 quart, or 8 quart to fit every kitchen.

Bright LED Display

The LED display of this InstaPot is very bright and vivid. It allows the users to easily and efficiently track of the programs and settings.

Consistent Cooking

One of the best parts about the Instant Pot is ensuring your meals are cooked consistently each time. No more do you have to sit over a stove to constantly check whether your food is burning. The Instant Pot Duo Plus's pre-built cooking programs do the leg work.

Delayed Start

The Instant Pot Duo Plus allows customers to prep their meals in advance of up to 24h with a 24h delayed start feature. Users can fill their Instant Pot and set it to begin at a specific time. This is convenient for preparing a meal in the morning and having it ready by dinner.
Learning Curve

Due to the several options and settings, there is a definite learning curve for the users. And it might take time for one to fully master the overall pressure cooker.

Cook Times

Many customers noted that Instant Pot recipe cook times often didn't include time for the Instant Pot pressure to build, which can often take 10-15 min. So if you're calculating how long a meal will take, make sure to factor that in.

More Expensive

The Instant Pot Duo Plus is more expensive than the Instant Pot Duo. If you're looking for the most inexpensive Instapot option, the Duo might be your best bet.

No Wifi

Unfortunately this model doesn't come with Wifi connectivity. If you're looking to control your Instant Pot with your phone, check out the

Instant Pot Smart Wifi

.