Air Fryer Buyer's Guide: What Is the Best Air Fryer for 2021?
Read Reviews and Compare Top Air Fryers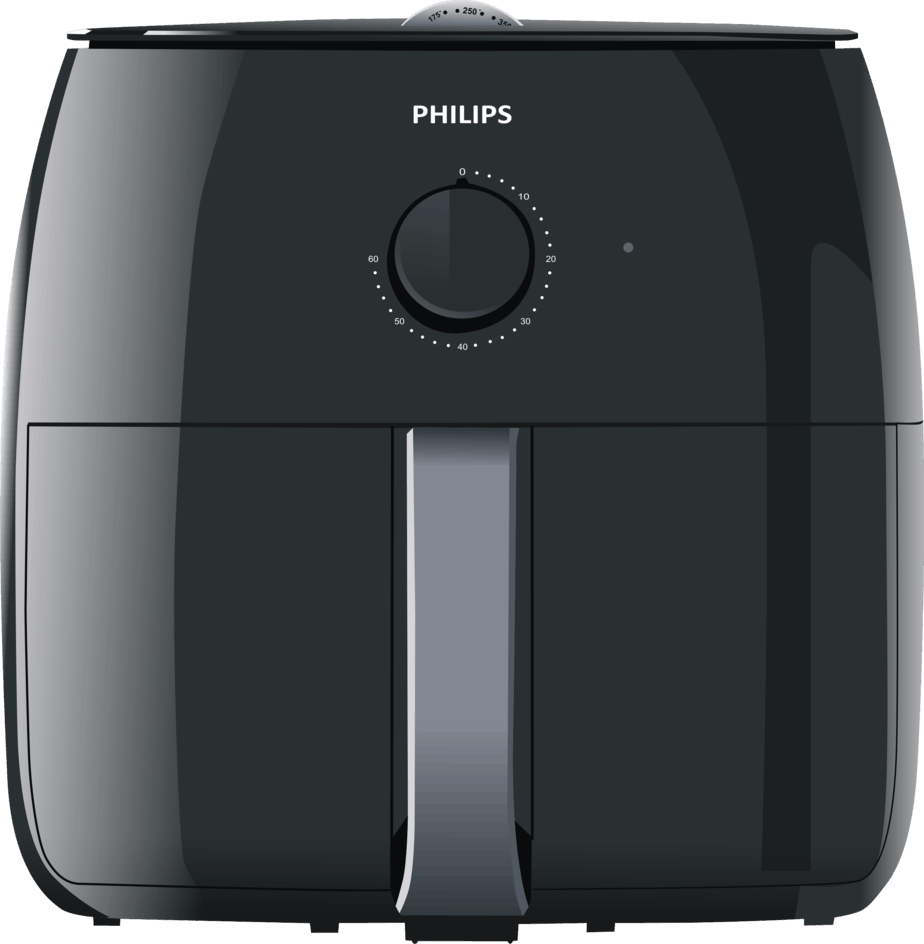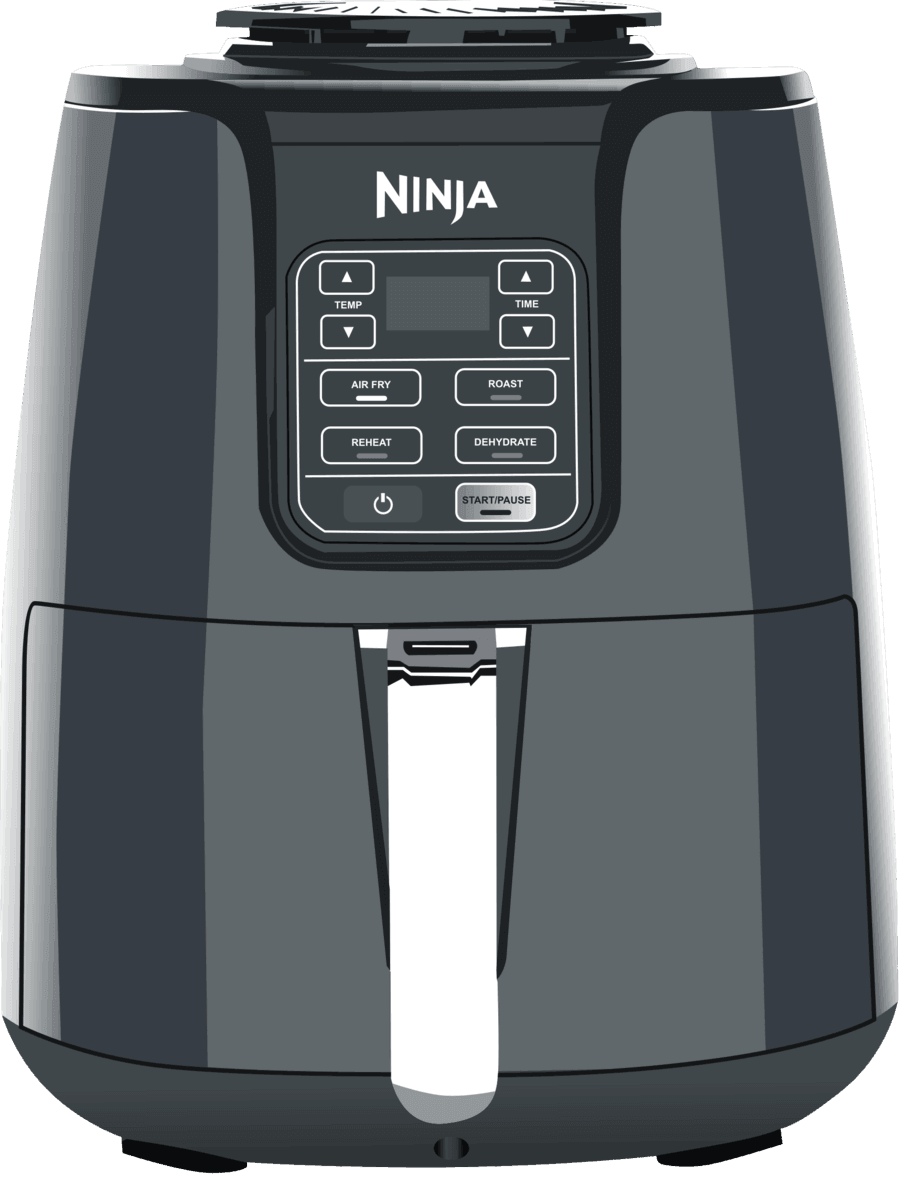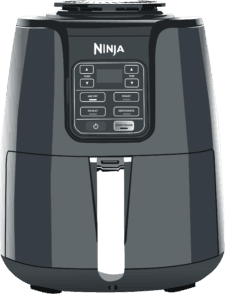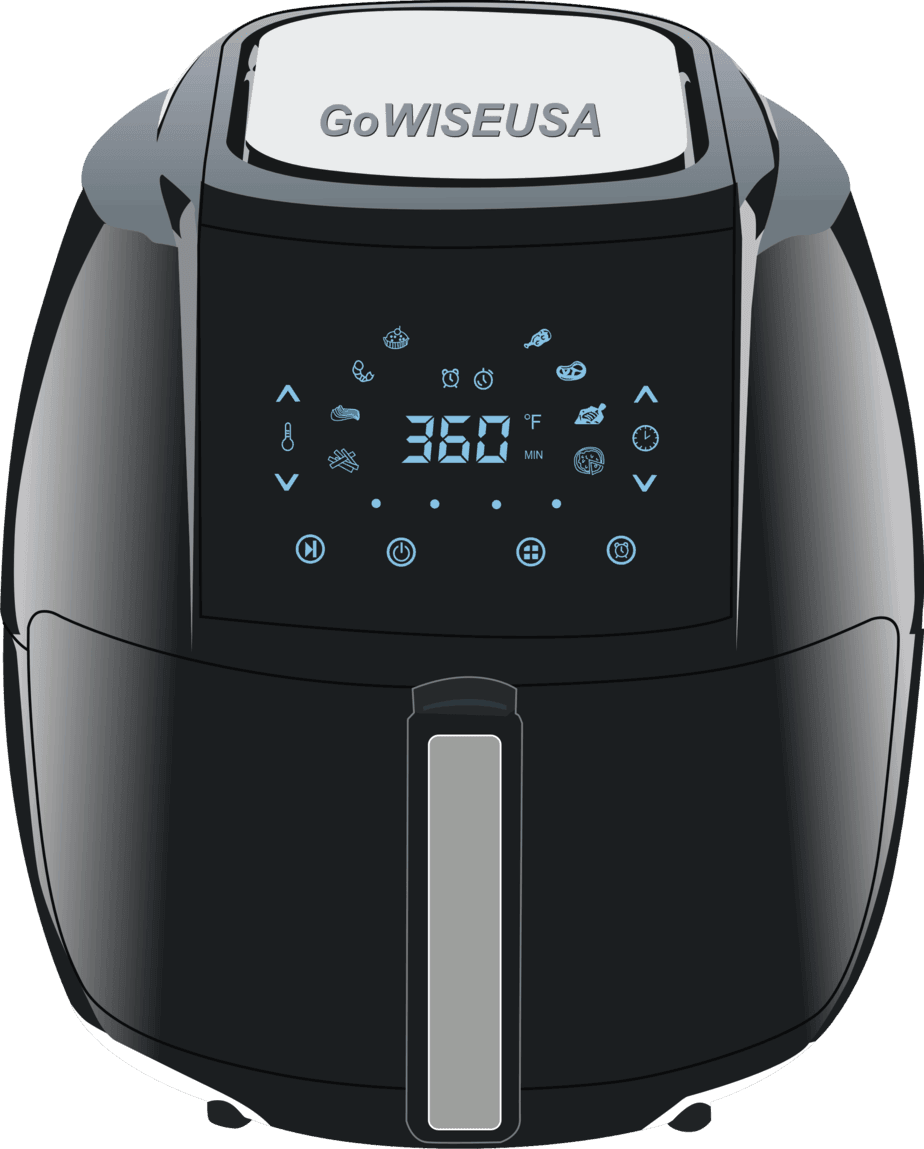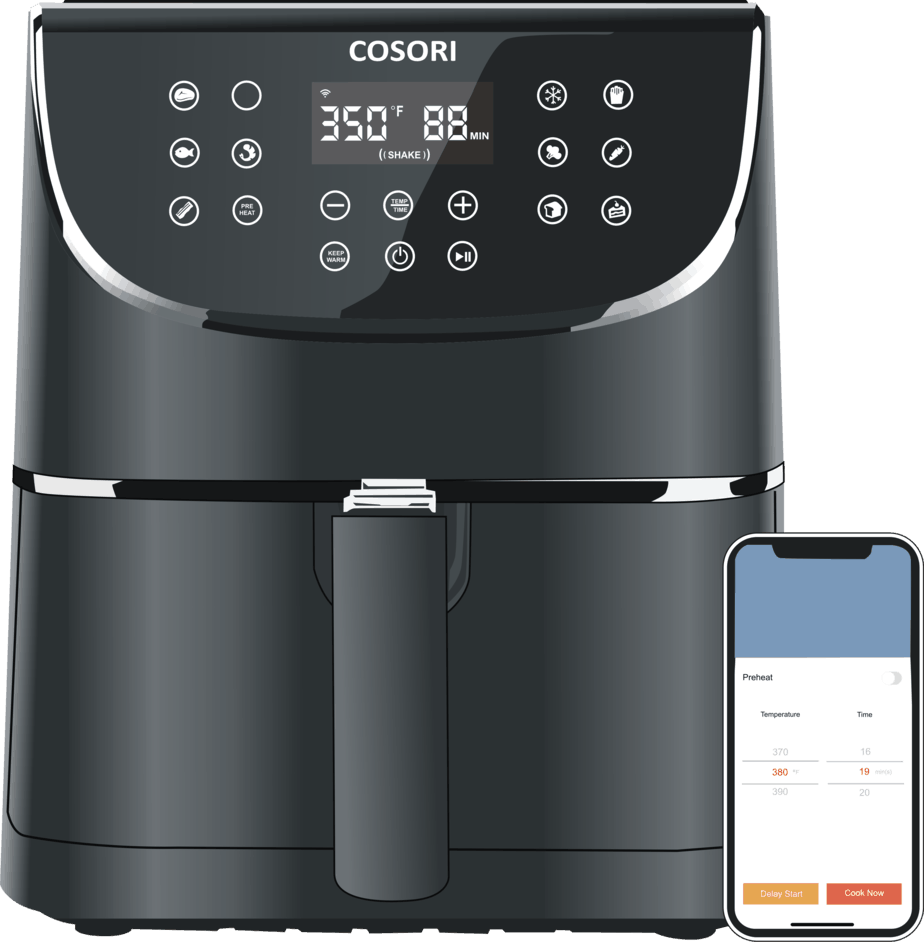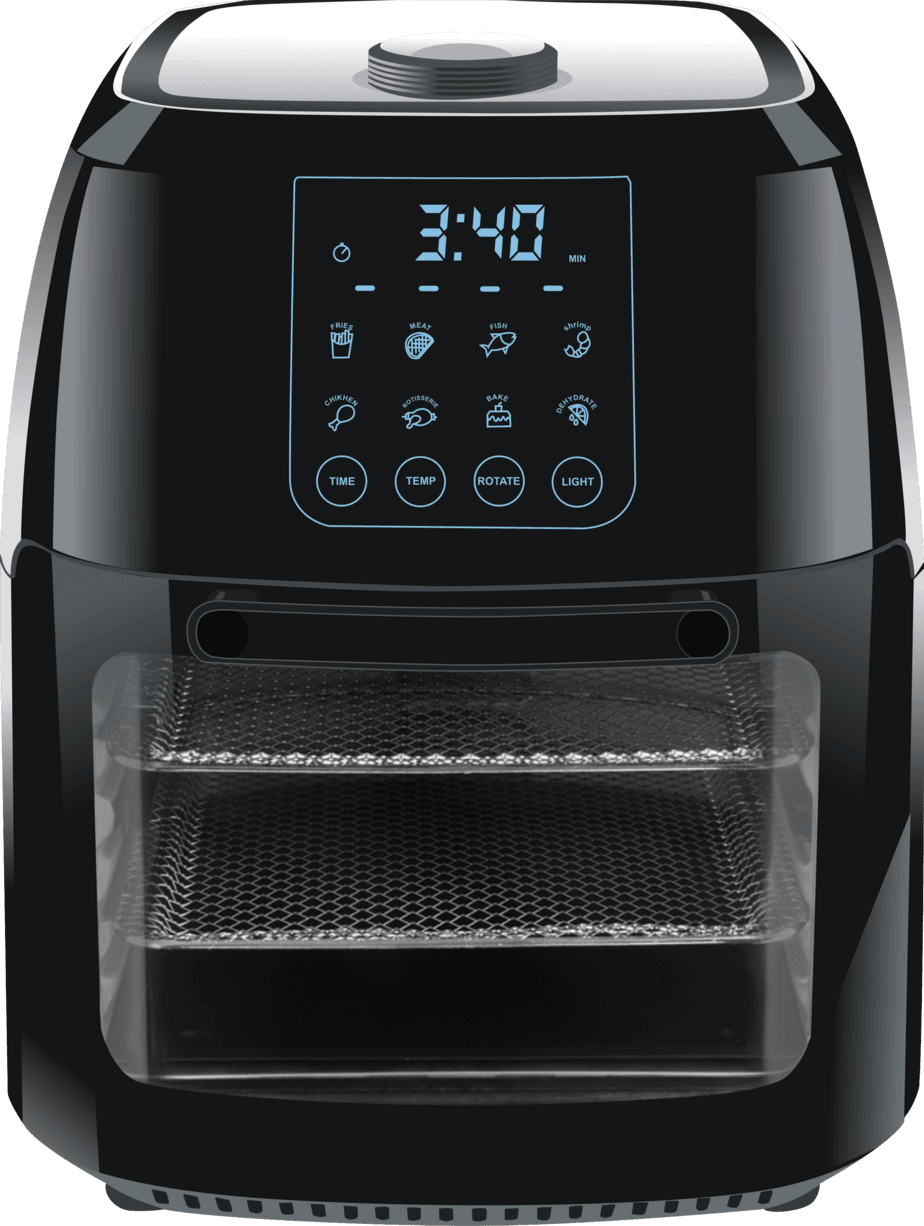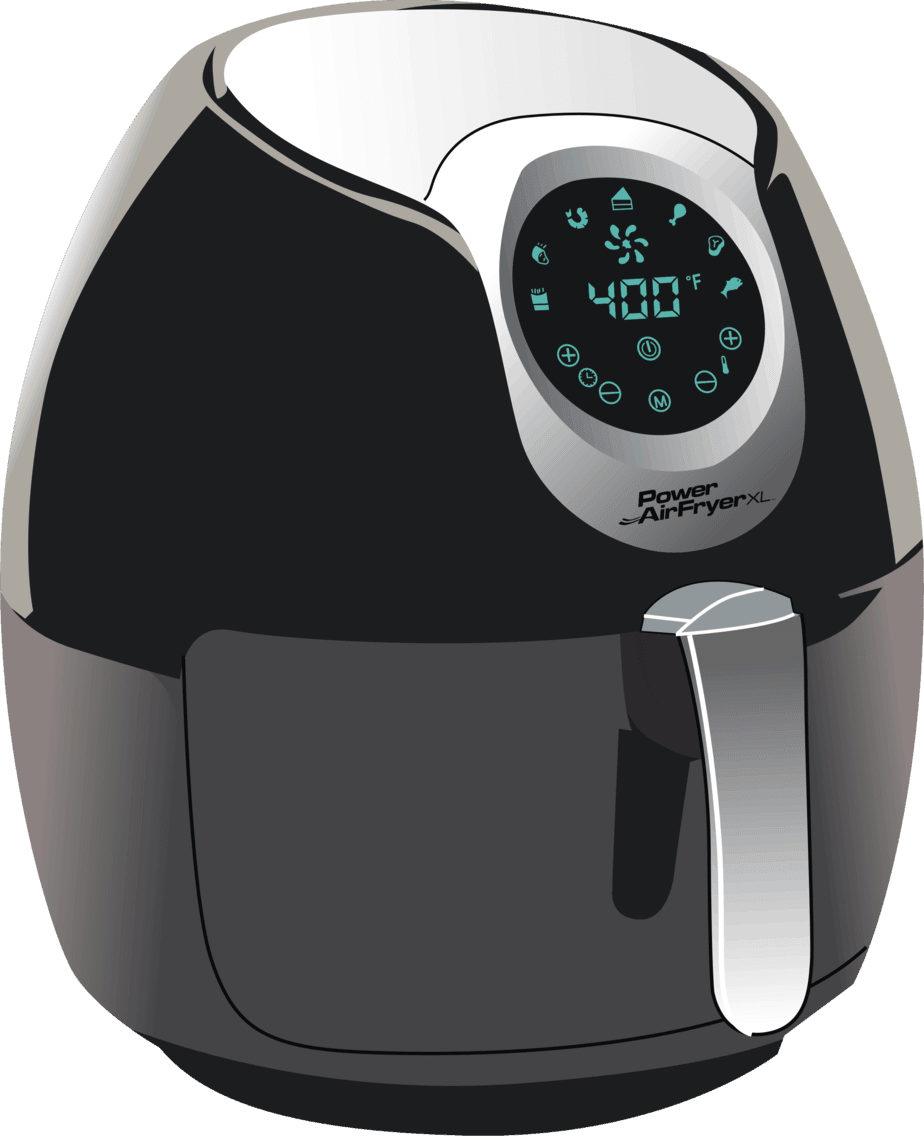 The convergence of the tech and culinary industries continues to grow more and more impressive, with new tech-infused kitchen gadgets surfacing what seems like every day, week, and month. One hot category of kitchen devices that burst onto the market is the air fryer. While air fryers exploded in popularity just a few years ago, the first air fryer on the market — from Philips, the big name in this arena — actually appeared in 2010.
So yes, this technology is at least a decade old, but if you haven't yet gotten your hands on an air fryer, don't fret: Only recently has air fryer technology really gotten good enough to crisp up chicken wings the way a deep fryer would. That's always been the claim, but until brands started putting out better products, air fryers were hardly better than countertop toaster ovens.
Lucky for you, a decade contains much trial, error, and eventual success, so since that first Philips air fryer in 2010, several brands have cropped up with air fryers that would draw a sigh of deliciousness from even Gordon Ramsay's mouth — in this air fryer buyer's guide, we cover everything you need to know about the best air fryers on the market right now.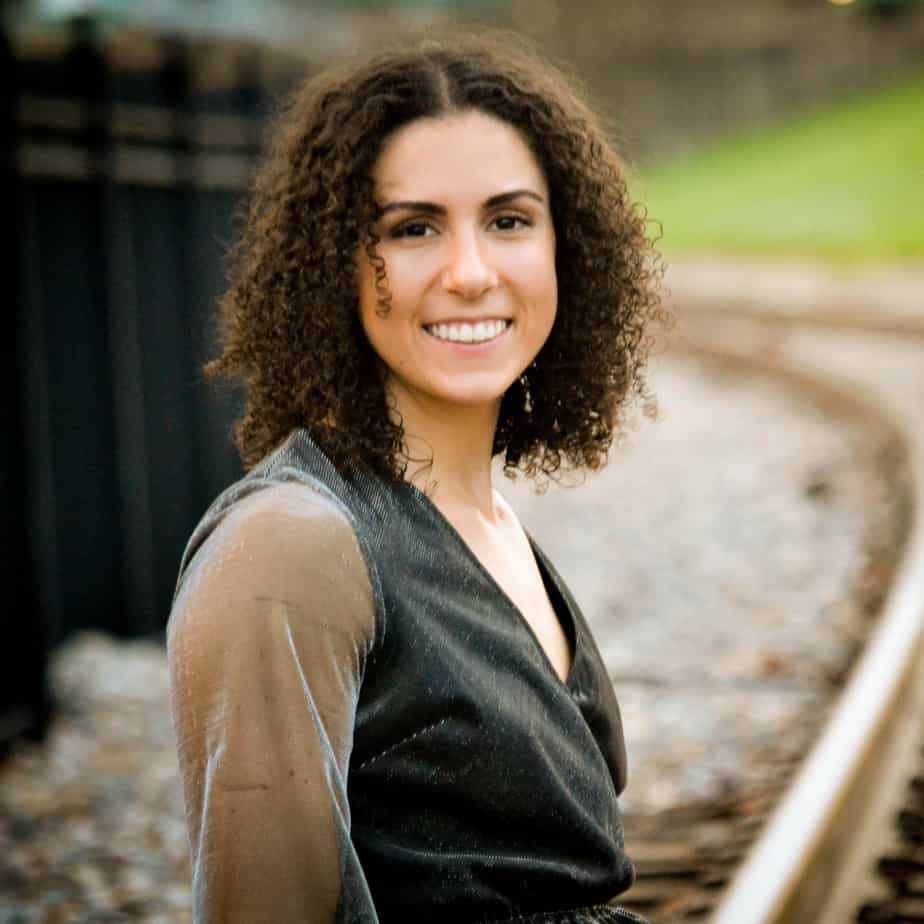 An air fryer is a countertop kitchen appliance that quickly cooks food with hot, rapidly circulating air. It uses convection to circulate the air (and sometimes a small amount of oil, depending on your model and recipe), around your food, cooking it from all directions.
Air fryers are similar to convection ovens, but the difference is that air fryers have more powerful fans in a smaller, more enclosed space. Thus, the hot air moves quickly into all the nooks and crannies of the food present, resulting in the even, golden crunchiness that people love so dearly about fried foods.
The benefits of having an air fryer are many! Here are some of the main strong points that any air fryer owner will argue are life-changing.
Relatively quick

Most air fryers have a time cap of 60 or 30 minutes, so anything you'll make will be done in an hour or less, a big deal for main dishes like meat and poultry.

Cooks food evenly

The most unfavorable thing about many forms of cooking — stove top, grill, oven, microwave, slow cooker — is that the heat doesn't penetrate food evenly unless you standby to stir, flip, or shake. In an air fryer, hot air rapidly circulates food and hits it from all directions, resulting in evenly cooked food.

Healthier than other forms of frying

Perhaps the most well-known and evangelized benefit of air fryers is that they can produce far healthier versions of your favorite crispy, golden, deep-fried foods. We're talking French fries, chicken wings, potato chips, and other delicacies that usually end in 17 grease-stained napkins. Air frying can even be healthier than pan frying, because you don't need any oil at all — even on a stove top, cooking anything requires some sort of fat.

Limitless food options

Despite the name, you don't have to relegate your air fryer only to frying. By playing with the settings or using helpful presets, you can make muffins, roasted chicken, ravioli, and even hard-boiled eggs. An air fryer can easily become another multi-functional appliance like the Instant Pot!

Easy cleanup

Compared to deep frying and even pan frying, using an air fryer offers unparalleled ease of use and cleanup. No oil generally means no mess, and most air fryers have a compartmentalized design, meaning you can just pop out the portion that holds the food and wash it by hand or put it in the dishwasher.

Great for DIY chefs

If you're the kind of person who loves restaurant-style meals, but doesn't love going out to eat so as to spare yourself the effects on your waistline and wallet, an air fryer can be a great addition to your arsenal of kitchen tools: You'll be able to exercise culinary creativity and make healthier versions of your favorite takeout or dine-in meals.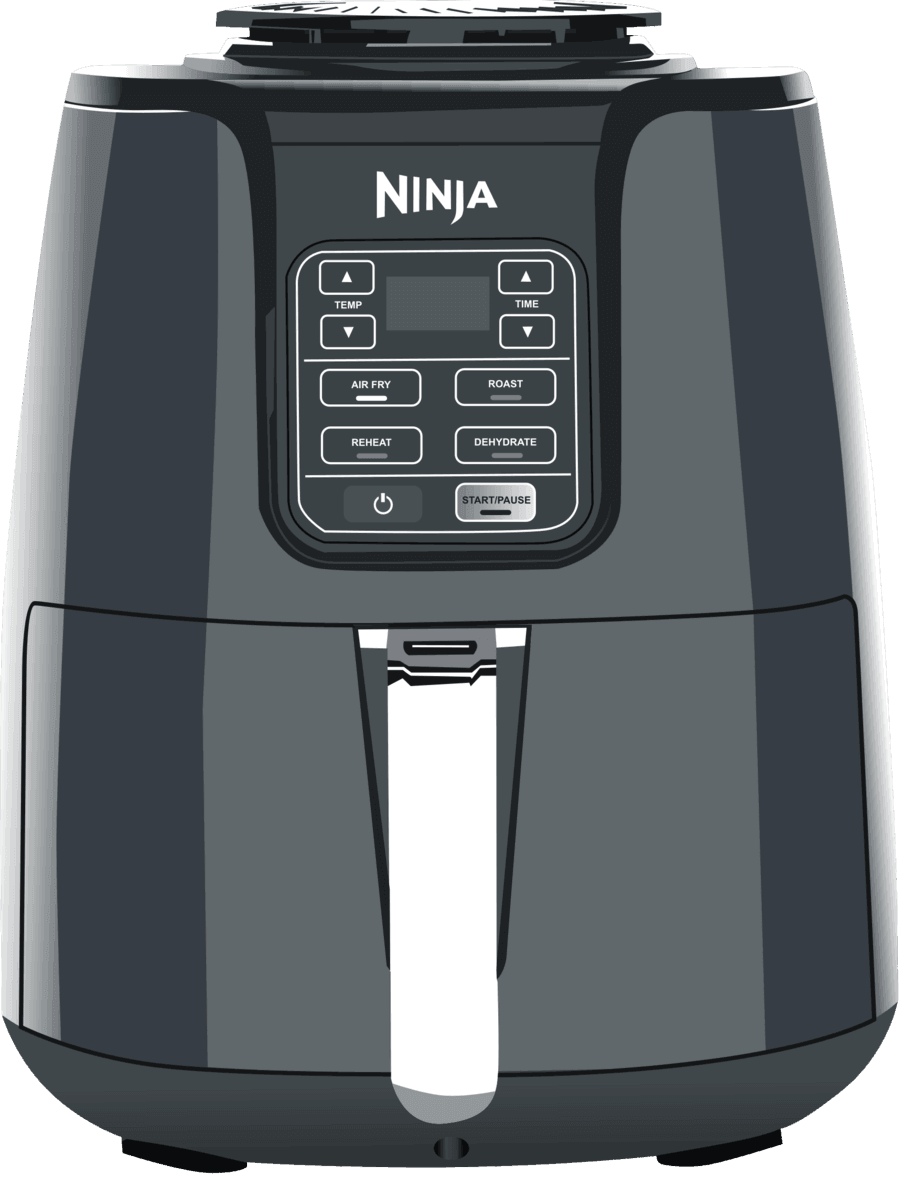 Best Air Fryers: Our 2021 Picks
Here are our top picks for three Air Fryer categories:
Best Budget Pick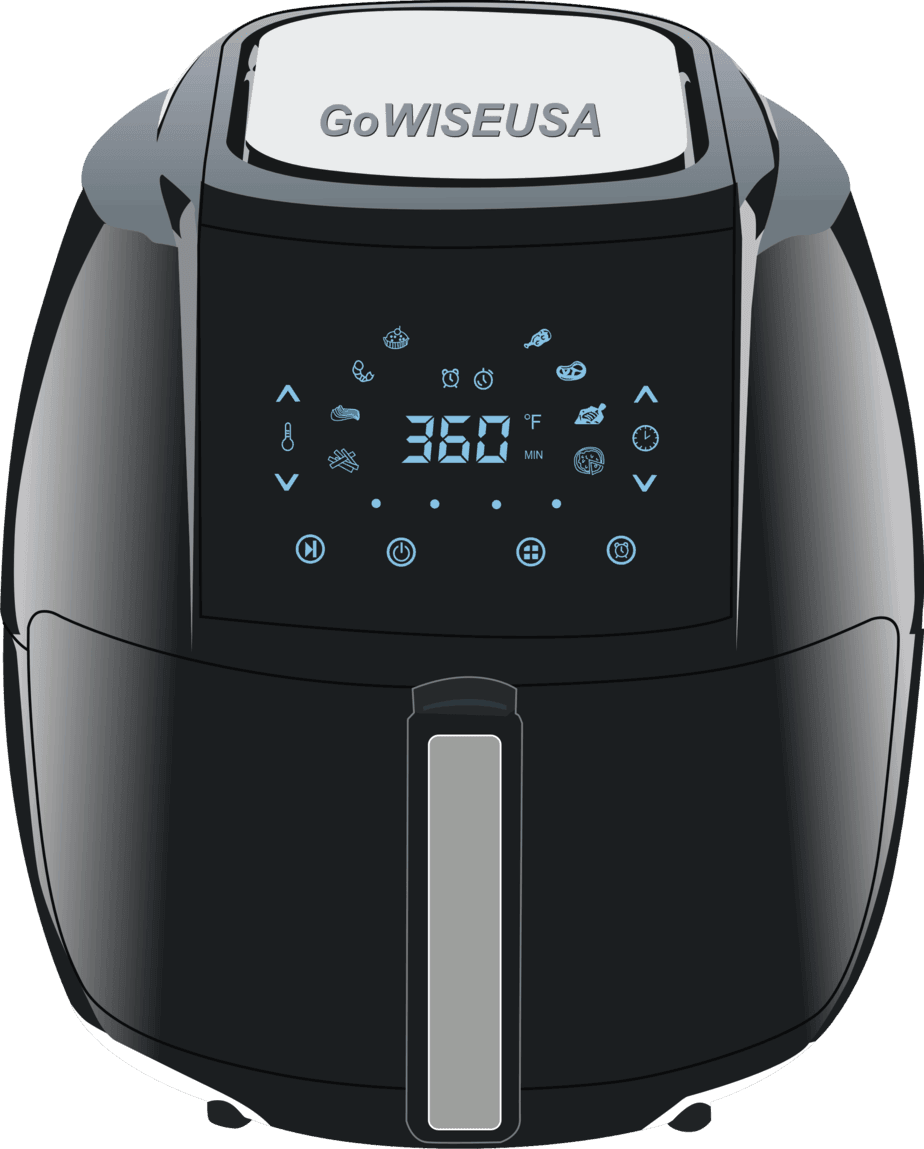 Best Overall Pick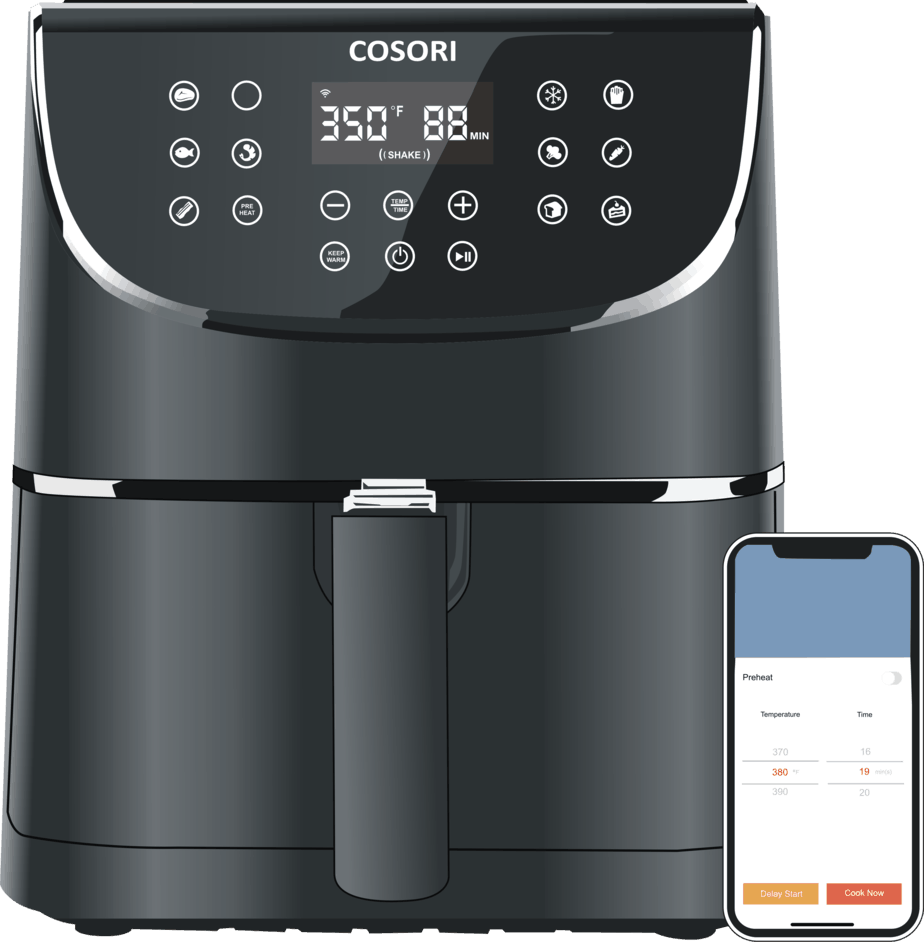 COSORI Smart WiFi Air Fryer
Best Premium Pick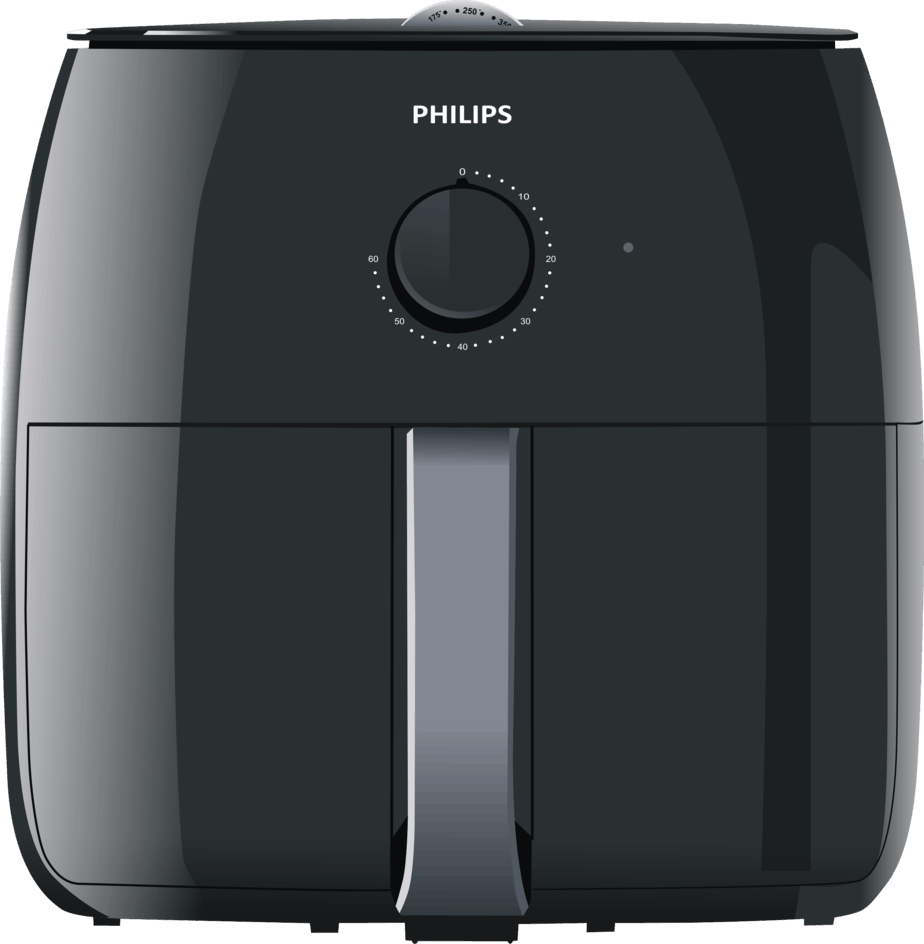 COSORI Smart WiFi Air Fryer
Cosori has a few different models, but the Cosori Smart WiFi Air Fryer is the most well-rounded with a great list price of $120 (check Amazon for cheaper prices). At 5.8 quarts, this air fryer serves three to five people, and with its 11 preset cook functions, you can easily cook delicious meals even for the pickiest eater in your family. Your purchase comes with a recipe book of 100 recipes that can be adapted to fit your family's needs, and you can create recipes of your own in the VeSync app that connects to the air fryer.
5.8-quart size great for feeding families

Wide variety of preset cook functions

Easy to use for beginners

Preheat, shake, delay, and keep-warm functions

Ergonomic design and smart build
Some buyers have experienced issues with the touchpad on the LED screen

Others complain that it has a strong chemical or plastic smell

Large size might take up too much counter space
Power XL might throw you off (or entice you) with some marketing jargon, such as "super-heated rapid air technology" and "turbo cyclonic air," but all that really means is that it cooks food with hot air from all angles — the basic feature that makes an air fryer an air fryer. Jargon aside, the Power XL Power Air Fryer is a no-frills air fryer that will do everything you need it to do without bombarding you with unnecessary features.
Simplistic features are great for those who don't want a multi cooker

4.1 out of 5 stars on Amazon, with praise for its simplicity and ease of use

Cool-touch handle and casing

Easy to clean with just two parts

6-in-1 functionality: air fry, roast, bake, steam, saute, and grill.
Vents very hot air out of the back; some buyers warn others about fire hazards

Making sweet or soft dishes might be too difficult with lack of presets

Might present a learning curve for beginners
Philips released the first official air fryer an entire decade ago in 2010. Since then, Philips has remained a household brand in the air fryer arena, consistently releasing new products and entire collections. The XXL collection includes the brand's largest, most powerful air fryers, which hold up to three pounds and four quarts.
Big, multi-functional, and powerful

Comes from a trusted brand with a decade of making air fryers

Saves you time in the kitchen

Uses less energy than cooking food in an oven

Unique TwinTurboStar technology
Rotary dial versus touch display

On the expensive side at a list price of $300
GoWISE USA 8-in-1 Digital Air Fryer
The GoWISE Air Fryer is our pick for best budget air fryer because it offers a great collection of features and functions for less than $100 (check Amazon for prices). It comes from a reputable brand that also makes pressure cookers, ovens, grills, blenders, and health gadgets. Consider this GoWISE Air Fryer the perfect entry-level product for curious home chefs.
Versatile: cook everything from cupcakes to pot roast to potato wedges

Fast, sturdy, and aesthetically appealing

A handful of features give it a one-up against many competitors (cake, start/stop, alarm, cool-touch housing).

8 one-touch cooking functions

Cool-touch handle and housing add a safety element
Some buyers report malfunction after one or two uses

Nonstick coating may begin to flake off

Extremely limited warranty
Known mainly for its blenders and food processors, Ninja actually makes a mean air fryer (and pressure cooker, but let's focus on the appliance at hand…). The Ninja Air Fryer boasts a unique set of features that sets it apart from many other air fryers. While lacking in some departments, like the number of functionalities and preset cook settings, the Ninja Air Fryer makes up with its efficiency and efficacy in the few features it does offer. It seems as though Ninja decided to focus on quality of settings over quantity of settings with this one.
Doesn't take up too much counter space

Large capacity fits two pounds of fries

Might replace or reduce your need for stovetop, oven, and microwave

Ceramic instead of stainless steel or teflon
Some buyers noted that the Ninja Air Fryer runs a bit hot

Might have a strong rubber or plastic smell, according to reviews

Only four cooking functions (less than most air fryers)
The OMORC Air Fryer is a very aesthetically appealing and provides all the basic features of a good air fryer, plus a few extras. The combined touch screen and knob control allows for ultimate customization of cook mode, time, and temperature; the 6-quart capacity and preset cooking functions make this air fryer great for beginners with big families.
Easy to operate and clean

120-minute heat preservation

Super-sensitive controls thanks to the combined touch screen and knob mechanisms
Some reviewers reported that the heat from this air fryer cracked their countertops

20-degree temperature increments instead of 10-degree

Some report that nonstick coating flakes and basket gets stuck in the housing

User manual is not well put-together
Chefman 6-Liter Multifunctional Digital Air Fryer
Chefman has really upped the air fryer game with this oven-like appliance. It looks like a toaster oven and an air fryer meshed together and the result was a multi-functional appliance perfect for feeding crowds and exercising culinary creativity.
Multi-layer cooking ability

More oven-like than most air fryers

Interior lighting allows you to easily check on your food as it cooks

4-in-1 appliance functionality plus 8 one-touch presets
Larger than most, not great for limited counter space and storage

Some buyers are unhappy with the similarity of this appliance to a toaster oven

Some report low-quality materials and build, or a cheap feel