Vitamix Buyer's Guide: Find the Right Blender for 2021
Read Reviews and Compare Top Vitamix Blenders
Instapot Life participates in Amazon's affiliate program.  If you click one of our Amazon links and make a purchase, we may receive a small commission.
Are you looking to buy a new blender? If you want a top-quality appliance that withstands the test of time and high-volume blending, then you're probably considering a Vitamix. This family brand has made a name for itself in the 100 years since it was founded. Today, Vitamix blenders are known for their quality construction, durability, and consistent results.
But the question is, which Vitamix is best? That all depends on the features that matter most to you. From size to speed to color schemes, this buyer's guide covers everything you need to know about the nine most popular Vitamix models so you can invest in the right appliance.
From the lowest-end to the most advanced models, there is a Vitamix for every need and every household. Now, it's time to find the one for you!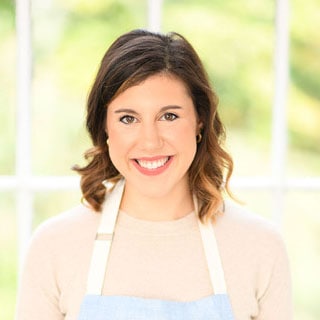 Best Vitamix Blenders: Our 2021 Picks
Here are our top Vitamix picks:
Best Budget Pick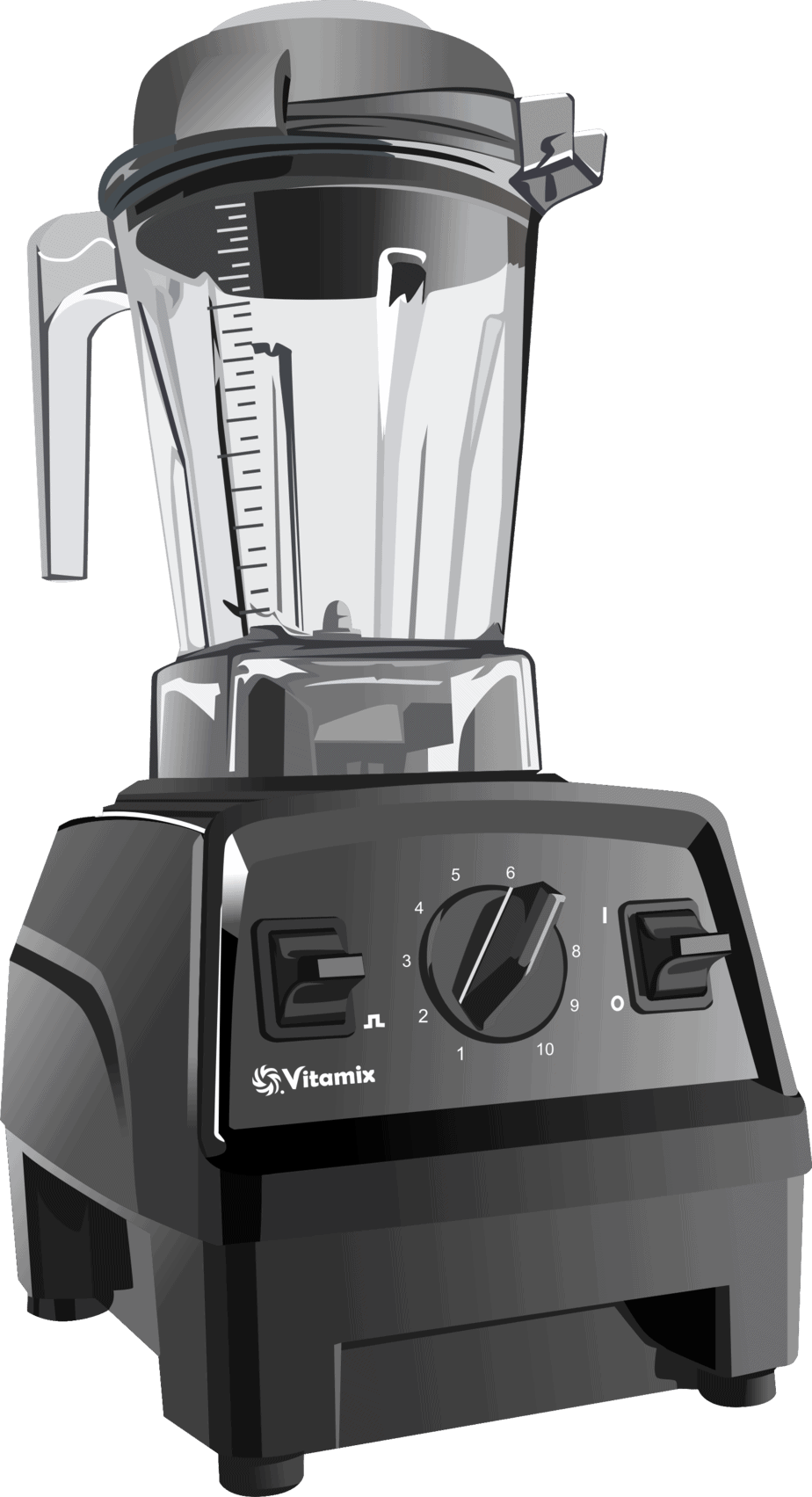 Best Overall Pick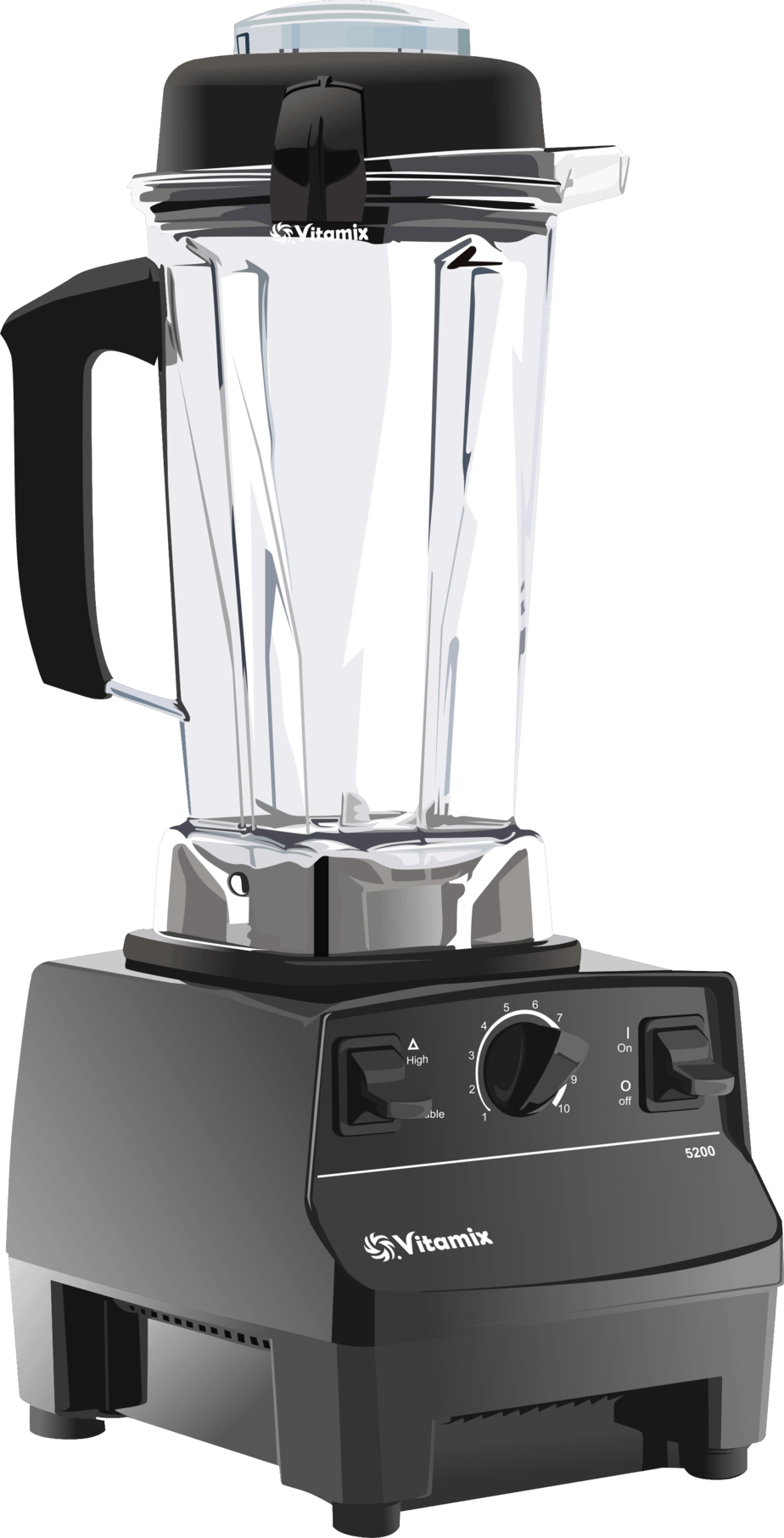 Best Premium Pick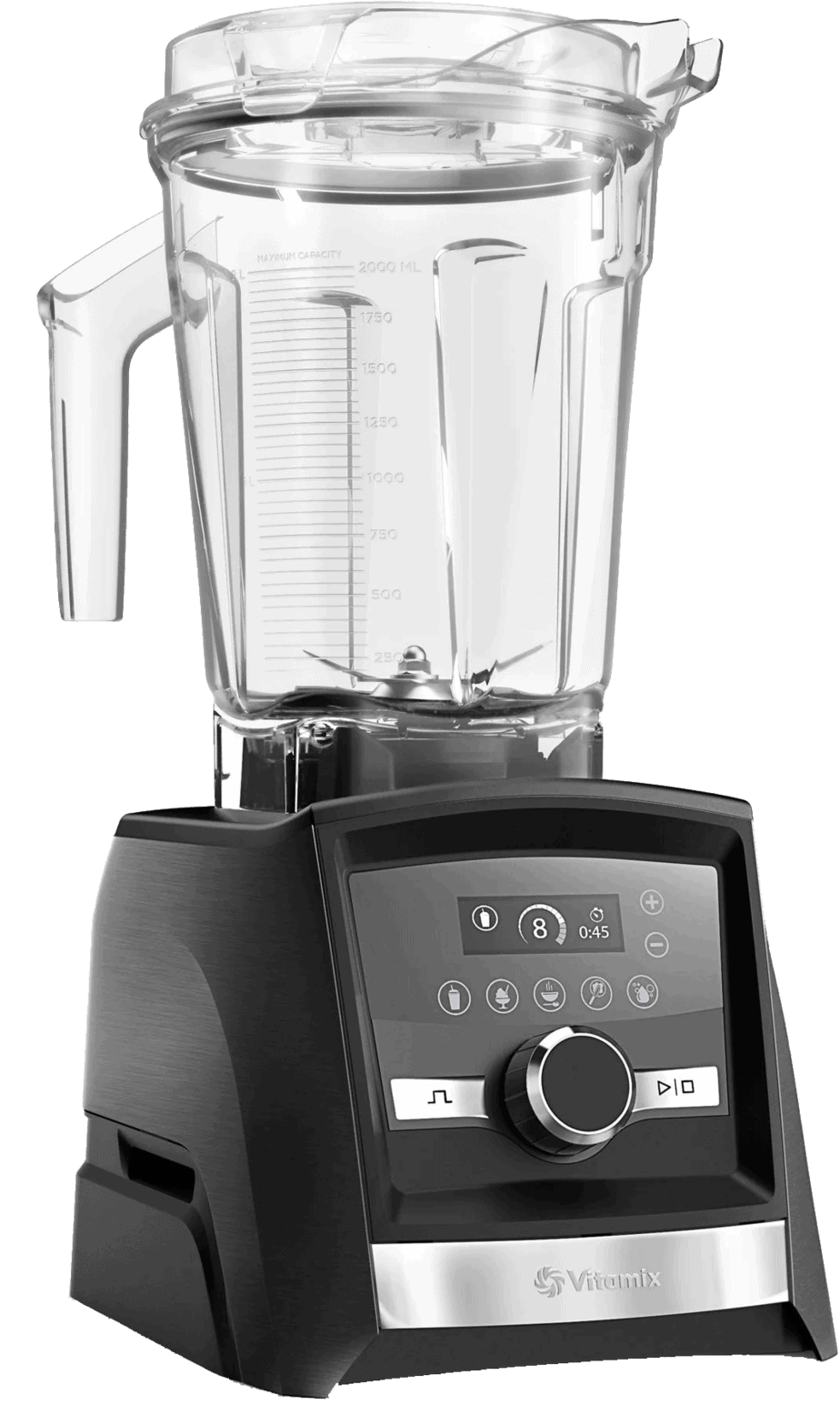 Read reviews of 9 popular Vitamix blenders
The Vitamix 5200 is the best all-around Vitamix blender for a few reasons. This model is right in the sweet spot between having enough features to get the job done without overwhelming you with high-tech options.
The 5200 is reasonably priced and large enough to blend several servings at a time. It's also highly versatile, thanks to the variable speed control dial and handy pulse feature. This is the best option if you're looking for a well-rounded, all-purpose blender built to last.
The powerful 1380-watt motor is strong enough to blend frozen ingredients, nuts, and seeds smoothly.

64 ounces is plenty of room to make multiple servings of your favorite soups, smoothies, sauces, and more.

Self-cleaning technology makes for fast, thorough cleaning without a dishwasher.

The included tamper is essential for efficiently blending tougher ingredients without having to stop and scrape down the sides mid-blend.
The older 5200 model doesn't have all the flashy features you'll find on newer models like the a3500.

At peak speeds, this blender can be a bit noisy compared to less powerful motors.

The 5200 does not have a low-profile design, so it may not fit under all kitchen cabinets.
A recent addition to the Vitamix product line, the e310 is part of the lower-priced Explorian line. These blenders are slightly more affordable than the Vitamix Legacy or Ascent products. But they still deliver on quality, durability, and power.
The e310 is an excellent budget-friendly choice. The slightly smaller 48-ounce blender pitcher is still large enough for households of 3 to 4 people. And the 1380-watt (2 horsepower) motor is strong enough to make smooth, grit-free smoothies, nut butter, soups, and more.
Blade friction heating technology brings cold soups up to serving temperature in about 5 minutes - no microwave or stovetop is required.

The blender's low-profile design means the entire appliance fits easily under kitchen cabinets.

Hardened stainless steel blades are sharp and durable enough to blend tough ingredients like nuts and seeds and hold up for years.

Self-cleaning means that the blender container is fully clean in under a minute, just with the help of warm soapy water.
The e310 offers a slightly smaller blender container than other options, such as the 64-ounce Vitamix 5200 or the spacious 75-ounce

Blendtec Blender

.

The e310 has slightly shorter blades, at 3 inches in diameter, compared to the Explorian e320's 4-inch blades.

The e310 has slightly shorter blades, at 3 inches in diameter, compared to the Explorian e320's 4-inch blades.
The Vitamix e320 is the second product in the brand's newest Explorian line. This model is a step up in price and features from the e310. What differentiates the e320 is power, size, and ease of use. With 300 watts more power than the e310, the e320 is made for high-volume blender users or anyone planning to blend tough ingredients like seeds, coffee beans, or whole nuts.
And while this model is pricier than the e310, it's still cheaper than more feature-heavy Vitamix models like those in the Ascent Series. For a high-powered, reliable blender with plenty of blending space, the e320 is an excellent choice.
The sizeable 64-ounce blending container means you can blend big batches of food to feed a crowd.

Friction heating technology warms cold food in 6 minutes, while the cooling fan ensures the motor doesn't overheat.

10 variable speeds give you options from roughly chopping your ingredients to pulverizing them smooth.

The e320 blender base is compatible with a Vitamix single-serving adaptor to make travel-sized smoothies without dirtying an extra dish.
Because it doesn't have the expensive insulation you'll find on more costly blenders, the e320 can be a bit noisier than the a3500, for example.

None of the Explorian blenders have built-in presets that allow you to click a button, walk away, and return to a perfectly blended drink.

The Explorian line is also not compatible with other Vitamix models so that you can switch out blender bases or containers.
The Vitamix 750 is one of the brand's most well-rounded products. It's fitted with a potent 2.2-horsepower motor and reinforced with laser-cut stainless steel blades strong enough to take down solidly frozen ingredients and even grind coffee beans.
The 750 also offers a step up in features. Five blending presets let you choose from smoothies, soups, frozen desserts, purées, and self-cleaning mode. With the simple turn of a dial, you can walk away and know that your blender is doing the work. This level of convenience and ease comes with a slightly higher price tag compared to the Explorian line, but the versatility and durability are worth it.
2.2 horsepower is the most power you'll find for home blenders.

Five built-in blending programs take the guesswork out of cooking and mean you don't have to babysit the blender.

The included tamper saves you from turning off the blender, removing the lid, and adjusting the contents throughout the blending process.

The low-profile design means this sleek appliance fits entirely below standard-height kitchen cabinets.
You won't find the highest-end features on the 750, such as wifi compatibility and a touchscreen interface.

This model is on the pricier end of the spectrum, but you're paying for the ease of use and smart design.

The blender is compatible with but does not come with a single-serving cup adaptor.
The Vitamix 7500 is another excellent all-around option. The 2.2 horsepower motor makes the 7500 a powerful countertop blender option for home cooks. And the hardened stainless steel blades mean this machine is built to pulverize even the most hard-to-blend ingredients.
Use the 10 variable speeds and pulse function to add texture to your blends, or go full-throttle for a smooth finish. And when you're done, the blender cleans itself in under a minute with a squirt of dish soap and some warm water.
The 7500 is an extremely powerful blender, with 2.2 horsepower of blending speed in the motor.

This Legacy blender is also compatible with Vitamix's other sized containers, including single-serving cups.

The low-profile design makes this blender perfect for storage on your countertop, right under the cabinets.

Vitamix took care to insulate the powerful motor, so the newest 7500 model is 40% quieter than previous versions.
One of the more expensive blenders Vitamix offers due to the high-powered motor and noise-reduction design.

Unlike the 750, the Vitamix 7500 does not offer any presents for one-touch blending.

The handy Vitamix tamper is sold separately from the 7500, despite the blender's hefty price tag.
The Vitamix a3500 is the newest addition to the Vitamix Ascent Series. Complete with 5 blending presets, this blender is built for one-touch use. Its powerful 2.2-horsepower motor and large 64-ounce blender container makes it the ideal choice for high-volume blender users or big households.
A sleek, advanced touchscreen interface blends everything from smoothies to frozen desserts and hot soups easily and seamlessly. Plus, the A3500 comes in several flashy colors to add a pop of brightness to your kitchen counter.
The sleek LED touchscreen is both a beautiful design addition and a user-friendly interface.

The a3500 is compatible with many Vitamix containers, from single-serving 8-ounce cups to spacious 64-ounce pitchers.

10 variable speeds give you control from roughly chopping at one to full-on purée at level 10.

The pulse feature allows you to give a jolt of power to the blender for stirring or hard-to-blend ingredients.
The Vitamix a3500 has so many features that the base must be a fair bit larger to accommodate them.

With a larger base, the appliance weighs nearly 15 pounds.

The a3500 is not an inexpensive home blender. However, the price tag comes with all of the impressive features listed above.
The 5300 is one of Vitamix's longest-standing blender models. What it lacks in fancy technology like touchscreens and wifi connectivity, this blender makes up for in durability, dependability and power.
The 2.2-horsepwoer motor and 10 variable speeds ensure that you have all of the power and versatility you need for precise blending. This is an excellent choice for a newer blender user looking for quality.
The sizeable 64-ounce blending container is spacious enough to easily feed households of four or more people.

The blender's low-profile design includes a wide base that makes food removal more manageable and less messy.

Roll the speed dial smoothly from one to 10 for blending with complete control.

Rely on the pulse switch for quick bursts of power or to stir difficult blends.
This blender doesn't measure up to the Ascent Series range of digital features. You won't find a touch screen or wifi connection on the 5300.

The 5300 is a bit louder than more well-insulated, larger blender bases like the 7500.

There are no pre-built blending programs.
The Vitamix A2300 is one of the most well-equipped blenders you'll find. Part of the high-tech Ascent Series, the A2300 does not disappoint when it comes to features. With a sleek digital interface, 10 blending speeds, and a strong 2.2 horsepower motor, this blender is for the advanced and adventurous blender user.
The 10-year full warranty goes beyond Vitamix's more common 5- or 7-year warranty offers. This is a testament to the machines' durability and quality. Plus, it allows you to connect to wifi and your smartphone for unending recipe inspiration on the Vitamix mobile app.
Bluetooth technology enables you to connect your smartphone directly to the blender for controlled blending of your favorite recipes.

The built-in, easy-to-read digital timer helps you follow Vitamix recipes without second-guessing.

Self-Detect technology means the blender base knows exactly what size container you've attached to avoid messes or explosions.

Four striking color patterns mean you can select the blender that matches your decor.
While the blender is compatible with Vitamix 8-ounce single-serving cups, the attachments must be purchased separately.

At 11 pounds, this is not a light blender that's easy to transport.

The a2300 is a bit louder than other Vitamix models due to its powerful 2.2-horsepower motor.
As its name suggests, the TurboBlend Three Speed is a three-speed blender from Vitamix. With a simple, straightforward interface and a spacious 64-ounce container, this blender is one of the most straightforward Vitamix models to use.
The TurboBlend Three Speed is an excellent option for the blender buyer looking for power and durability without getting bogged down in too many fancy features.
The classic 64-ounce blender container is large enough to blend big batches of your favorite recipes.

A 2-horsepower motor is powerful enough to make quick work of frozen and other hard-to-blend ingredients.

The radial cooling fan ensures your motor doesn't overheat during use.

A 5-year full warranty covers all parts, labor, and two-way shipping.
The TurboBlend Three Speed doesn't have quite the same range or versatility as the 10-speed Vitamix models.

You won't have any of the high-tech blending presets or touchscreen technology on the Turbo Three Speed.

This blender does not have a low-profile design, so be sure to measure your cabinets to ensure it will fit underneath them.
Motors

The Vitamix motors are one of the features that truly sets this line of blenders apart from competitors. Each of the blenders featured in this buyer's guide comes with a minimum of a 2-horsepower motor. And several top out at 2.2-horsepower!

But these motors are not only built for optimal power. They're also incredibly durable. Vitamix motors are backed by a 5- to 1-year warranty and are known to last much longer. That is one reason why an investment in a Vitamix blender is sure to pay off down the line. Competitors like the Ninja Mega Kitchen System, for example, only offer a 1-year limited warranty.

Variable Speed Control

Speed control is an important feature that you won't find on all home blenders, especially single-serving models. The smooth Vitamix speed dial is designed to give you optimal versatility.

Rather than locking in at each speed from one to ten, the dial runs smoothly through each number. This way, you can hover comfortably between two speeds for just the right amount of power.

Pulse

Pulsing is a valuable feature to add versatility to your blender use. You can use the pulse switch for a few quick jolts to roughly chop soft vegetables like tomatoes for fresh salsa. You can also use it to gently stir soups to maintain some texture without puréeing it smooth.

Whatever you blend, the pulse switch makes for more effortless blending every time. And with the Vitamix interface, it couldn't be easier to use. The switch flips easily up and down for total control.

Self-Detect Technology

Self-detect is a unique feature in the Vitamix Ascent Series Blenders. This new technology allows the appliance to detect which size container is on the base. With this information, the machine adjusts its settings for appropriate blending.

This avoids potential explosions and other damage to the machine. For example, hot soup expands when blended. The self-detect technology will not mix hot food in any container smaller than 64 ounces to prevent a dangerous mess.

Automated Recipes

Another advanced feature in the Ascent Series, automated recipes, refers to the blender's built-in blending presets. Select from a list of everyday recipes, such as smoothies, hot soups, and frozen desserts in the A3300. Then sit back and watch the smart blender whip up consistent results every time.

This handy feature means you can move on to other things while your blender does the hard work.

Connectivity

The Ascent Series blenders come with wireless connectivity. Connect your smartphone to your blender via Bluetooth. With the Vitamix Perfect Blend smartphone app, you can explore over 500 recipes and add your favorite blends to the collection.

The app syncs with major fitness trackers to give you visibility on nutrition. And Ascent Series blender owners can tap into automated blending programs through the app and control their blender from afar.

Self-Cleaning

While some Vitamix models, such as the e320, are dishwasher safe, the brand recommends using the built-in self-cleaning technology to maximize your appliances' lifespan. It's easy and fast to use.

Simply squirt a dash of dish soap into your blender container, and add some warm water. If your blender has a built-in self-cleaning preset, select it. Otherwise, simply turn your blender to its highest speed on the variable speed control dial. In about 60 seconds, your blender will be good as new. Rinse out the soap, and let it air dry.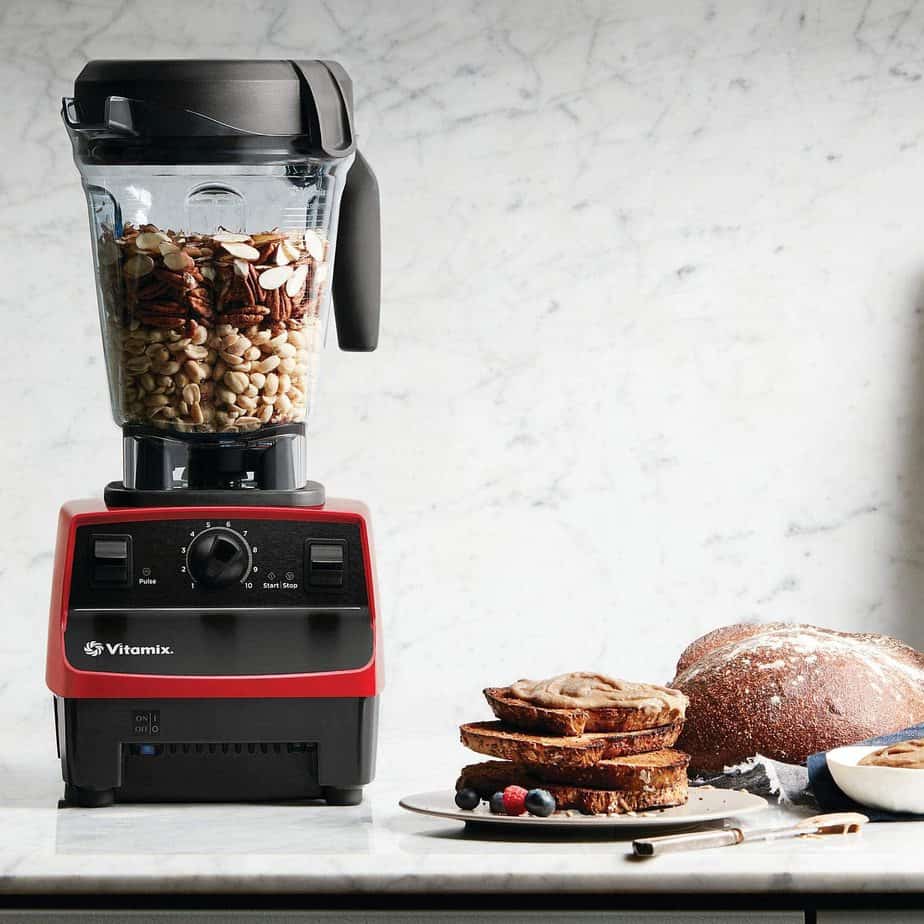 Power

Vitamix makes some of the most powerful home blenders on the market. At up to 2.2 horsepower, you can rely on these appliances for even the toughest-to-break ingredients.

Variable Speed

All of the Vitamix blenders in the buyer's guide come with a variable speed control dial. Ranging from 1-to-10, the dial gives you full control over your blend every time. Plus, rather than locking into place at each notch on the dial, you can scroll smoothly between speeds and hover at every increment for even more versatility.

Easy to Clean

Some Vitamix models are dishwasher safe. But they're all easy to clean without a dishwasher. The models with self-cleaning presets simply require the flip of a dial. If there's no preset, running your blender at its top speed for one minute does the job. All you need is a dash of dish soap and some warm water.

Built to Last

Vitamix blenders are built for a long life. Even the most avid blender users can count on years of high speed, precision blending from their Vitamix.

Healthy Living

Vitamix is a company built on the principles of healthy living. Established in 1921 as The Natural Food Institute, this company has long been a pioneer in the health food industry. Their products are designed to encourage customers to enjoy a nutritious, whole foods diet with ease.

Warranty Protection

Vitamix stands behind its products. Every model comes with a 5- to 10-year warranty. This warranty covers failures due to a defect or normal wear and tear within seven years of purchase. The company makes it easy to ship your appliance to them with free shipping both ways.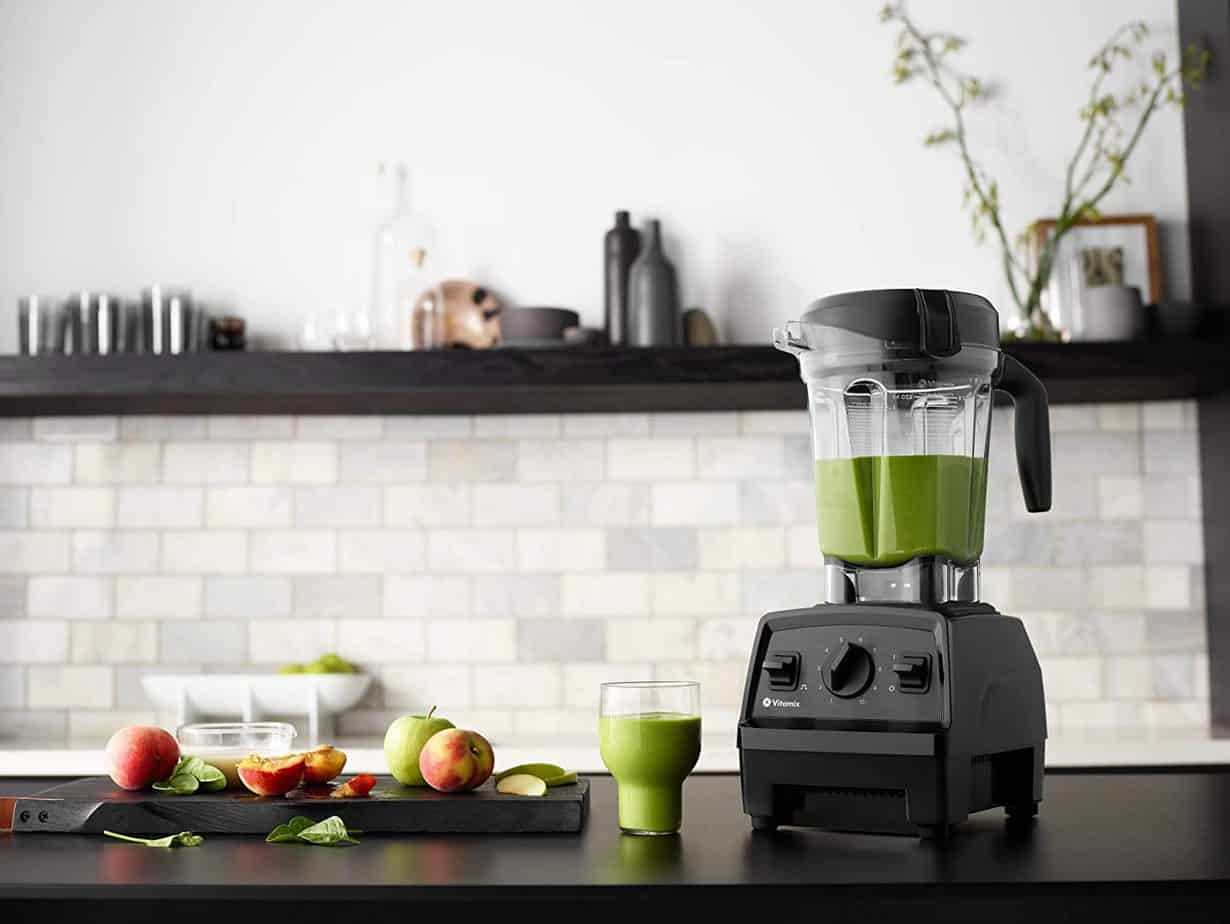 Vitamix has 3 series of models: Explorian, Ascent, and Legacy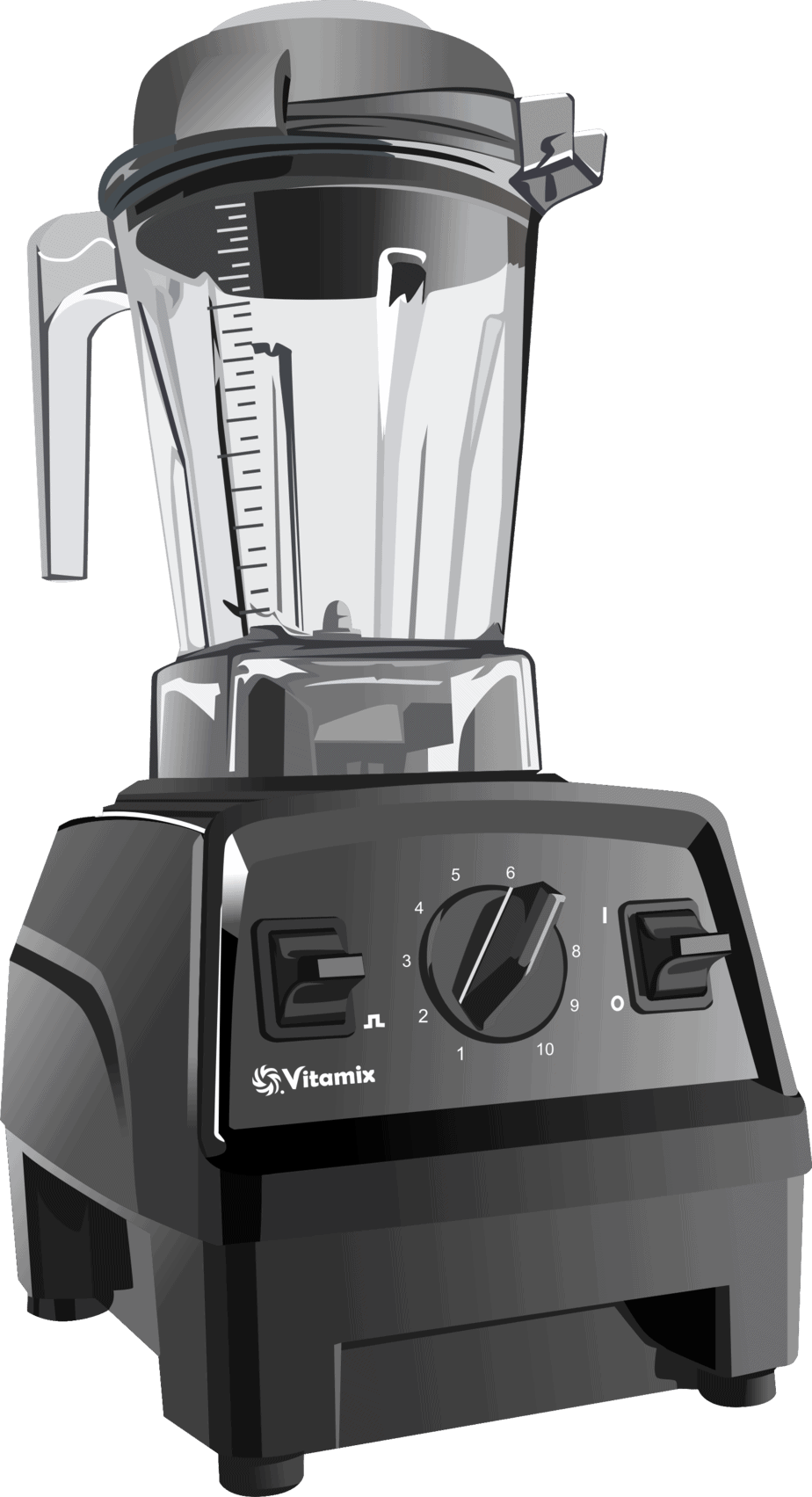 The Explorian Series blenders are Vitamix's more affordable but just as powerful blenders. At under $300, the e310 and e320 are by no means cheap. However, they offer a lower price point than the Legacy or Ascent Series blenders, with many of the same quality features.
Complete with a 5-year warranty, a 10-speed variable control, and a pulse feature, the Explorian blenders are an excellent option for first time Vitamix owners. Select front the 48-ounce e310 or the more generous 64-ounce e320. These smaller blenders are easier to store than heavier, bulkier models. And the straightforward interface makes blending simple, fun, and delicious.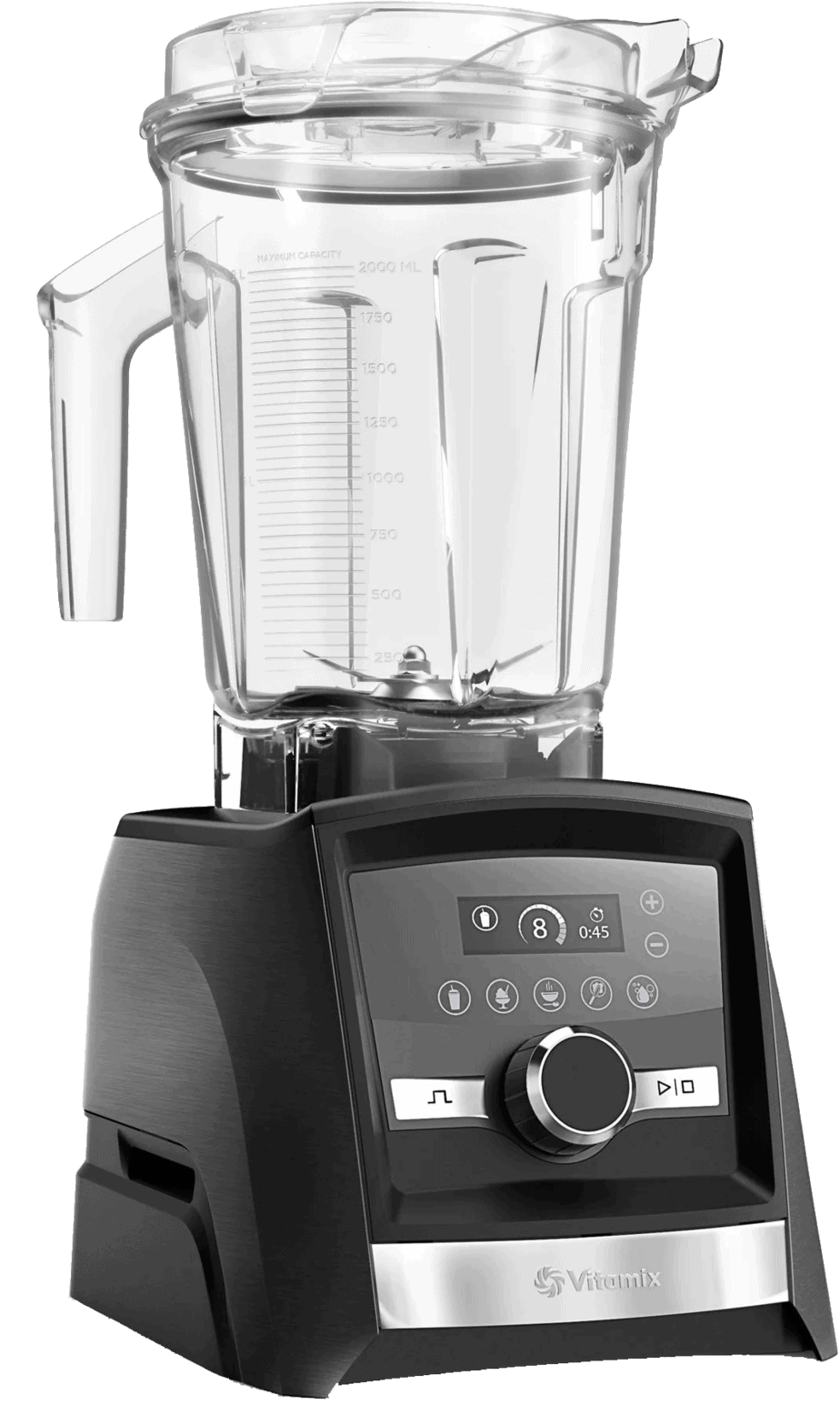 On the higher end of the Vitamix product line is the Ascent Series. These are the most expensive and most feature-rich appliances you'll find. Vitamix does not hold back any bell or whistle from the Ascent blenders. With wifi connectivity, Bluetooth compatibility, and state-of-the-art SELF-DETECT technology, these are some of the smartest home appliances on the market.
The Ascent blenders still have many standard features like the 10 variable speed control dial, a pulse switch, and self-cleaning. But many in this series go a step further with a programmable digital timer and/or a touchscreen interface. These blenders are made for the tech-loving regular blender user willing to invest in convenience and connectivity.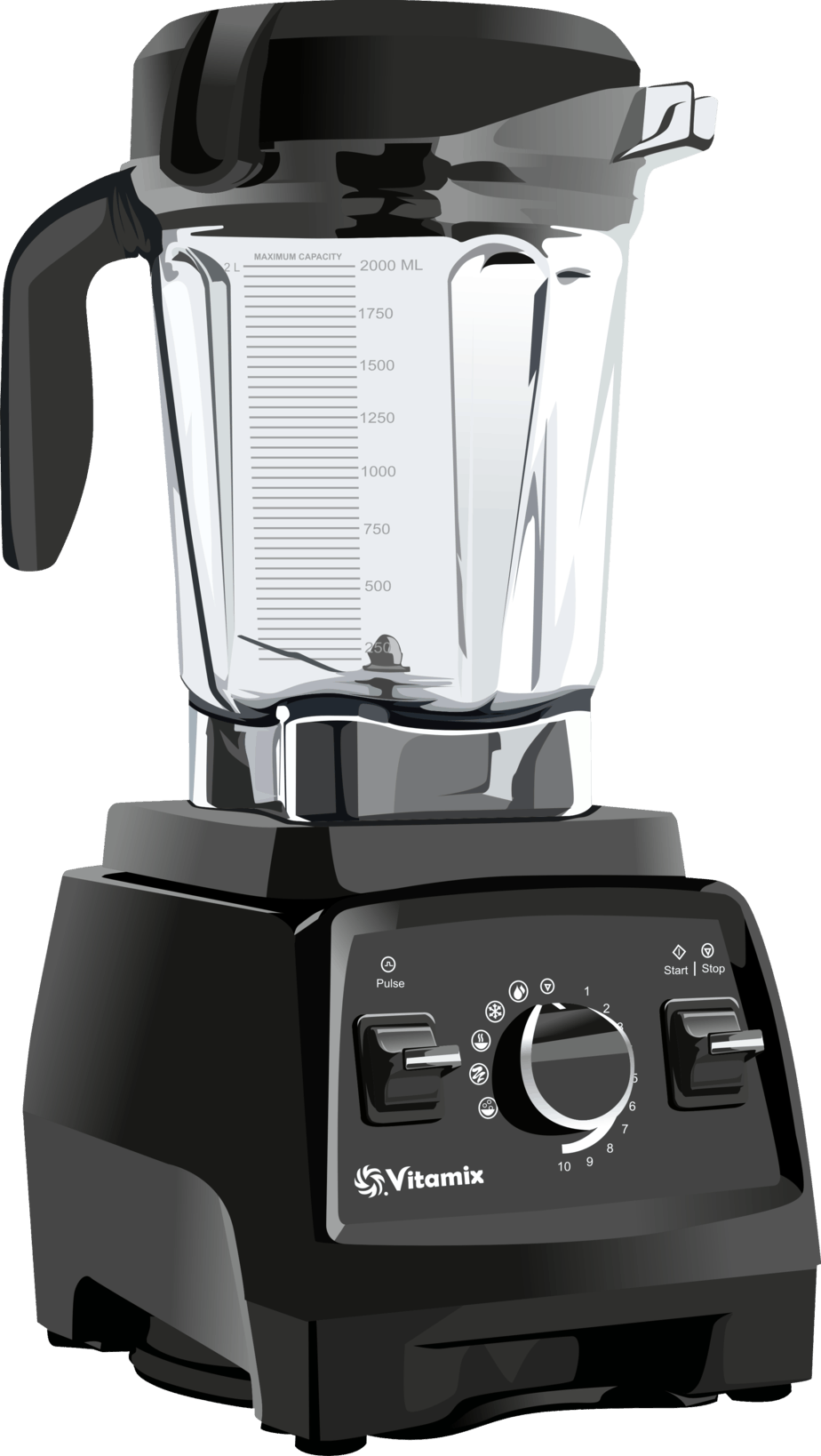 The Vitamix Legacy Series is the classic, tried-and-true model beloved by Vitamix customers for decades. Many of these stand-by models have been updated with improved speed control, noise dampening, and low-profile designs.
Most Legacy Series blenders offer a 64-ounce container, 10 variable speeds, and a useful pulse feature. You'll also find blending presets that offer one-touch blending solutions on the upper end of the Legacy Series spectrum. If you're looking for a reliable, timeless blender that always gets the job done, there is probably a Legacy Series blender that's perfect for you.
How to Compare Vitamix Blenders
Size

Vitamix blenders do vary quite a bit in size. If you have storage limitations, it's best to choose one of the low-profile appliances. These are designed to fit under standard-height kitchen cabinets. Low-profiled blenders include the 7500, the 750, both Explorian blenders, and the Ascent Series. The 5200 and the TurboBlend Three Speed are slightly taller.

The other size to consider is the blender container. Most Vitamix blenders, inducing the Legacy Series, come with a standard 64-ounce blender container. You can separately purchase smaller 8-, 32- and 48-ounce containers compatible with the blender base. The only blender that comes standard with a 48-ounce blender container is the e310. Note that Explorian blender bases are not compatible with Legacy or Ascent Series containers.

Power

There isn't a ton of range between Vitamix models when it comes to power. The lowest-power models are still packed with an impressive 2 horsepower strength. These models include the TurboBlend Three Speed, the 5200, and the e310. A step up from these, you'll get a robust 2.2-horsepower motor on the 750, 7500, and the Ascent Series blenders. Unless you plan to grind nuts, seeds, or coffee beans daily in your Vitamix, this difference in power shouldn't be a deal-breaker.

Programmed Settings

Pre-programmed blending is a more advanced feature that you won't find on older Vitamix models or the more pared-down Explorian models. Within the Legacy series, classic models like the 5200 and 7500 are without blending presets. However, the 750 offers the same 5 programs you'll find on the A3500. These are smoothies, purees, soups, frozen desserts, and self-cleaning mode.

Control Interface

Most Vitamix Blenders have a variable speed dial on their interface. Except for the TurboBlend Three Speed, you can swivel this dial to your desired speed from one to 10 and everywhere in between.

The more advanced Ascent Series models have both a speed dial and a touchscreen interface. The A3500, for example, allows you to select from its blending presets on the digital display.

Wireless Connectivity

If wireless connectivity is a must-have feature for you, stick to one of the Ascent Series blenders. The A2300 and A3500 both connect to wifi and Bluetooth. With this, you can program your blender through the Vitamix app for iOS and Android.

Design and Color

Many Vitamix models come in several color schemes. The Explorian line is the most limited, with only black blenders. But other models, like the A3500, offer red, white, and flashy silver and rose gold finishes.

Warranty

Warranties vary between models and series. The Explorian blenders, for example, come with the shortest, 5-year warranty. With the Ascent Blenders, you get a full 10-year warranty. And many of the Legacy blenders fall in the middle, with 7 years. Still, this goes above and beyond competitors like Ninja, who stop at a 1-year limited warranty.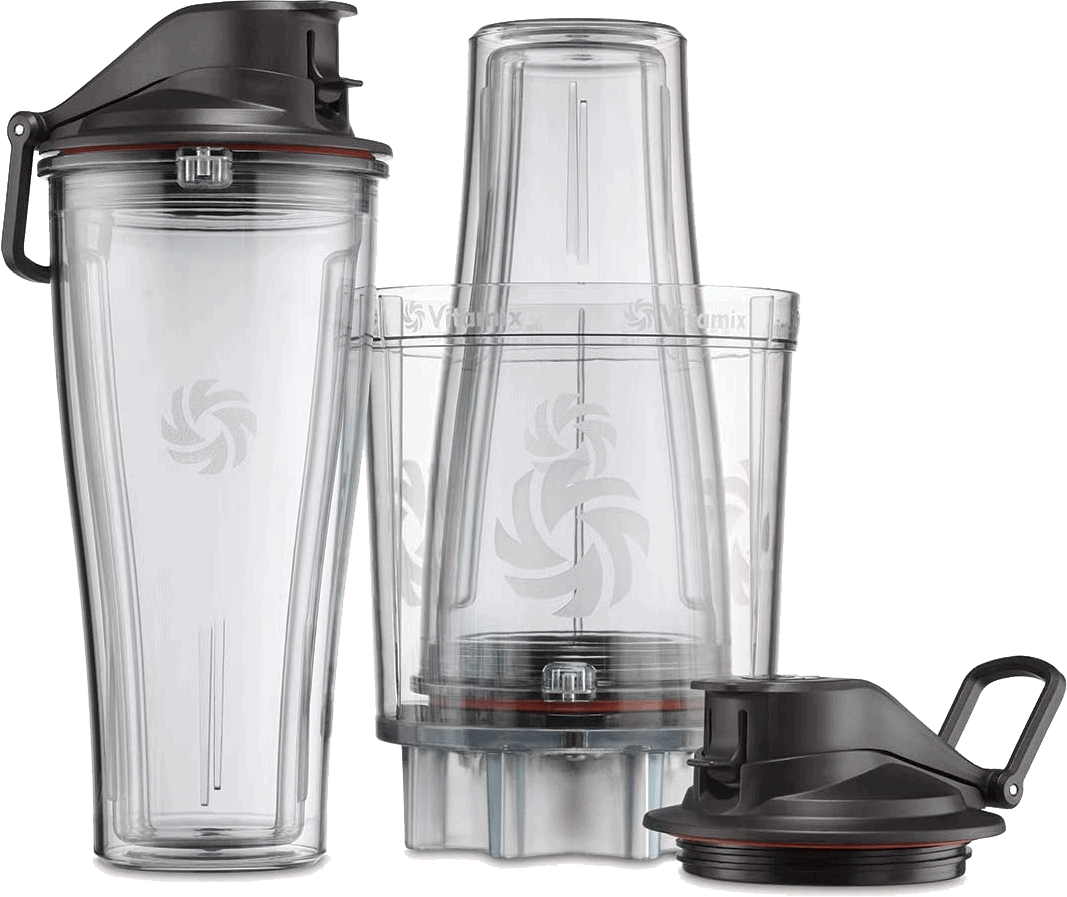 The best Vitamix comes down to your needs. Consider the amount of blending space and power you need to feed your household. If you're a high-volume cook or like to prepare big batches, a 64-ounce container should be sufficient. If you plan to regularly use the blender for tough ingredients like nuts and seeds, you may prioritize a 2.2-horsepower motor found in models like the 750, 7500, and the Ascent Series blenders.
Next, consider the additional features that you'll find useful. Do you appreciate the convenience of one-button blending presets? If so, opt for the more outfitted 750 or the a3500. If you prefer no-frills, straightforward blending, then the TurboBlend Three Speed or one of the Explorian blenders might be right up your alley.
Vitamix blenders can seem like a splurge. So to decide if investing in one of these appliances is worth it for you, consider how often you use your blender and for what. If you reach for your blender several times a week, then the speed and efficiency of a Vitamix will be a serious value add to your daily life. Plus, the multi-year warranty and proven lifespan of these appliances mean that you'll be able to rely on the blender for years to come.
On the other hand, if you're a less frequent blender user without enough space to store a medium-sized countertop appliance properly, then a more pared-down blender might better suit your needs. If that's the case, consider the NutriBullet Blender. It's a standing blender with 64 ounces of space and a more pared-down interface. For an even more compact, personal blender, the original NutriBullet or NutriNinja might be for you.
All that power in the Vitamix motors can cause some noise. But if you're looking for the quietest Vitamix blender, the 750 is a great bet. This model was re-engineered to produce 40% less noise than previous models. And yet, the blender still packs a 2.2-horsepower motor.
Of course, no blender is silent, and as you increase the speed, you're going to make more of a racket. Luckily, the efficient blending of a Vitamix means the noise won't be long-lived.
One of the things that makes Vitamix blenders stand out is indeed their price tags. But with that price tag comes a level of quality, design, and durability that justifies the investment. For starters, Vitamix is an all-American company. Over 70% of its materials are made in the USA.
And when it comes to blending, Vitamix is pretty unparalleled. It's hard to find a single appliance that can make everything from nut butter to cookie dough to hot soups. Every motor is equipped with multiple horsepower. And the stainless steel blades, shatter-resistant BPA-free Tritan plastic containers, and hard plastic tampers mean that these appliances can hold up to years of wear and tear without breaking down.
And Vitamix stands behind its products. It's hard to find a more generous warranty for home appliances than Vitamix's 5 to 10-year promise. The company is eager to put buyers at ease when investing in a blender for life.
The best way to clean your Vitamix blender to maximize the lifespan and blade sharpness is with the self-cleaning feature. Start by rinsing out any visible food from the blender container. Then add a squirt of dish soap and some warm water. Attach the container to the blender base, and either use a built-in self-cleaning mode or turn the blender to its highest speed for 1 minute.
After that, rinse out the soap and let your container dry. It will be good as new.
Vitamix is known for its strong, well-made blades. They're made with laser-cut stainless steel. The high-quality materials and design mean that the blades last longer and are less prone to dull over time.
You can use a Vitamix blender for a wide range of recipes and cooking techniques, from classic smoothies and mixed drinks to creamy homemade nut butter, hummus, and ice cream. Even whip up silky sauces or emulsified salad dressings. You can even replace your coffee bean or spice grinder with a Vitamix blender. Every blender purchase comes with a Vitamix First Blends recipe book to jumpstart your creativity in the kitchen.
And when you make your way through all of the delicious breakfasts, entrees, and desserts in there, turn to the Vitamix mobile app, where the catalog of 500 recipes is continually growing. Soon enough, you'll be adding your recipes to the community!
Once you've selected the best Vitamix for you, it's time to put your new appliance to work! And one of the best parts about Vitamix blenders is the wide range of recipes you can whip up in them. From breakfast to dessert, there's always a reason to turn on your Vitamix.
Here are 20 popular recipes to make in your Vitamix and enjoy all year long:
Vitamix Breakfast Recipes
Vitamix Sides, Snacks, and Dip Recipes