Vitamix 750 Blender Review
Is the Vitamix 750 a Smart Buy?
For decades, Vitamix has led the field in making high-quality blenders for home and professional cooks. From commercial blenders to teched-out models for home cooks, there's a Vitamix for every need.
But with all of the names, numbers, and technical lingo surrounding Vitamix products, it can feel overwhelming to select the best blender for your kitchen. That's why we've reviewed dozens of the best blenders on the market, from entry-level options to fully-equipped professional models.
And today we're adding the Vitamix Professional Series 750 blender to our repertoire. This in-depth review covers everything you need to know about the Vitamix 750 to decide whether this is the right blender for your kitchen.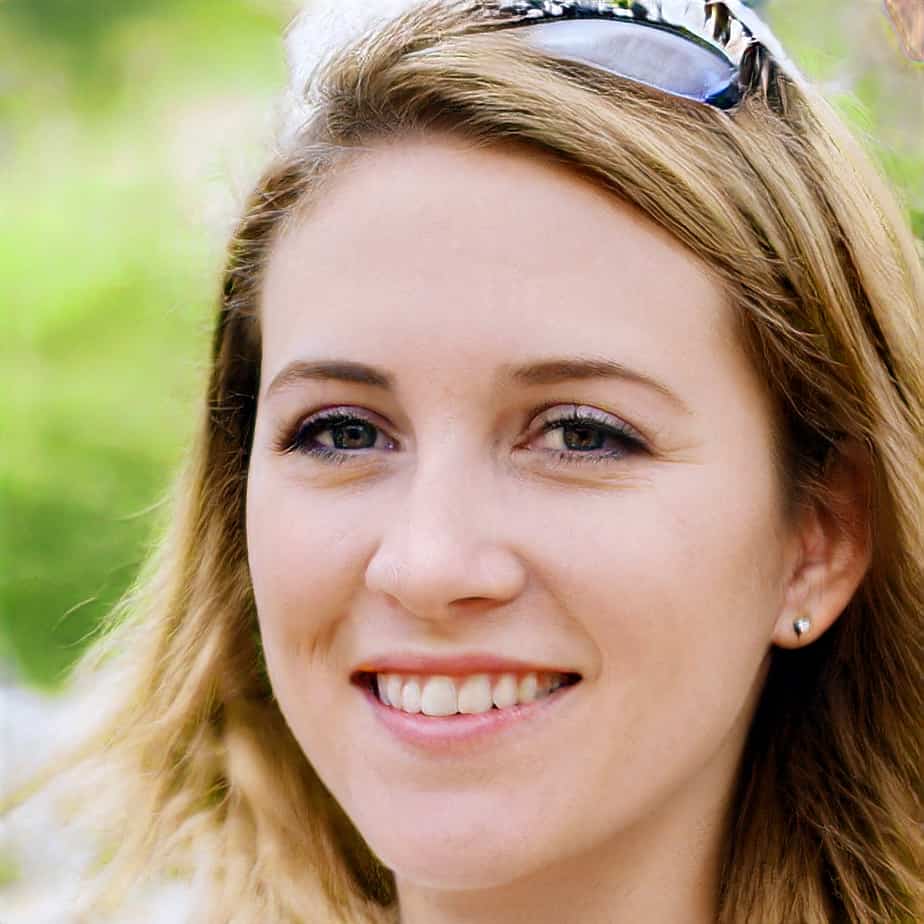 The Vitamix 750 blender is part of the brand's Legacy Series. This line includes some of Vitamix's most tried-and-true models for home use. These blenders have been central to the Vitamix brand for generations. And for good reason. They promise consistent results, quality manufacturing, and best-in-class materials for superior performance that lasts.
Within this prestigious line of products, the 750 Professional Series Blender is at the highest end. That naturally comes with both a higher price tag and some impressive features and use cases. This blender is ideal for high-volume cooks who rely on blenders for a range of hard-hitting tasks. Whether you're a daily smoothie maker, coffee bean grinder, or nut milk maker, this blender can fulfill any blending need.
Powerful 2.2 Horsepower Motor

The 2.2 horsepower on this blender, along with Vitamix manufacturing standards, sets it above the competition.

At 1440 watts, this motor can turn even the most frozen ingredients into a smooth texture in seconds. The 750 blender has no problem blending everything from fruit smoothies to creamy soups to fluffy nut butter. You can even replace your spice or coffee grinder with this blender.
Five Pre-Programmed Blending Settings

The Vitamix Professional Series 750 blender takes the guesswork out of cooking at home. Advanced home chefs and beginner smoothie makers alike can enjoy the convenience of five easy-to-use presets.

Choose from smoothies, soup, dessert, purées, and self-cleaning. Then walk away and let your blender do the work. The best part is that you can expect consistent results every time. This is especially ideal for multitaskers who want reliability without babysitting the blender. And the well-grounded motor base is solid enough not to wobble and shake its way off the counter when you're not looking.
Tamper Included

The handy plastic tamper is a Vitamix signature accessory. It makes blending with the 750 even easier and more efficient. Skip the process of turning off the blender to scrape down the sides with a rubber spatula. Instead, insert the hardy tamper into the hole in the lid.

With the motor at any speed, easily push food towards the stainless steel blades. There's no need to worry about damaging the tamper or causing an explosion by removing the blender lid.

Low-Profile, Roomy 64oz Container

This blender is sleekly designed to fit under standard kitchen cabinets. Genius Vitamix design offers the ease of countertop storage without sacrificing container space.

The 64oz container has a wide base. This allows for more overall room and makes food removal easier. To prevent food from sticking in the narrow gap between the blender and blade, the wide base makes it easy to remove anything on the bottom. You can also use a Vitamix blade scraper, sold separately, to do the job.
Self-Cleaning

Who doesn't want an appliance that can clean itself? Included in the five blending presets is a self-cleaning option that makes it faster and easier to clean than almost any other blender.

After every use, simply fill the blender container with warm water and a dash of dish soap. Turn the dial to the self-cleaning setting and watch your Professional Series 750 clean itself in under a minute.

Friction Heat Cooking

With the Professional Series 750, your blender can even turn a cold soup into a piping hot meal in minutes. Friction heating technology warms food evenly and to the perfect temperature, so you can skip the microwave and keep your pots and pans clean.

This is a great feature for meal preppers who like to stash frozen soups for busy nights.
Laser-Cut Stainless Steel Blades

Vitamix and quality go hand-in-hand. There's nowhere this is more evident than in the superior materials the company uses. Laser-cut stainless steel blades make quick work of any amount of food or hard-to-grind ingredients.

The blades are also easy to clean and long-lasting for years of effortless blending.
Powerful

2.2 horsepower is more than enough for most home blending needs. Even the most high-volume users can rely on the steady, strong force of the Vitamix motor. Grind whale nuts, coffee beans, and seeds into powders, butters, and flours for baking. Or, whip up light, fluffy, and smooth frozen desserts in seconds. You can even rely on friction heating to warm chilled soups to the perfect serving temperature.

Versatile Speed Control and Presets

In addition to the five user-friendly blending presets (smoothies, frozen desserts, soups, purée, and self-cleaning), the 750 also has a variable speed dial. When you don't know which preset to choose, opt for manual control. Simply dial in a speed from one (lowest) to 10 (highest). The speed dial rolls smoothly from low to high for straightforward, controlled blending, no matter what's inside.

There is also a handy pulse feature on the control pad. Use this to break down veggies into a chunky salsa or to keep some texture in your creamiest soup recipes. With the pulse feature, you're always in control of the consistency and appearance of your dish.

Easy Cleaning

Although the manufacturer advises against using the dishwasher to clean this blender, it's incredibly easy to keep clean.

The fifth preset, self-cleaning mode, is just as straightforward as it sounds. Simply add warm water and a dash of dish soap to the container, set it on the base, and blend away for 30 to 60 seconds. Then pour out the soap, rinse, and let the container air dry. It will be as good as new next time you need it.

Well Designed

It's effortless to attach the container to its base on the 750 blender. There's no special placement, locking, or levers to maneuver before blending. Simply pick the container up by its ergonomic handle and put it back down on the base: you're ready to blend.

In fact, you don't even need to have the top attached! Though to avoid a messy ceiling, it's best to keep the top on during blending, especially at the beginning. Once you get going, you can keep your food blending smoothly by inserting the plastic tamper through the hole in the blender lid. Push everything down towards the stainless steel blades and watch them make quick work of your ingredients.

Large Capacity that's Easy to Store

The low-profile 64oz low profile container fits perfectly under most standard kitchen cabinets. And the clean interface and clear container make an attractive appliance that's made for countertop display.

Other Vitamix models, such as the Vitamix E310, come with a more compact 48-ounce container. However, 64 ounces offers plenty of room to serve up large batches of soups and smoothies. It also makes this blender ideal for meal preppers, entertainers, or anyone who feeds a crowd.
Cost

It's no secret that this is the most expensive model in the Vitamix Legacy series. And for this reason, the Vitamix 750 blender is not for everyone. Regular blender users looking for efficiency and speed will find the most value in the 750.

And still, compared to less expensive competitors, the features and quality of the 750 always come out on top. For example, the cheaper Ace Plus Blender has a clunkier design and a breakable glass pitcher. It can't compare to Vitamix's shatterproof and lightweight BPA-free pitcher.

Not Dishwasher-Safe

Despite how easy to use this blender is, there is one functional shortcoming: you can't pop it into the dishwasher after use. The best way to keep your blender in tip-top for years is to use the self-cleaning mode programmed into the blender.

All you need to do after use is drop a squirt of dish soap and some warm water into the rinsed-clean container. Switch to the self-cleaning preset, turn it on and in about one minute you have a clean-as-new container. So cleaning is not a huge drawback, but should be taken into consideration.

Not Fully Equipped

The Vitamix 750 has the price tag of the highest-end blender a home cook can buy. But it actually lacks some of the more snazzy and modern Vitamix features. The brands' newer Ascent Series blenders, for example, include higher-tech features. For example, SELF-DETECT® Technology and programmable digital timers.

Some models have futuristic touch screen and time-delay. They pair with the Vitamix PerfectBlend App, which is full of Vitamix-specific recipes. Of course, high-tech features aren't for everyone. To some, all the bells and whistles can feel overwhelming. If you're interested in an easy-to-use blender with consistent results, you can skip all the extra tech.
The Vitamix Professional Series 750 is available in two color options: Black and Red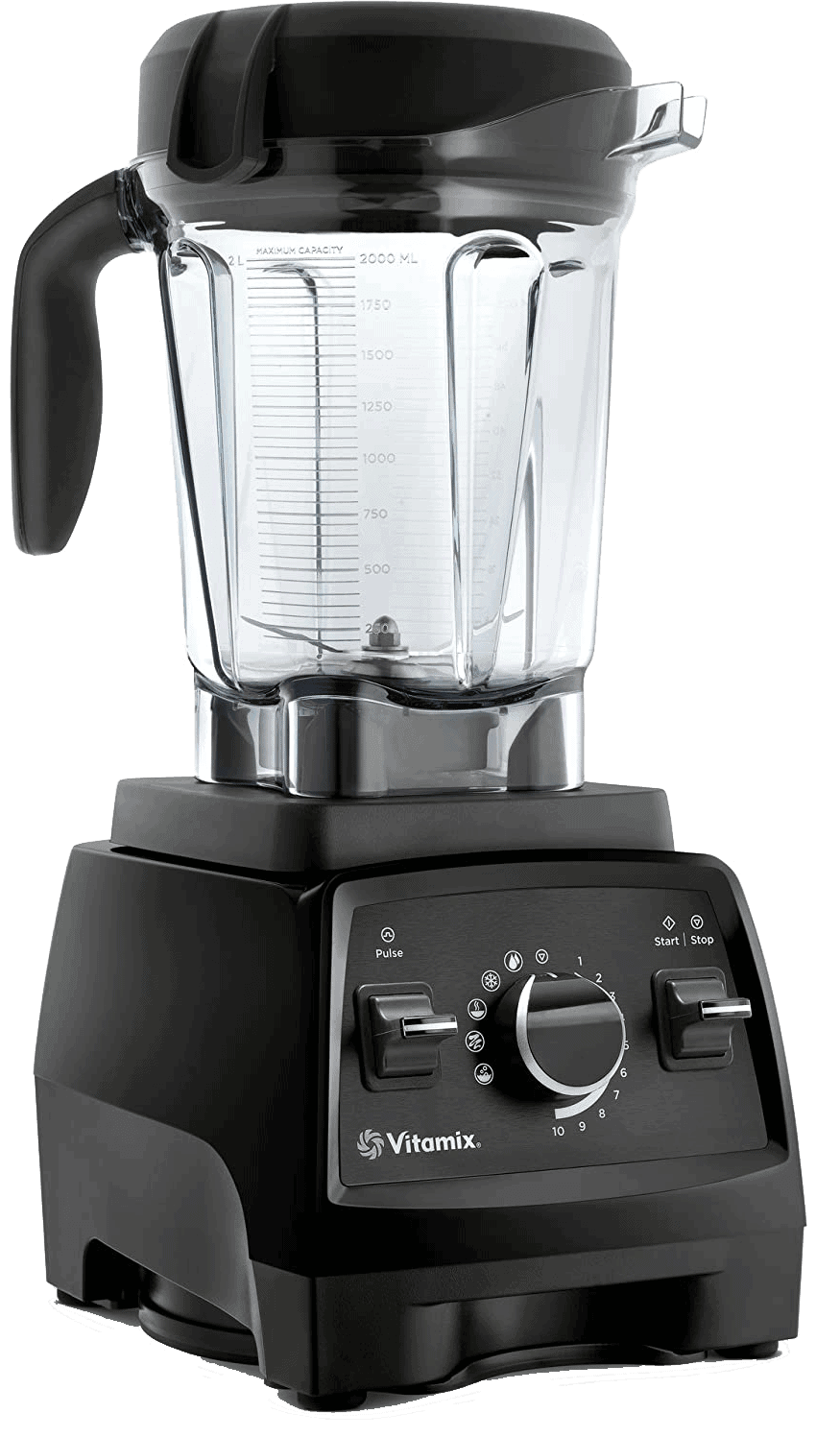 Black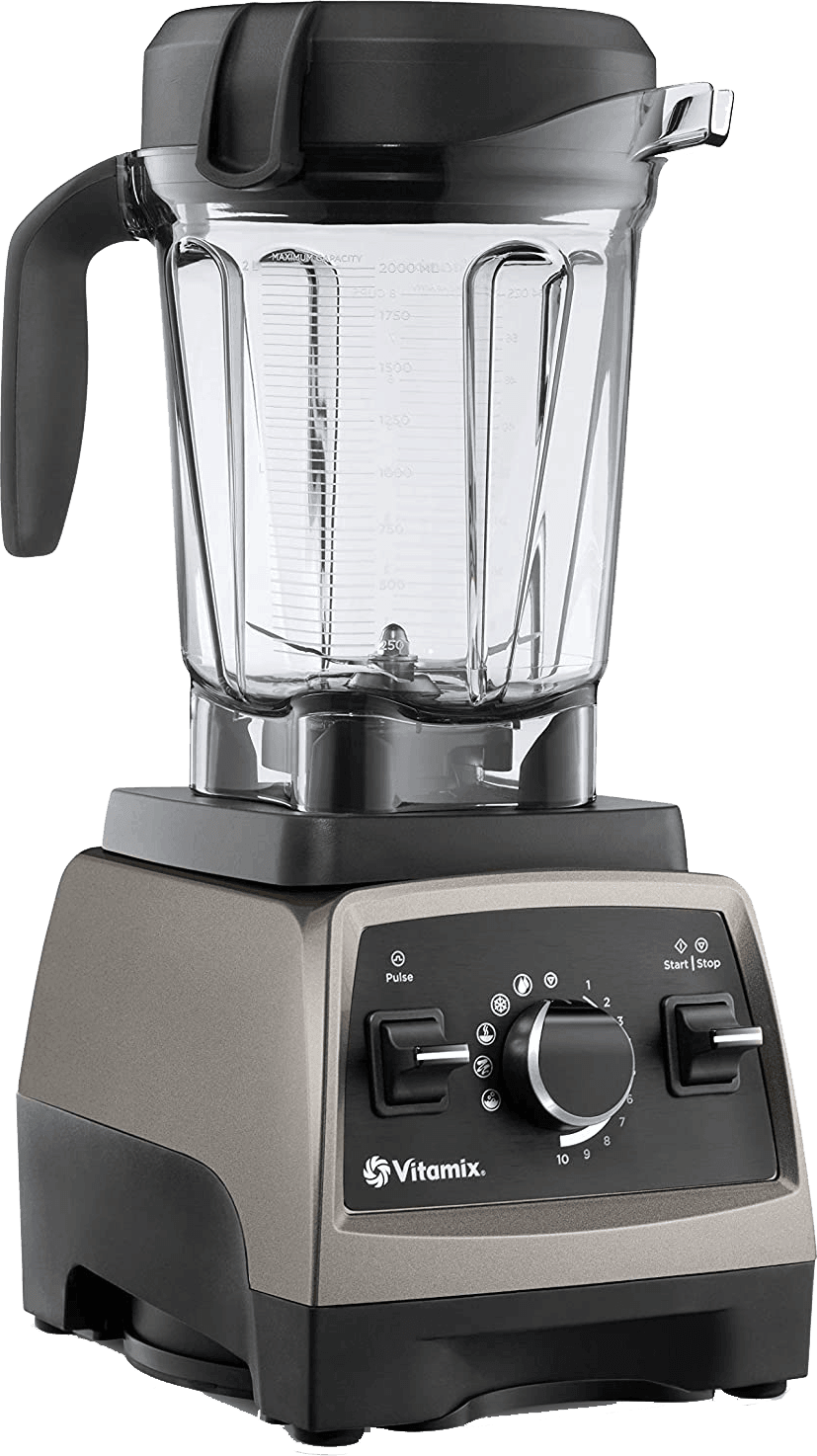 Grey
This model is pricier than others in the Legacy Series. However, the practical features, high-speed motor, and top-of-the-line performance make the 750 worth it. This blender is both incredibly versatile and easy to use, making it perfect for all kinds of cooks. Whether you're a busy chef juggling several dishes at a time or a total newbie, the 750 can work for you. The pre-programmed settings, manual controls, and horsepower take the guesswork and hassle out of cooking.
That being said, there are options for lower-tech blenders that are still high quality. You may want to consider the Blendtec Total Blender. This blender makes up for in power (with a 1560-watt motor) what it lacks in bells and whistles. Or, to stick with the trusted Vitamix brand, the e310 is a more affordable, paired-down option for no-nonsense smoothie makers.
The Vitamix 750 blender is set apart from the crowd thanks to its feature-packed technology, 2.2-horsepower motor, large container, and full suite of accessories. Other models, such as the Vitamix 7500, also offer a 64-ounce container, but no blending presets.
Likewise, the popular Vitamix 5200 model has a large container but no tamper or presets. And the high-end A2300 is packed with features. These include a base that automatically adjusts speed based on the blender contents. Of course, these come at the cost of noise and, for many, an unnecessary number of techy features.
The Professional Series 750 gets an edge over the 7500 when it comes to features. While the 7500 is slightly less expensive, it lacks handy blending presets.
Instead, the 7500 has a range of 10 variable speeds. That being said, many of the other blender specs are the same between the 750 and 7500. Both have low-profile, BPA-free 64-ounce containers, stainless-steel blades, and that powerful 2.2-horsepower motor.
The 750 blender comes with its 2.2-horsepower motor base and 64-ounce container. You'll also get a low-profile tamper for easy blending, the Vitamix cookbook, and a getting started guide.
You can buy other compatible accessories separately. Choose from a personal cup adaptor for individual servings and a handy under blade scraper to remove every last bit of food.
Vitamix does not recommend cleaning the blender parts in the dishwasher. However, the simple self-cleaning setting means all you have to do is add warm water and a drop of dish soap to clean your blender in about one minute.
This is a fairly standard feature for Vitamix. Competitors, including the Ninja Professional Countertop Blender, make dishwasher-safe parts and detachable blades.
Choose between a sleek black or a silverescent pearl grey blender base. Both are stylish enough to keep on your counter at all times for easy access. The container is always clear and the lid is a rubberized black plastic.
If purchased through the Vitamix website, the blender comes with a 7-year full warranty. The warranty includes all parts and free two-day shipping for repairs. The blender must only be used for household purposes to qualify for the warranty.
Vitamix 750 Series Blender