Instant Pot Duo Evo Plus Review
The Instant Pot Duo has evolved. Here's what you need to know.
We participate in Amazon's affiliate program and may receive a small commission if you click our links and purchase.
Instant Pot never ceases to amaze foodies with its seemingly continuous line of ever-better products — seriously, how do they manage to release "new and improved" products all the time?!
The Instant Pot Duo and the Duo Plus are two of the most popular Instant Pot models. They're basic and easy enough for new cooks, but they're still versatile enough to replace several common kitchen appliances and add some flair to home cooking.
The Instant Pot Duo Evo Plus builds upon that functionality and charm — the "Evo" part of the name is a play on the word "evolved." Everything you need to know about this new-and-improved Instant Pot is in this guide.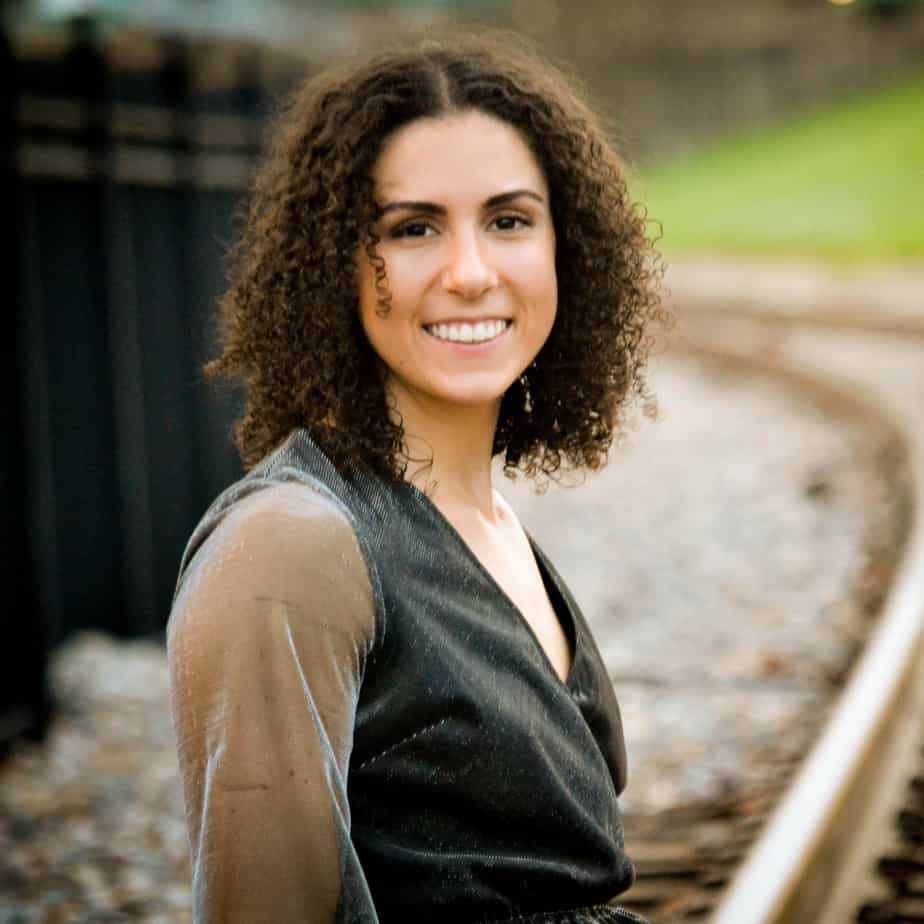 Instant Pot Duo Evo Highlights
Think of the Duo Evo Plus this way: It's the people's Instant Pot. This new model shows that the Instant Pot team really did heed what buyers were saying about the original models — they stripped away the hiccups without trashing any of the good features. In other words, the Duo Evo Plus contains features that Instant Pot lovers have been dying for, and it's rid of features that many Instant Pot users despised.
10-in-One Functionality

Like most Instant Pot models, the Duo Evo Plus has several functions you will probably use on a regular basis, and few you might only use on occasion. The Duo Evo Plus acts as a pressure cooker, rice cooker, slow cooker, yogurt maker, steamer, sous vide, sautéer, food warmer, cake maker, and stock pot.

20+ Enhancements From Duo

Many of the improvements on the Evo Duo Plus are obvious upon opening the box. For one, the display is much brighter and larger, and it seems bolder in some way. The inner pot has also been redesigned with a flat cooking bottom and a transferable tri-ply stainless steel that can be used on electric, gas, ceramic, and induction stovetops.

The handles on the inner pot have also been redesigned: They're more ergonomic, feature a cool-touch coating, and they lock the cooking pot into place.

Other enhancements include the improved lid design with a steam release cover and a pressure release switch instead of a valve.
8 Preset Buttons

On the main display, you'll find 8 one-touch buttons: pressure cook, slow cook, rice/grain, sous vide, steam, sauté, yogurt, and bake. The Duo Evo Plus also has delay start and keep warm buttons.

Perhaps one of the coolest things about the Duo Evo Plus is that you can dry bake in it. Yes, that means you can make baked goods without adding water to the bottom of the Instant Pot — just choose a temperature and time as if you're using an oven.

10 Safety Features

Like all Instant Pots, the Duo Evo Plus has passed the stringent tests required to achieve UL and ULC safety certifications. The Duo Evo Plus has the usual safety features: thermal fuse and electric fuse, overheat protection, steam release, anti-block shield, safety lid lock, lid position detection, leaky lid detection, pressure control, and temperature control.

48 Preset Cooking Functions

Yes, you read that right: The Instant Pot Duo Evo Plus features 48 easy cooking functions thanks to the eight preset buttons and the dial in the middle of the display. Don't feel overwhelmed: It's as simple as turning the dial and selecting a one-touch preset.
The Instant Pot Duo Nova is available in three sizes: 3 quart, 6 quart, and 8 quart.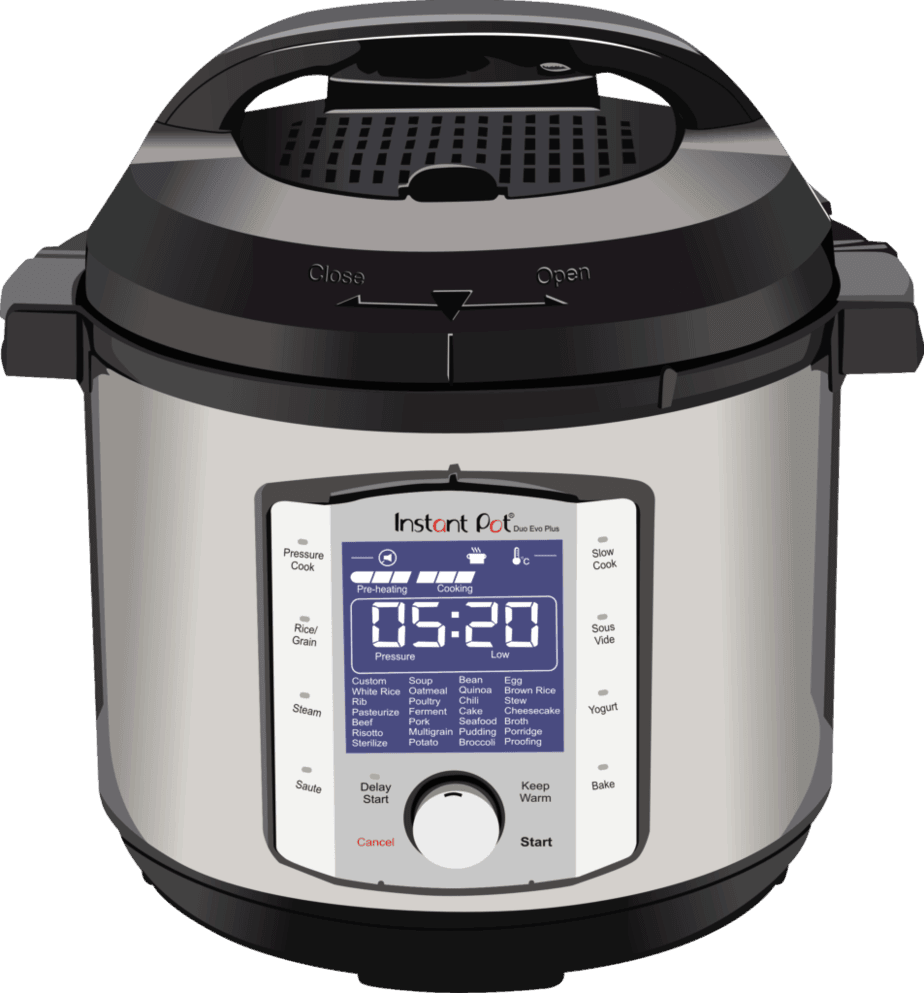 6 Quart
The 6-quart model is perfect for small-to-medium families. You can cook enough for 4-6 without too many leftovers.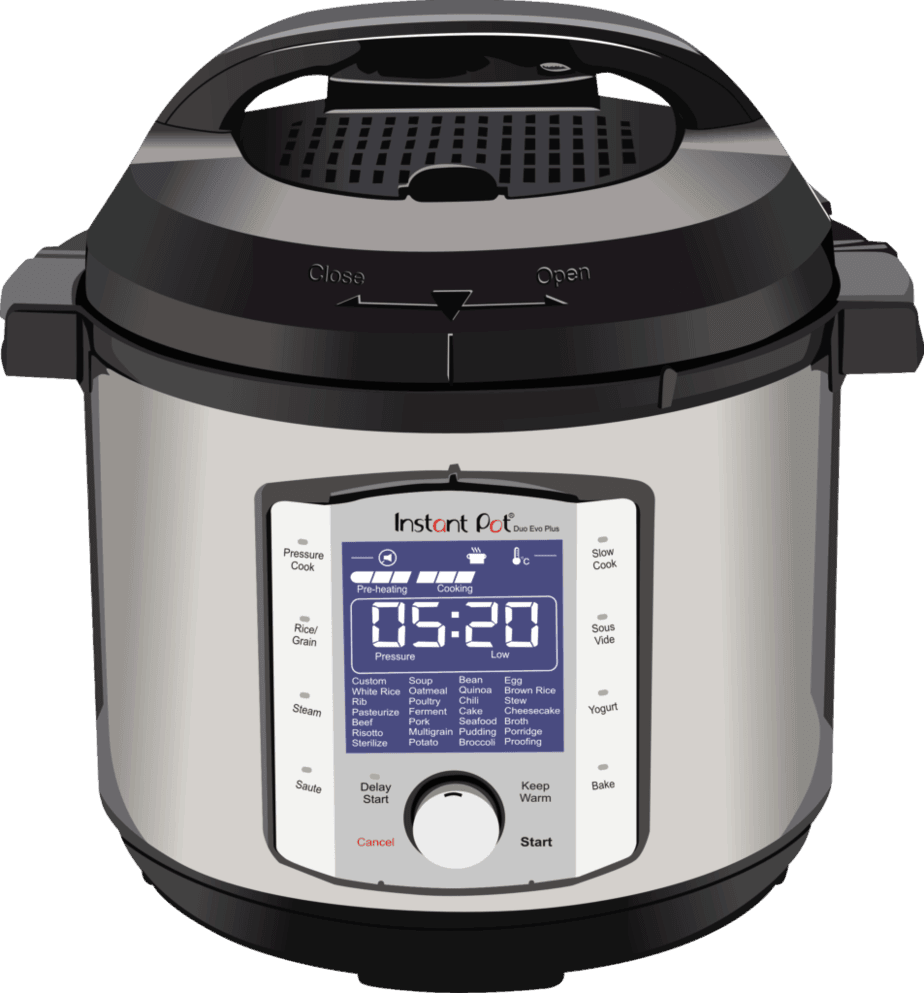 8 Quart
The 8-quart model is great for medium-to-large families and small get-togethers.
Versatile and Quick

With up to 48 customizable presets, the Duo Evo Plus is a close second to the Instant Pot Max in terms of versatility.

Added Functionality

The Duo Evo Plus includes a sous vide function, which gives it a leg up on the Duo Plus.

Ease of use

The 20+ enhancements make the Duo Evo Plus more ergonomic and easy to use — and I know we could all use even more perks to make dinnertime less of a hassle.
Dial Can Be Confusing

If you're used to a different Instant Pot model, the dial might be too much. It can definitely present a learning curve and feel overwhelming.

Not WiFi-enabled

This isn't a make-it-or-break-it feature for most people, but it is kind of cool when you can control your kitchen appliances on your phone. Not so with the Duo Evo Plus — it isn't WiFi or Bluetooth-enabled.
The Duo Evo Plus is a new-and-improved version of the Instant Pot Duo Plus. The cooking functions are the same — except for the addition of the sous vide function on the Evo Plus — but the build differs slightly. The lid, handles, and inner pot have been redesigned for better ergonomics, and the display is larger. Some functions have also been expanded, such as the bake setting that now allows you to bake without water.
The Duo Plus was released as a slightly upgraded version of the Duo. Now, the Duo Evo Plus has been released as a slight upgrade of both.
The Duo Nova is actually the upgraded version of the basic Duo. The Nova still largely mimics the Duo, with a few enhanced features, such as the automatically sealing lid. Here's an easy way to remember the differences:
Duo Evo Plus = upgraded Duo Plus
Duo Nova = upgraded Duo
Yes. Any accessories you bought for a Duo or Duo Plus, including sealing rings, racks, pans, and cups, should work with your Duo Evo Plus. However, note that the inner pots are not interchangeable: The Duo Evo Plus features a flat-bottomed inner pot, while previous Instant Pot models have domed bottoms.
Instant Pot Duo Evo Highlights