If you're like millions of others, you've discovered the magic of the Instant Pot. There's not much this appliance can't do–it's a slow cooker, rice cooker, egg boiler, and cake maker (plus so much more) all in one.
Enter the world of Instant Pot accessories, designed to work in perfect harmony with the Instant Pot and take this must-have kitchen appliance to new levels of versatility and functionality.
If you thought you couldn't live without your Instant Pot before, wait until you add a few well-chosen accessories to the mix. Let's take a look at our favorites.
The 13 Best Instant Pot Accessories
In no particular order, here are our top picks for the best Instant Pot accessories on Amazon.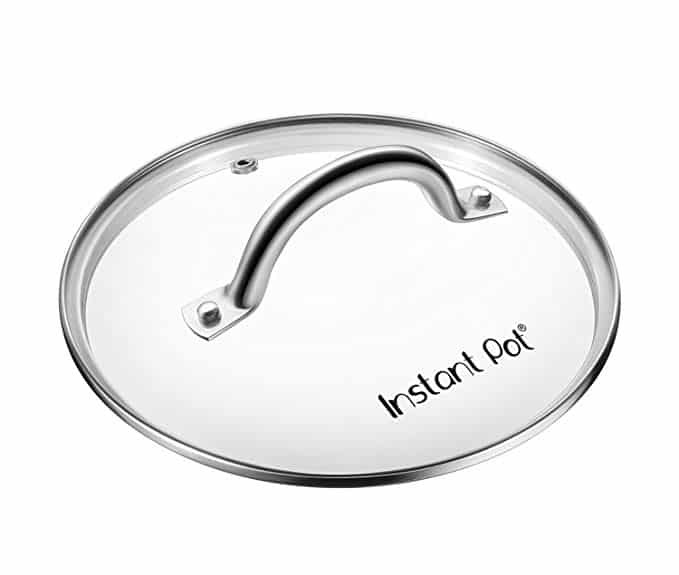 1. Glass Lid
The Instant Pot is well-thought-out, but it does have one pretty significant disadvantage: the lid prevents you from seeing what's inside, which is one of the features that we like on traditional slow cookers.
Fortunately, getting your hands on one of these glass lids provides the perfect solution.
Besides letting you see if your food is cooking the way it should, the glass lid is quite functional. It's perfect for a few different things, including slow cooking, sautéing, and the keep warm mode.
When slow cooking, the glass lid traps moisture in the pot, so your food doesn't dry out, and when sautéing, it prevents food from getting all over the place.
One last thing we like about this glass lid is that it's oven safe, so if you need to transfer your dish to the oven, you can leave the cover on.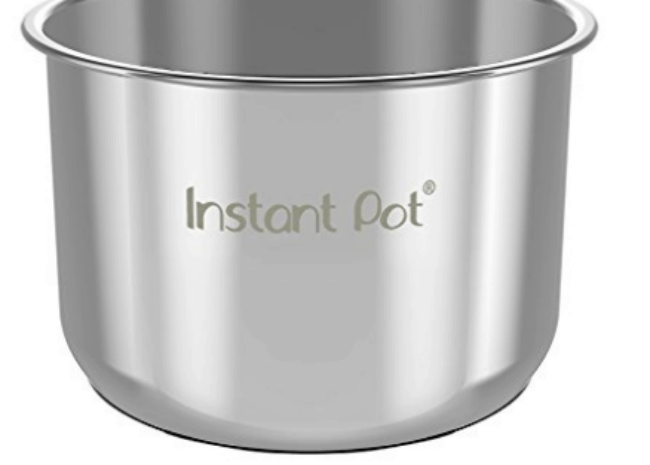 2. Inner Pot
"But doesn't the Instant Pot already come with an inner pot?" you ask. You're right, it does, but a second inner pot is a must for Instant Pot fanatics. Why is having some spare cookware so handy? We put this accessory on the list for a couple of reasons. 
The first reason is to prevent something that's probably happened to you. You get home after a long day at work, hungry and ready to fire up the Instant Pot, only to realize that the inner pot is sitting in the dishwasher.
Having a second one saves you from the inconvenience of having to waste time washing and hand-drying the dirty one.
The other reason is that having a spare is useful if you're preparing lots of food, especially for a special event like a party.
While you're using one to cook in the Instant Pot, you can get the next dish prepped and ready to go at the same time–a total game changer on stressful days like Thanksgiving.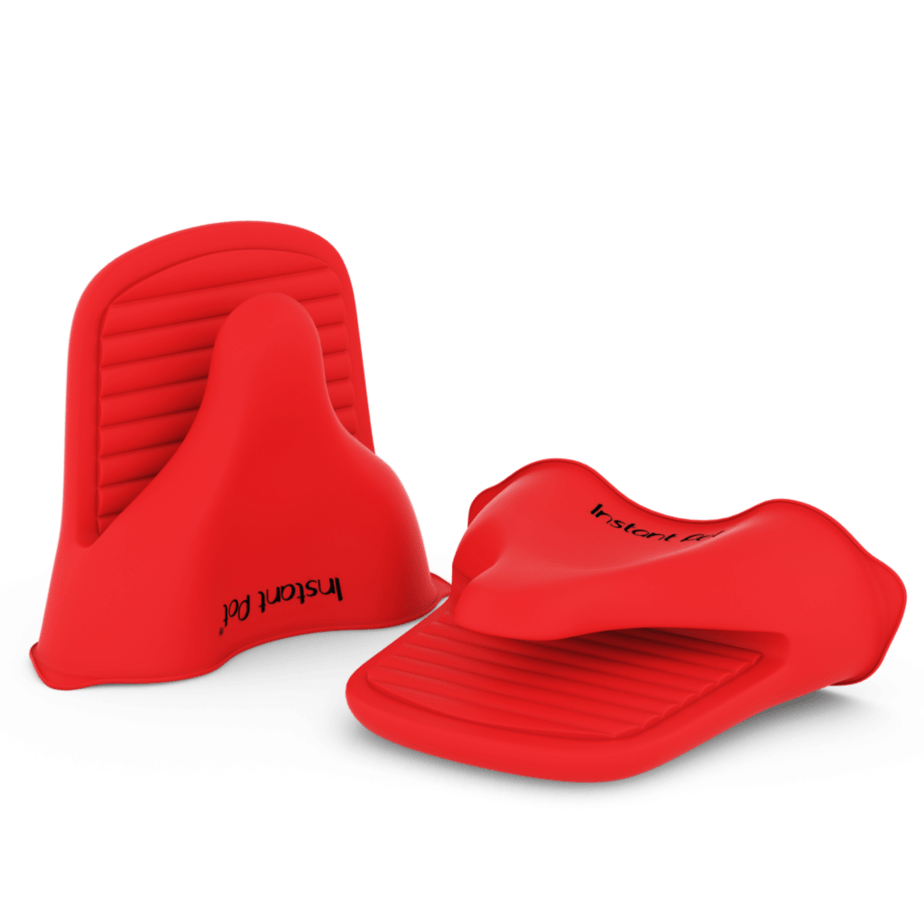 3. Silicone Mini Mitts
We know you already have a pair of oven mitts, but trust us when we say that you won't be able to live without these mini silicone mitts. Instant Pot designed these specifically with a ridge that allows you to grasp the inner pot in a way that regular oven mitts.
The inside is also ridged to give you the best grip.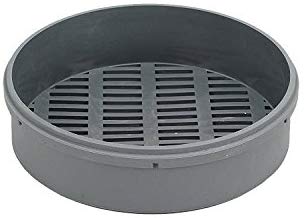 4. Silicone Steamer Basket
Add vegetable steamer to the list of things your handy Instant Pot can do. Veggie lovers will be pleased with this accessory, which is made of silicone. It has a design reminiscent of a traditional bamboo steamer, which we think is a fun little touch.
Want to make sure everyone in your family is eating their veggies? This steamer makes it easy to do that thanks to the two levels it creates inside the Instant Pot. Not much of a veggie lover? You can still get a lot of use out of the silicone steamer basket.
You can make almost any type of food with it, like rice, meat, fruit, and pasta, to name a few.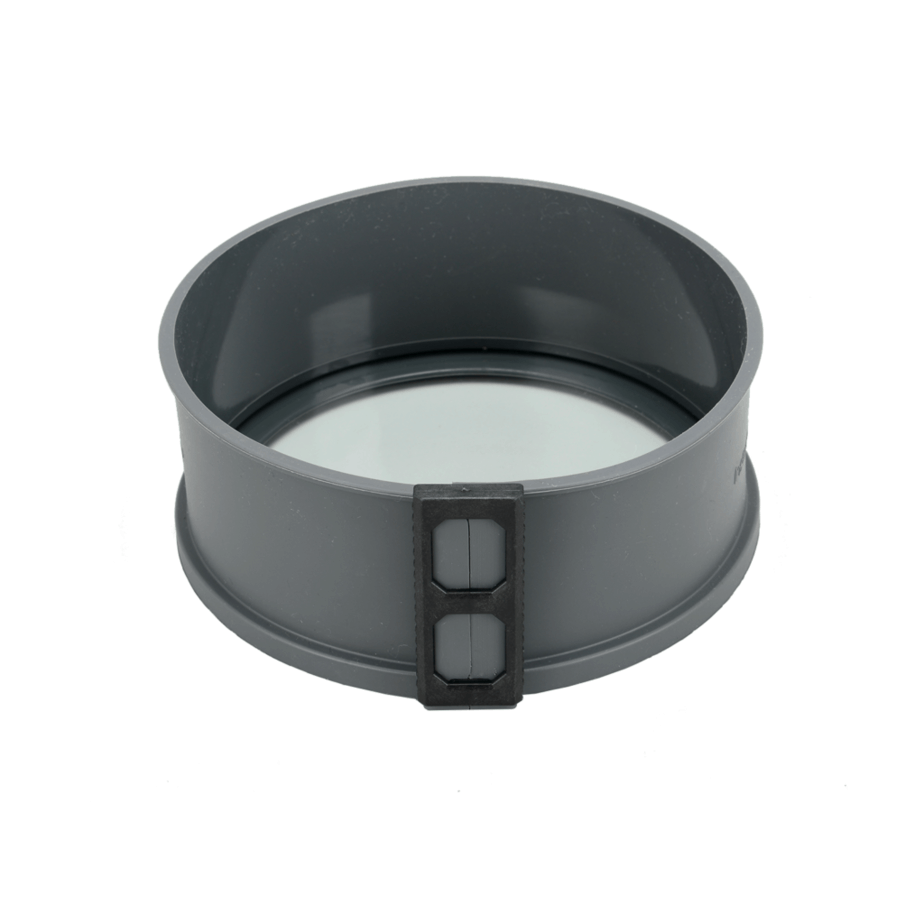 5. Silicone Cake Pan
Who would have ever thought that the Instant Pot could help you be the star baker at your next gathering? All you need is this silicone cake pan, which fits perfectly inside your Instant Pot, to impress all your friends with a delicious cheesecake–or chocolate cake or red velvet cake or … well, you get the idea.
The silicone cake pan comes with a tempered glass bottom, and we love the fact that its design allows you to bake, cut, and serve all in one place. The cake pan is one convenient purchase that bakers will use over and over again.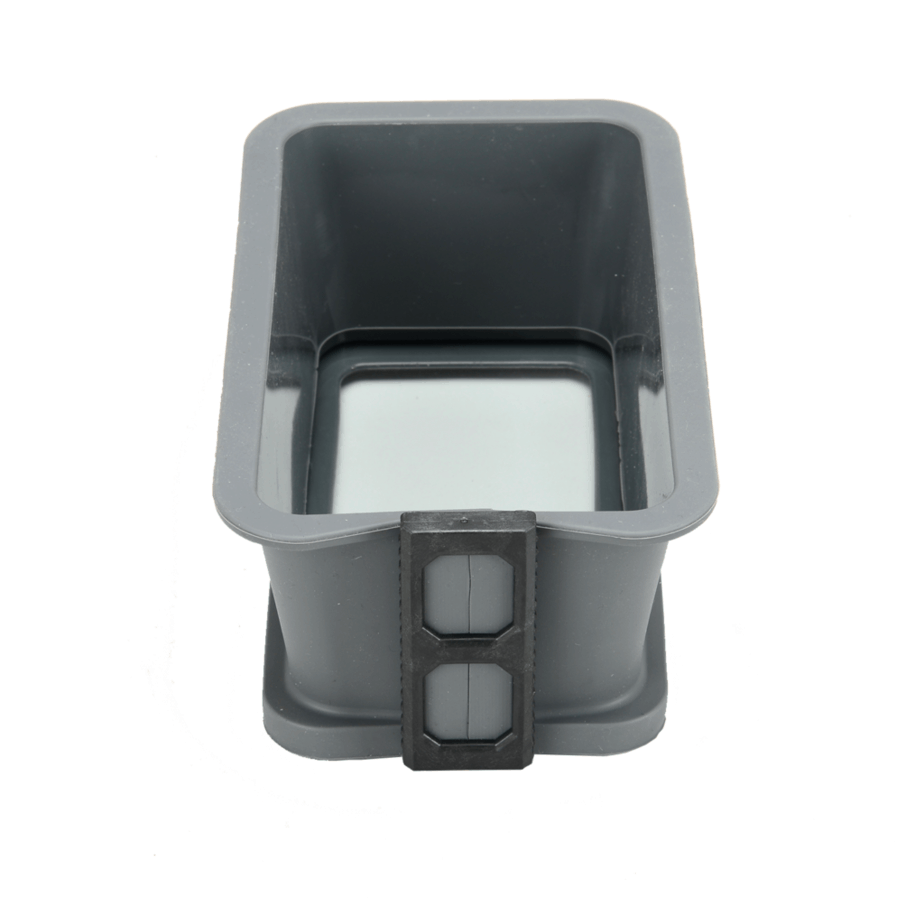 6. Silicone Loaf Pan
Bread lovers rejoice–you'll have as much carrot bread as you can stand to eat when you purchase this loaf pan.
The outer ring is made from silicone (as you may have already guessed), and the base is glass. Just like with the silicone cake pan we mentioned above, the loaf pan is your one-and-done accessory. You can bake, cut, and serve your bread all in one place.
We like that this model is designed for use with the Instant Pot-made silicone trivet, which makes it so handy that you may abandon your oven altogether.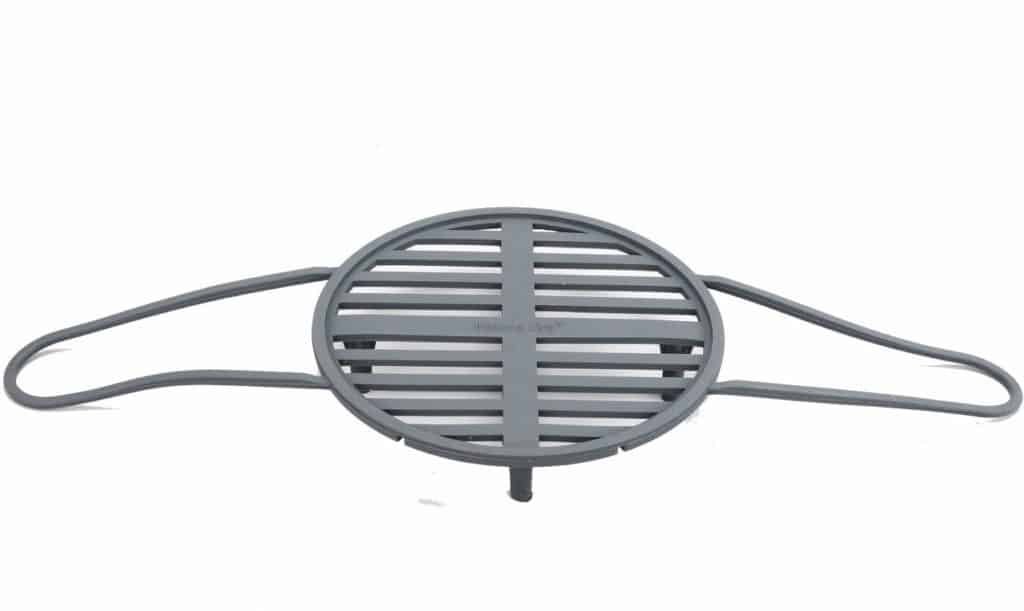 7. Long Handled Silicone Trivet
The long-handled silicone trivet is the unsung Instant Pot hero. If you've never heard of one, a trivet is an object that you place between a serving dish and a table to avoid damaging the table with heat.
When referring to the Instant Pot, it's a nifty little accessory that keeps things off the bottom of your device, whether that's food, racks, or baskets.
Trivets are especially important when cooking foods like eggs and veggies. These foods require you to add water to the Instant Pot, but you shouldn't submerge them in the liquid during cooking. The trivet lifts food off the bottom of the pot.
This item is also useful for quickly removing food from the Instant Pot, as it comes with long arms that you can grab when your meal is ready. We recommend this model made by Instant Pot, as it's specially designed to fit all of their other accessories.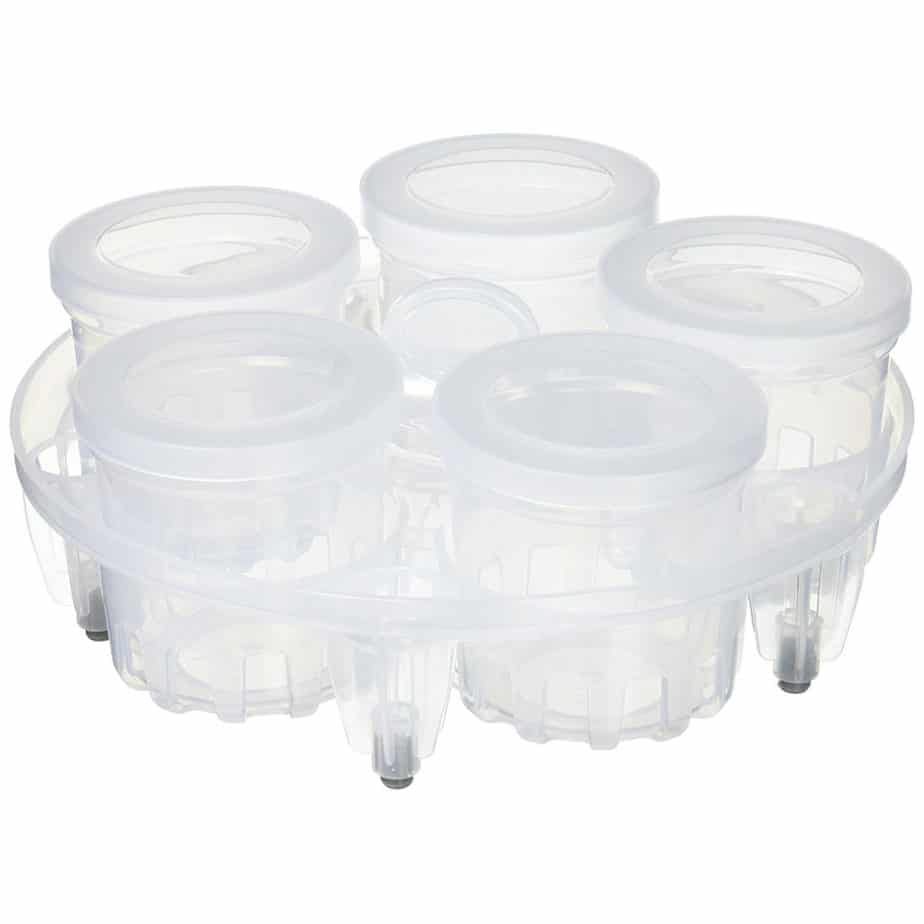 8. Yogurt Cups
We know, we know, the list of things you can make in your Instant Pot keeps getting longer with each accessory that we mention.
If you're tired of all the added sugar in store-bought yogurt and you've always dreamed of making your own, these yogurt cups will make all your probiotic dreams come true. This set allows you to make up to five servings of five ounces (or 150 mL) each, all from the comfort of your own home.
And parents of young babies will be happy to know that you can also use this set to sterilize baby bottles. Effortlessly sterilize up to five bottles at once by running the steam program for ten minutes.
Bacteria, fungi, and viruses will all be eliminated, which will come in handy come flu season.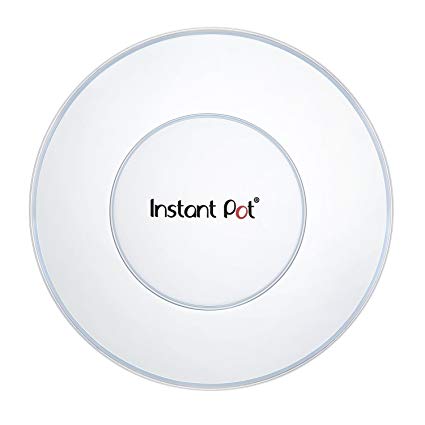 9. Silicone Cover
The silicone cover made the list of our 13 must-have Instant Pot accessories for its utility. Anyone who's ever used an Instant Pot knows there are times when you want to pop whatever you've made in the fridge to avoid dealing with Tupperware. And anyone who's ever used an Instant Pot also knows that Instant Pot doesn't come with a cover for easy storage.
Do yourself a favor and get a silicone cover. When you can stick your leftovers in the fridge with no extra effort, you'll be glad you did.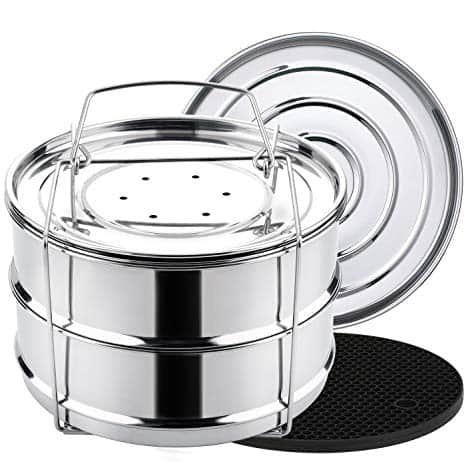 10. Insert Pans
Have you ever looked at your Instant Pot and thought, "This appliance is so cool, but I wish I could cook two different foods at once"? We're the bearer of good news: with these stackable steamer insert pans, you can do just that.
The insert pans allow you to steam different foods separately, like if you wanted to cook meat and vegetables at the same time. They do double duty as a dessert pan for cake and also work as a lasagna pan, but their versatility doesn't stop there.
You can use the insert pans to reheat food if you don't want to use your microwave, or if you don't have one.
And one last feature that makes the insert pans a favorite is the safety handle and silicone pad that protects your counter from the heat. Talk about all-purpose.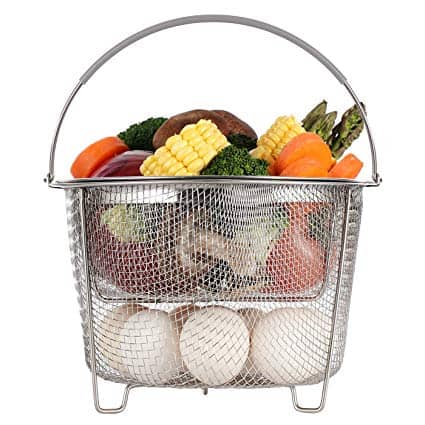 11. Steamer Basket
We love how multifaceted steamers are so much that we had to include a second steaming option on our list. This one is made of stainless steel, and it's a double tier stackable steamer basket that will let you take a step beyond traditional Instant Pot recipes into a whole other world.
What kinds of stuff are we talking about? This thing is great for cooking vegetables, but it's fantastic for creating broths because the mesh allows for easy solid straining.
This basket doubles as an egg rack if you want to steam eggs, and you can even use it as a pasta strainer if you need to.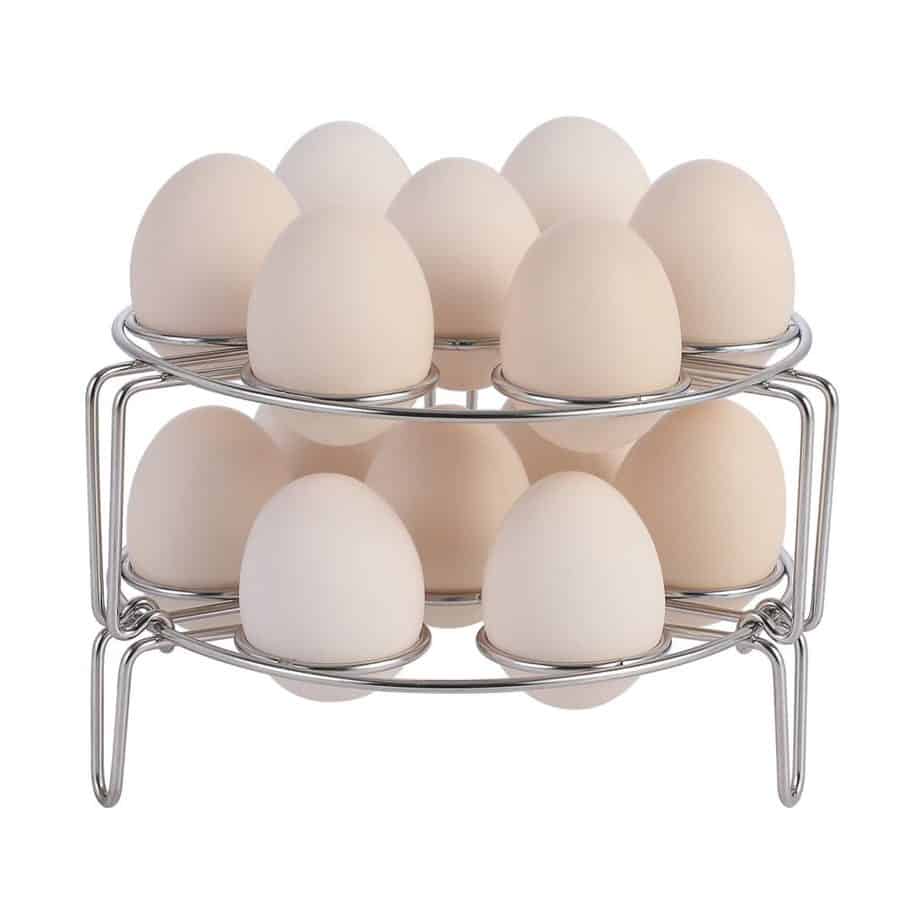 12. Stackable Egg Steamer Rack
The stackable egg steamer rack is one of our favorite pressure cooker accessories, and we're sure egg lovers would agree with us. The rack fits like a glove inside the Instant Pot and is stackable, making it even easier to get your protein fix.
With room for up to fourteen eggs, this item is incredibly useful for people who love the convenience of having hard- or soft-boiled eggs on hand. You also won't have to worry about the eggs falling out because the rack holds them securely in place.
And if nothing makes you madder than off-center yolks, the egg steamer rack stands your eggs up for perfectly centered yolks. Sounds like a win to us.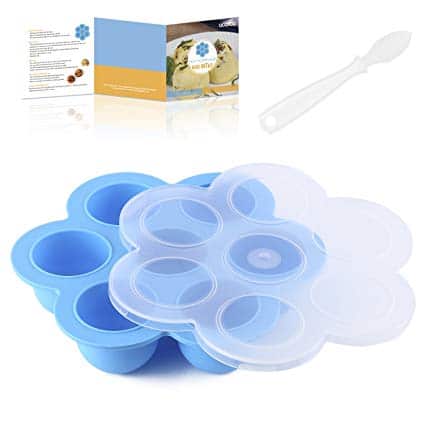 13. Silicone Molds
We've come to the last item on our list of must-have Instant Pot accessories: silicone molds that allow you to take your Instant Pot's usefulness to new heights. There's no easier way to make egg bites for your kids or your next gathering than with these silicone molds.
Or, if you prefer simple hard-boiled eggs, this accessory doubles as an egg steamer.
Besides making portion-controlled breakfast a reality, you can also use this accessory pretty much anywhere you want in your kitchen–in the freezer, in the microwave, and the oven.
Need king-size ice cubes? Done!
Don't have mini cupcake liners? Easy!
Missing a serving tray for sauces and condiments? Look no further!
These silicone molds can stand up to pretty much anything you ask of them, which is why they make a fantastic addition to not just your Instant Pot arsenal, but also to your kitchen.
A Word of Advice on Choosing Accessories
If you just purchased an Instant Pot, you might be pretty excited by all these cool accessories and ready to buy them all. However, we do have some advice regarding Instant Pot accessories. And while it might seem surprising, our advice is not to buy any.
At least not right away.
The reason being is that it's best to use your Instant Pot on its own for at least a few months to get an idea of what you actually need. You don't want to buy a bunch of accessories that you won't use later, so pay attention to what you're missing those first few months as you get used to your Instant Pot.
Trust us; whatever you do end up getting will be that much more useful.
What Instant Pot Accessories Will You Buy?
As you can see, the world of Instant Pot accessories has plenty of options that will keep you busy in the kitchen. We love that you can customize this handy kitchen appliance to suit your needs and make your life just a little bit easier when mealtime rolls around.
Impossible as it may sound, this heavy hitter just got even better.
Whether you choose the mini mitts, the glass lid, or the egg steamer, we hope these items help you make lots of delicious meals.