What is the Best Instant Pot in 2021?
Read Reviews and Compare Top Instapots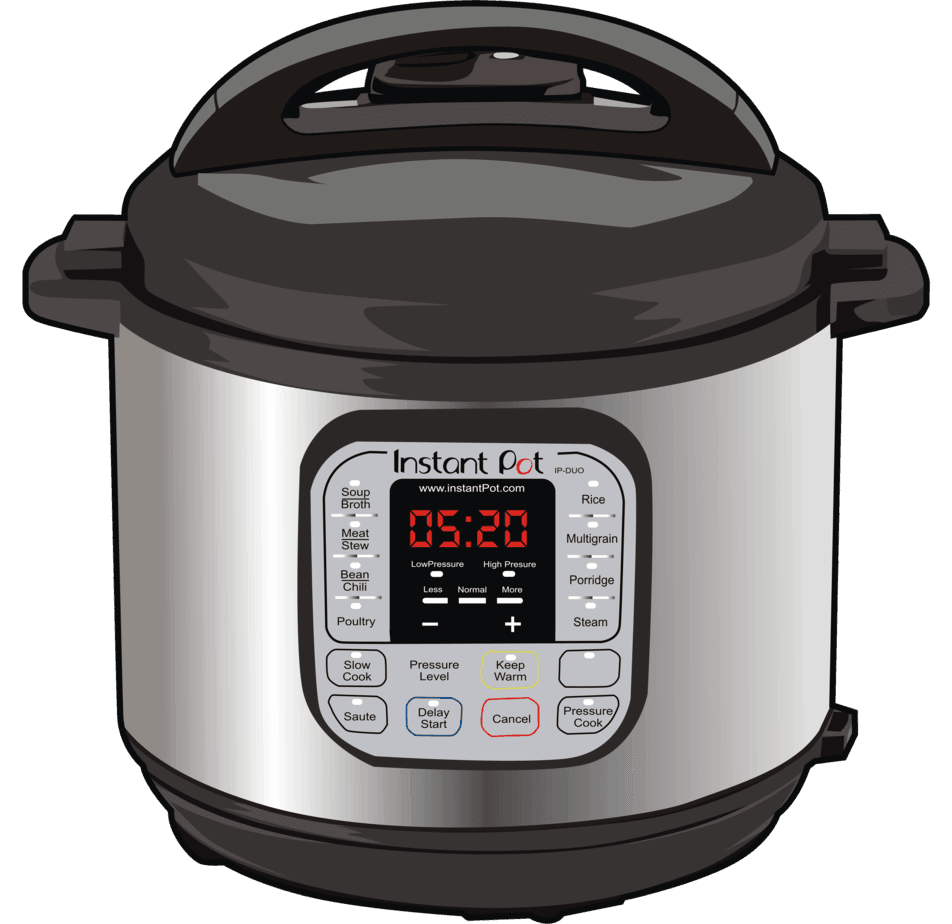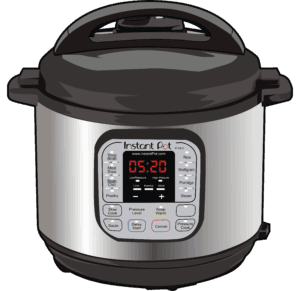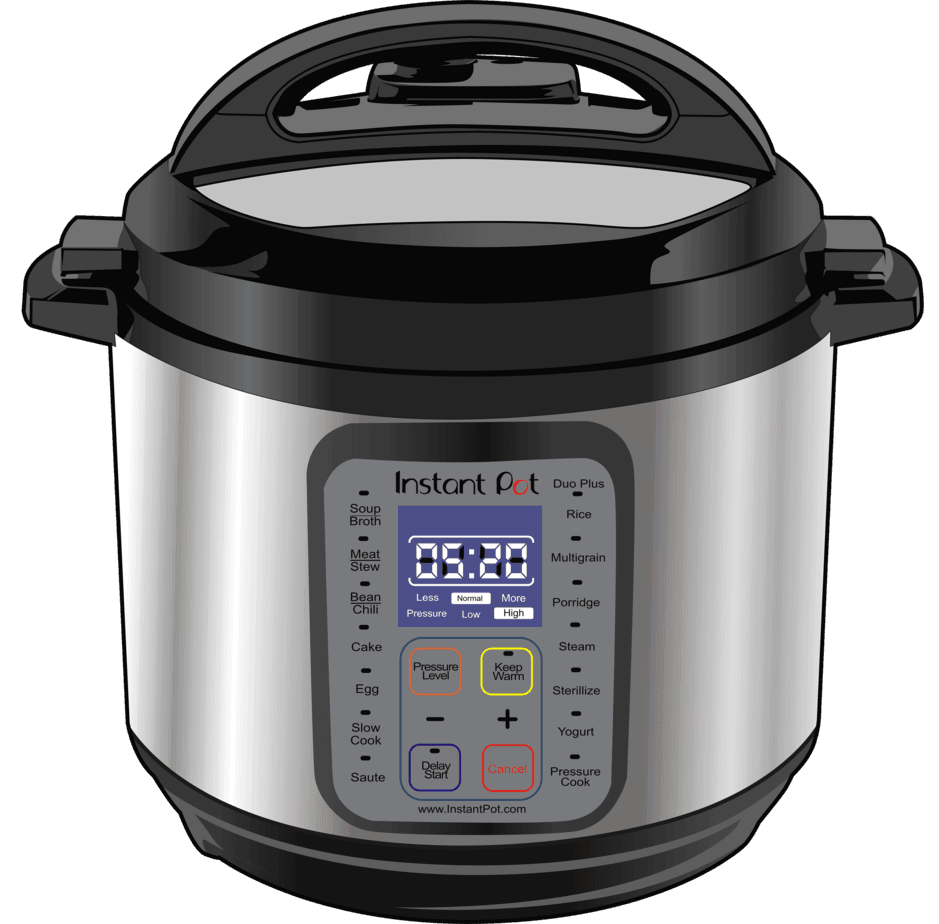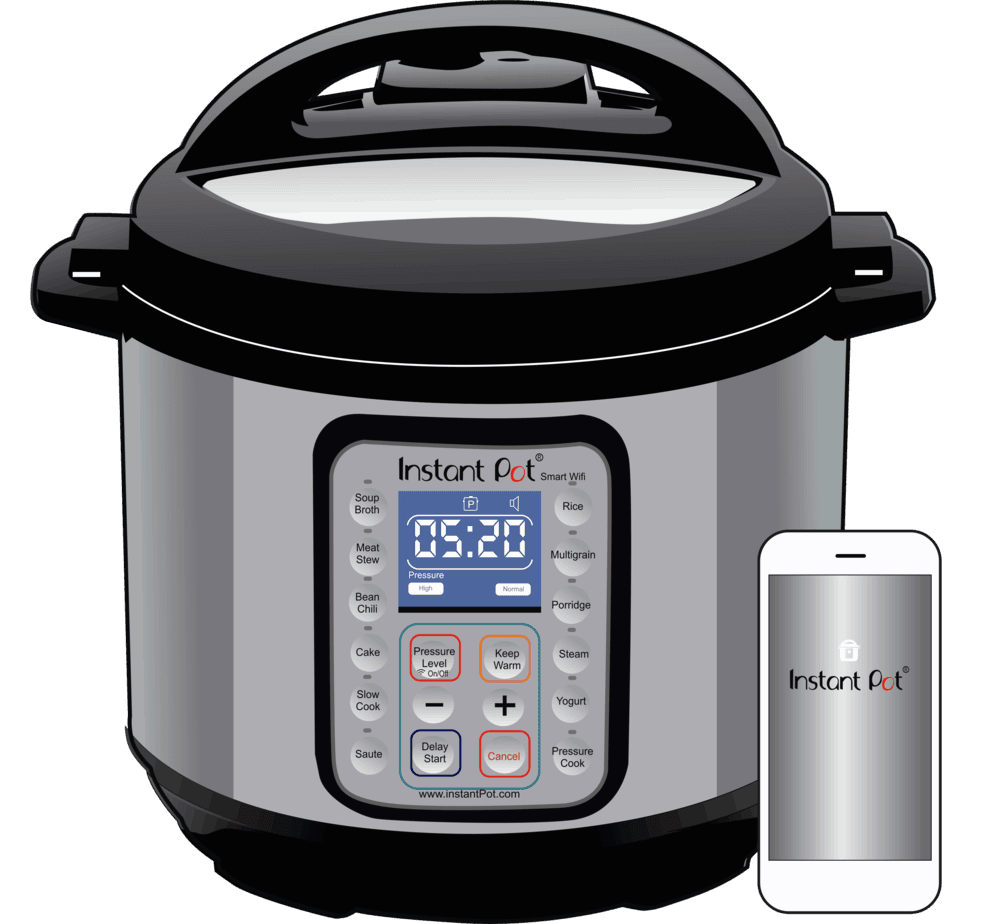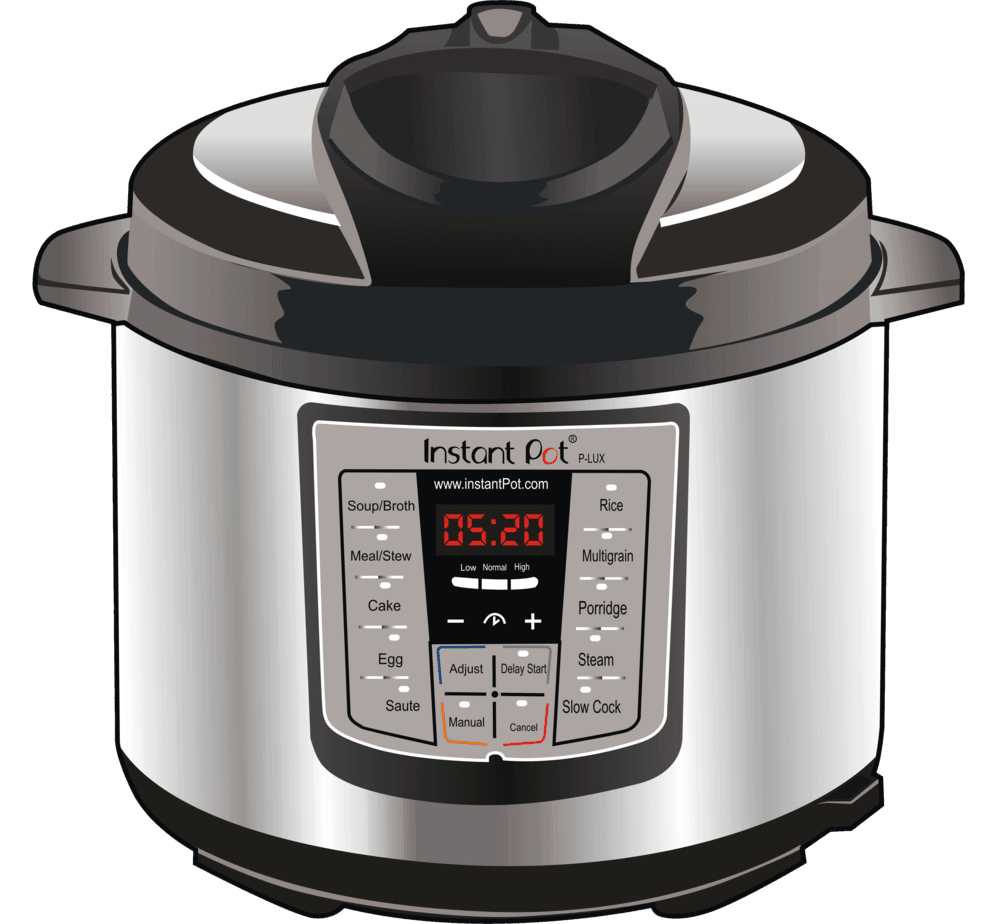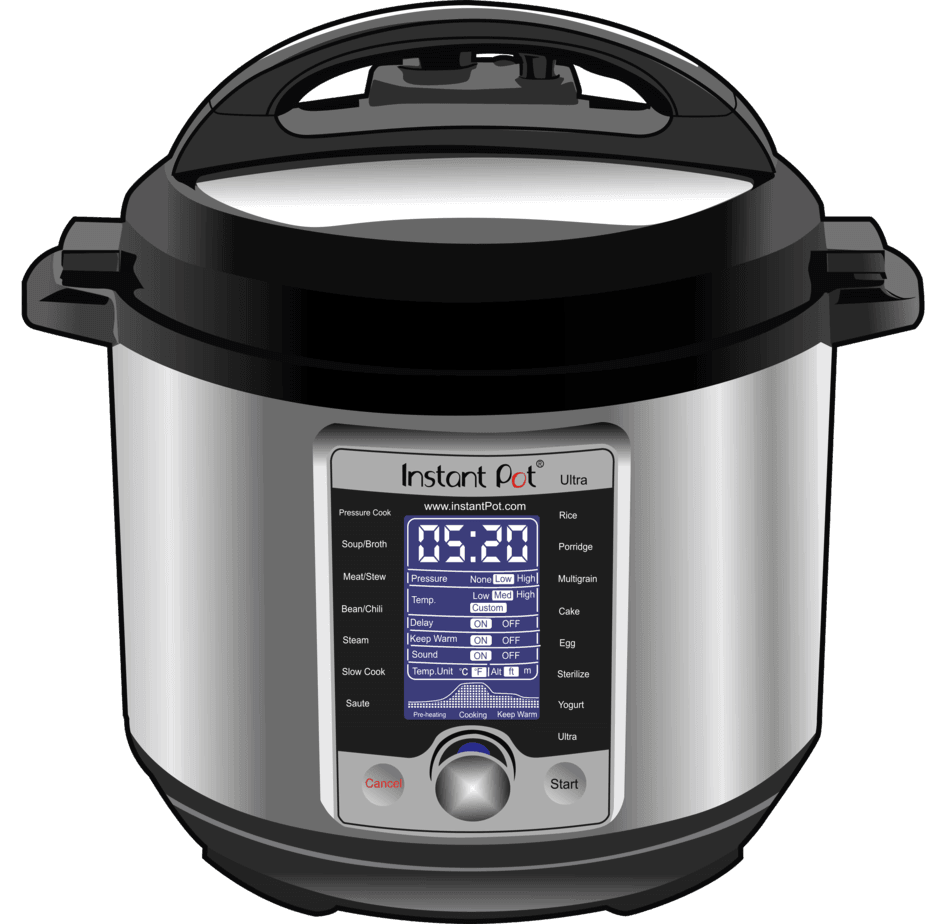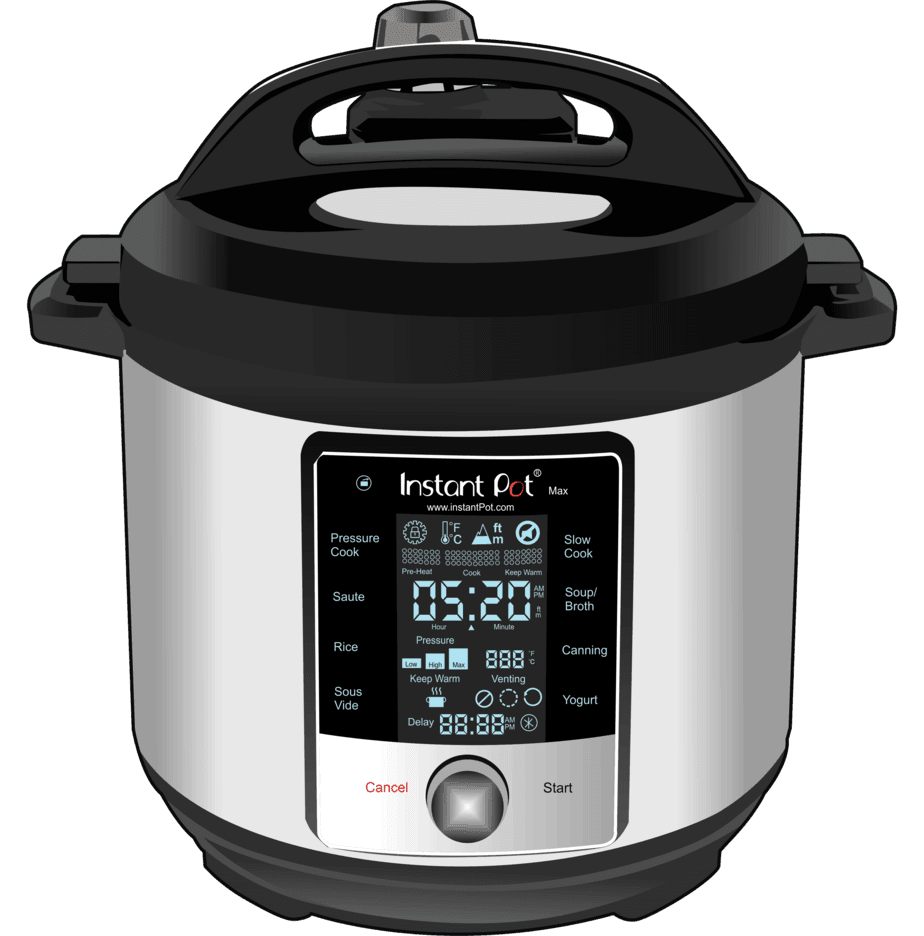 Interested in the latest and greatest gadgets for your kitchen? If so, you've likely heard of the do-it-all pressure cooker that's taking the nation by storm - the Instant Pot.
In a few short years, the Instant Pot has become one of the best selling kitchen appliances.
The Instant Pot, also known as Instapot, offers a range of models, from the 7-in-1 Instant Pot Lux to the top-of-the-line Instant Pot Max. So it's not easy to find the right Instant Pot for your household.
Fortunately, we've spent countless hours researching options and comparing features and compiled our findings in to this extensive buyer's guide. Below, you'll find a breakdown of the best instant pots so that you can make an informed buying choice.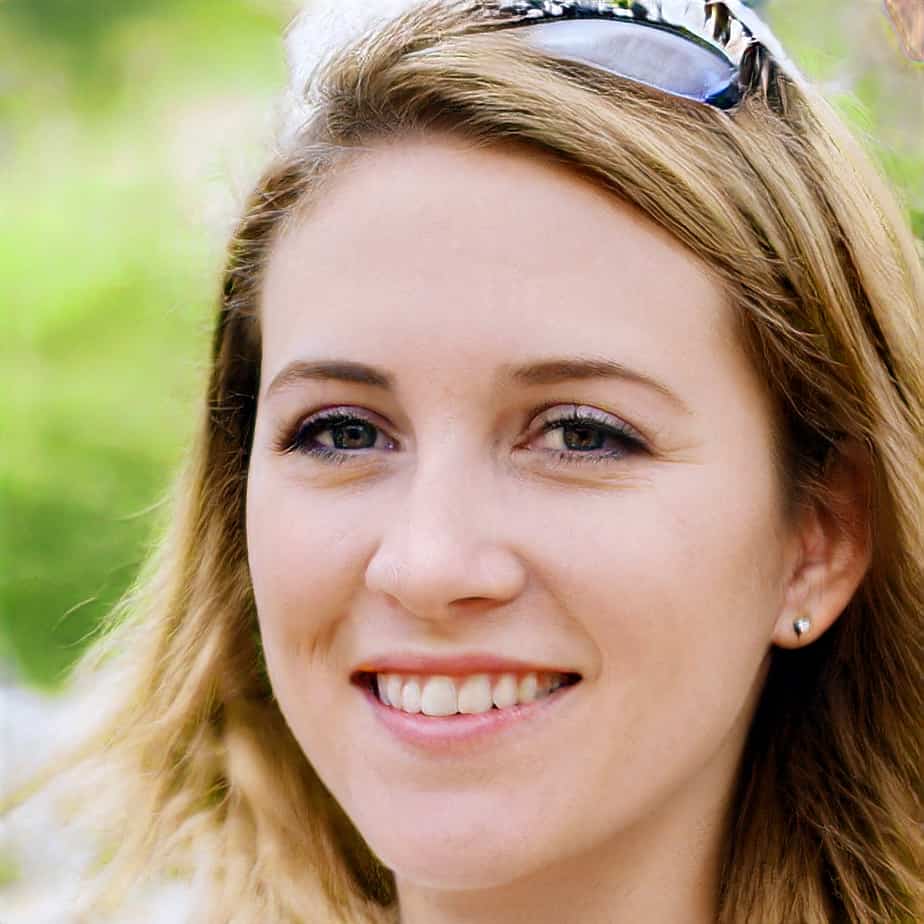 In a rush? Check out our top 3 Instant Pot picks:
Best Cost-Effective Pick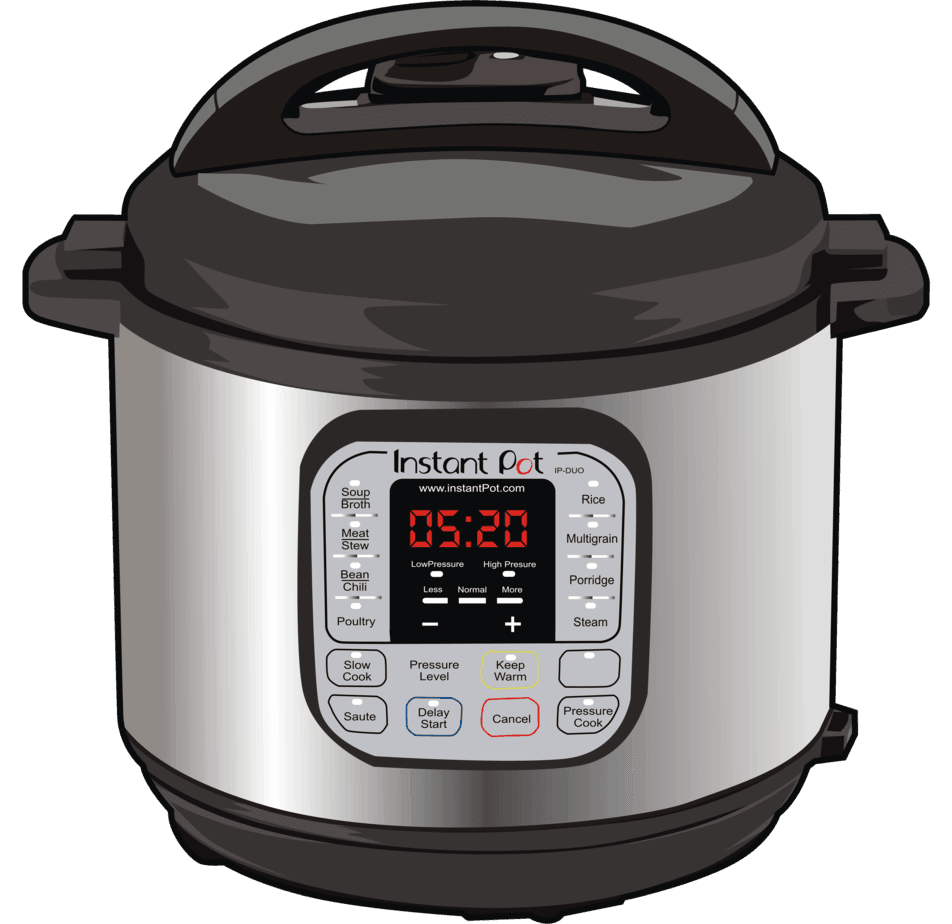 Best Overall Pick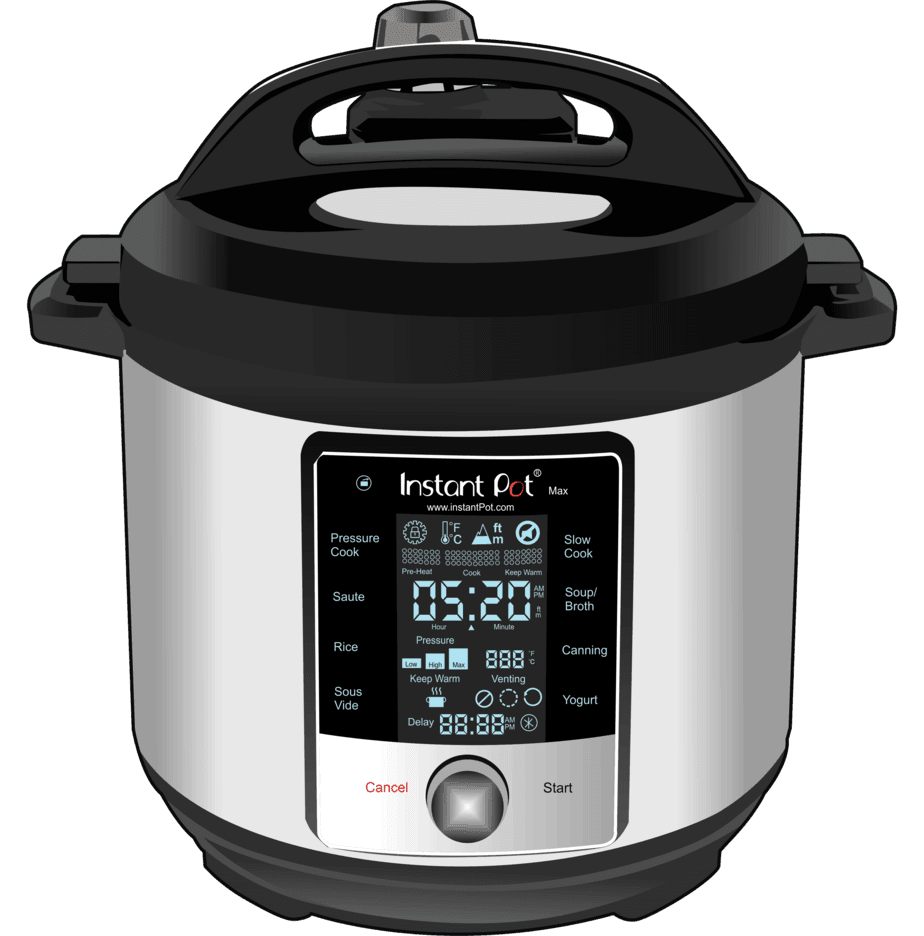 Best Tech-Friendly Pick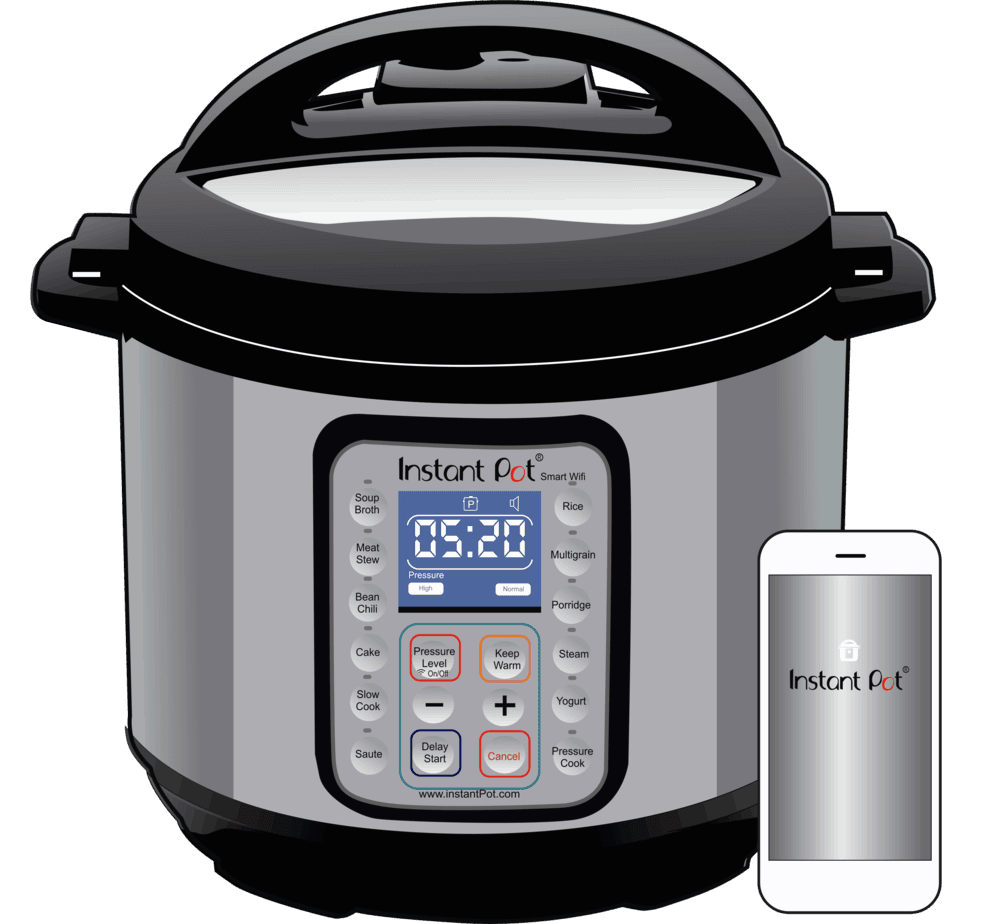 An Instant Pot is an all-in-one device that streamlines your cooking experience. It combines multiple kitchen appliances, allowing users to save money and maximize counter space. Although the specific functions vary from one device to the other, most models can generally function as a:
Instant Pot introduced its first product in 2010. Since then, each new model has added new features, improving on user-friendliness, functionality, and safety. CEO Robert Wang has said that the company's primary goal is to provide "the best kitchen experience by offering unique user interface design connected technologies.
The Instapot is perfect for those who are:
Do-it-yourself food enthusiast

On special dietary restrictions

Looking to save time in the kitchen

Seek nutritious, well-balanced meals
Instant Pot Reviews & Top Picks
The Instant Pot is one of the best selling brands on Amazon. The company has captured the attention of cooks worldwide with a following of nearly 1.8 million on Facebook.
To help potential shoppers, we've researched and profiled 6 popular Instant Pot options below - Duo, Duo Plus, Lux, Max, Ultra, and Smart Wifi. Find the right Instant Pot for your kitchen.
Best Instant Pots: Our 2021 Picks
Here are our top picks for three Instant Pot categories:
Best Cost-Effective Pick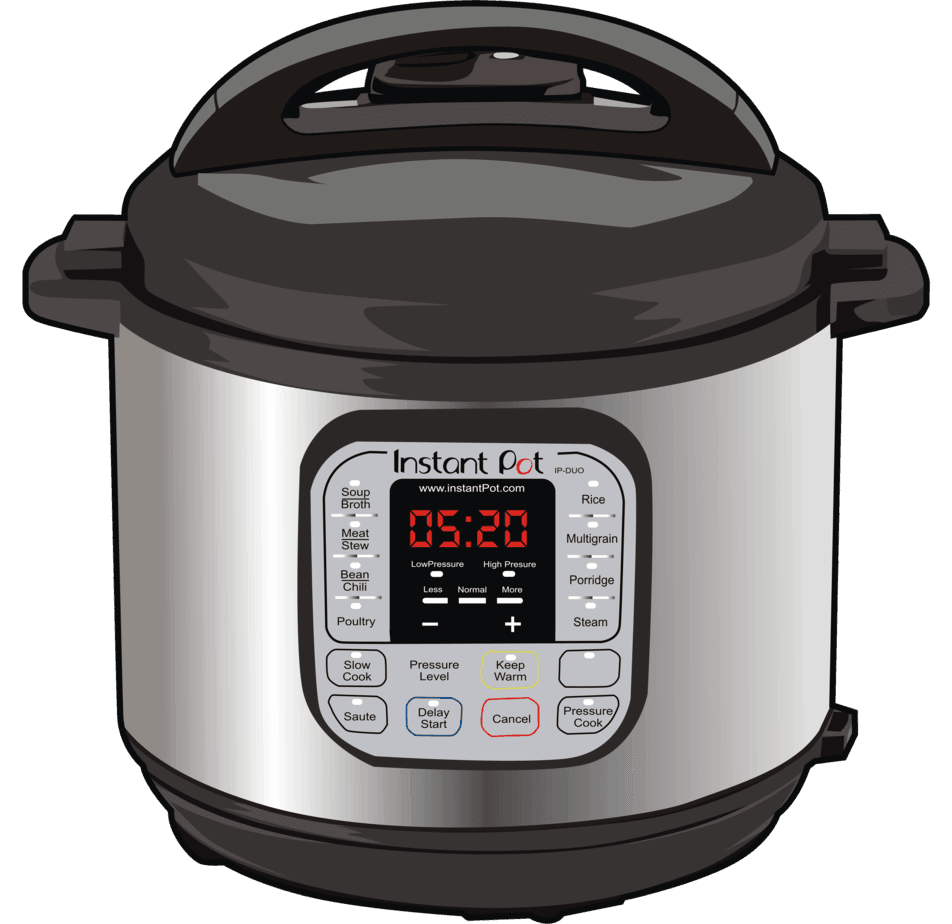 Best Overall Pick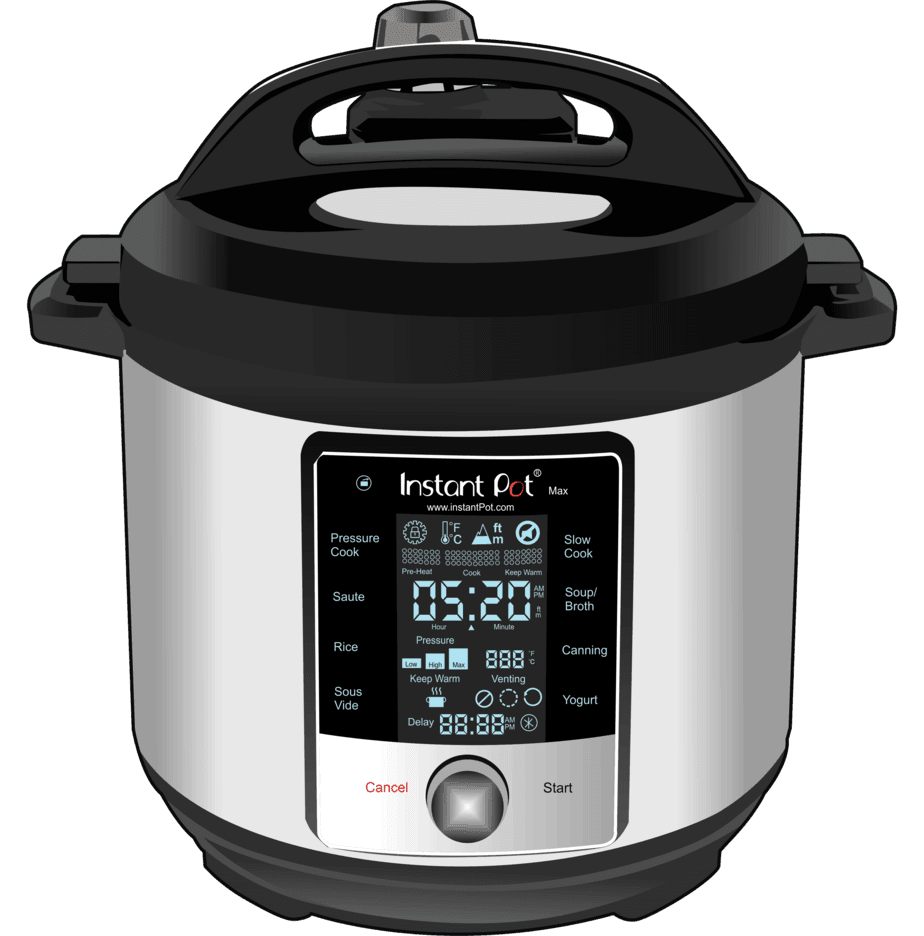 Best Tech-Friendly Pick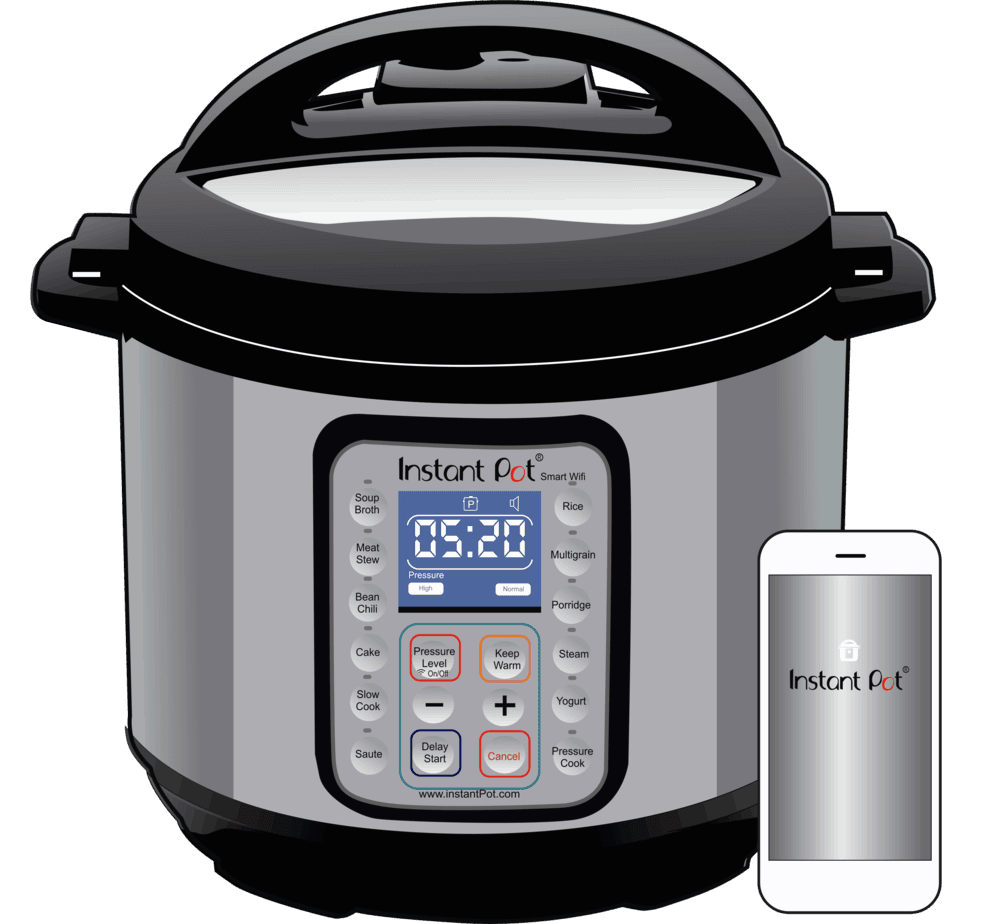 The Instant Pot Duo is another one of the top Instant Pot models available in three, six, or eight-quart sizes. The electric pressure cooker has earned an "Amazon's Choice" label for those searching for an "Instant Pot" because it is highly-rated, reasonably-priced, and available for immediate shipping. This device is a seven-in-one cooker. In addition to the six options available in the Lux, the Duo also serves as a yogurt maker.
The Duo is similar to the Lux in that it uses high pressure to cook foods faster than other appliances. It also features one-touch controls and a built-in microprocessor that monitors temperature and pressure. The Duo, like the Lux, is also Alexa-enabled.
The Duo also features 18/8 stainless steel that does not contain any chemical coatings and is 304 food-grade.
The only specs that are different between the Lux and the Duo are the measurements and the weight. The Duo measures 12.2" x 12.6" x 13" and weighs roughly .3 ounces more. The Duo is also slightly more expensive than the Lux. However, there are a few critical design features that make the Duo a potentially worthwhile investment for those looking to get a bit more out of their Instapot.
For instance, the Duo contains 14 Smart Built-In programs, which is more than the Lux's 12 but less than 16, the max number seen on the Instapot Ultra. The Duo also offers an astounding 12 pre-set temperature settings. Like the Lux, the Duo offers ten safety features and offers pressure cooking times up to four hours.
Replaces 7 Kitchen Appliances
While some of the features on the Duo offer an upgrade over the Lux, it still pales considerably to more advanced Instant Pot options. The first upgrades that customers would be paying for when choosing a Duo over a Lux are a yogurt maker and the fact that it comes with five more pre-set temperature settings.
The Instant Pot Duo60 is one of the top instant pots on Amazon. It has a 4.6-star rating with nearly 30,000 customer reviews. Of those who reviewed the product, more than 80 percent gave it a five-star rating. Reviewers raved about the yogurt feature, commenting on its simplicity. One reviewer went as far as to say that the yogurt maker alone made this device worth the price.
Some customers did complain that the product seemed to stop working after a year and that they found it difficult to communicate with Instant Pot's customer service. Most of the one-star Amazon reviews of this product expressed similar sentiments.
However, a mere five percent of the responses were of this nature. Many of these reviews were not recent either, so Instant Pot may have fixed any problems.
If you compare Instant Pots, you'll find that the Duo Plus offers even more features than the Duo. The Duo Plus is an astounding nine-in-one multi-use device. In addition to the features seen in the Duo, the Plus also acts as a Warmer, Sterilizer, and Cake-Maker. Like other Instapots, this device also utilizes food-grade 304 18/8 stainless steel.
The dimensions for a six-quart pot are 12.2" x 12.6" x 13," and the unit weighs about 11.8 pounds. Not only does this product comes in three, six, and eight-quart sizes, but Amazon also offers the product as a bundle as well. The package allows users to purchase the three and six-quart models together at a discount.
Although every Instapot offers convenience, the Duo Plus is especially beneficial for those with limited schedules. The Warmer, Sterilizer and Cake-Making options allow users to cook and clean up after an entire meal with one device. Additionally, the three and six-quart bundle could be useful for those who need to prepare large meals and keep food warm throughout the day.
In addition to the three added cooking features, the Duo Plus also adds another Smart Built-In Program. While the Duo offers 14 programs, the Duo Plus provides 15.
Both the Duo and the Duo Plus offer 12 pre-set temperatures and offer up to four hours of cooking time. The Duo Plus also provides customers with ten safety features.
The Duo Plus has a 4.5-star rating on Amazon with more than 4,000 customer reviews. Of those who reviewed the product, 80 percent gave it a five-star rating while less than ten percent gave it either a one or two-star rating. Customers seemed to appreciate the "Cake" feature genuinely, also mentioning that this setting can bake bread as well and that they cooked:
Replaces 9 Kitchen Appliances
Yellow Bundt Cake
Boxed Cake
Cornbread
Some of the primary customer complaints seemed to focus around a silicon ring inside the ring of the Duo Plus. Reviewers mentioned a defective weld in the inner circle of the lid, which holds the silicon ring in place. Other reviewers said that the silicon ring picked up the scent of every food that they cooked, with the previous smell leaking into the next meal.
If you're looking to purchase a feature-rish Instant Pot, you'll want to consider the Ultra strongly. The Ultra offers customers plenty of versatility as a ten-in-one multipurpose cooker and comes in 3qt, 6qt, and 8qt models.
In addition to the Warmer, Sterilizer, and Cake Maker options seen in the Duo Plus, the Ultra also provides an Egg Cooker option.
The Ultra consists of the same food-grade 304 18/8 stainless steel as other models. It also has a 120V – 60Hz power supply.
However, it comes with 11 safety features, as opposed to the traditional ten seen on other devices. The eleventh safety feature is a steam release reset button. The Ultra also comes with numerous accessories, including:
Steam rack with handles
Serving Spoon
Soup Spoon
Measuring Cup
Recipe Booklet
This device provides users with "ultra" control when it comes to making their meals. First and foremost, customers have an additional two hours of pressure cooking time, with an increase from four to six hours compared with many other models.
There is also another Smart Built-In Program in the Ultra, up to 16 from the 15 in the Duo Plus. Most critical, however, are the pre-set temperature settings available on the Ultra.
Replaces 10 Kitchen Appliances
While customers had only had access to 12 pre-set temperature control settings in the past, the Ultra provides them with 21. Instant Pot also added a dial to the control panel in addition to a button to provide better control for customers. Lastly, there is a large LCD screen that displays information like "Altitude Adjustment," and provides precise cooking time along with a "Cooking Progress Indicator."
If you compare Instapots, you'll find that the dimensions and weight of this model are the same as they are for the ones discussed previously. This device is perhaps best for those with experience using an Instapot who are looking for pinpoint control and accuracy in their recipes. The Egg Cooker is an added plus, although lesser models can do the same by adding an attachment.
The Ultra has a 4.4-star rating on Amazon with more than 2,100 reviews. Of those who reviewed the product, more than three-quarters gave it a five-star rating. One thing that customers mentioned was that there was a bit of a learning curve when using the product.
They said that the buttons are drastically different on the Ultra than on previous models.
Reviewers noted that if you're used to an older Instant Pot model, you'll need to relearn how to operate certain features because of the intricate cooking options offered by the Ultra. Users also vouched for the pressure release safety feature, which many admitting that they wish the company had installed this feature in previous models.
The Instapot Max is one of the newer models and provides a top-of-the-line alternative for those looking for a best-of-breed option.
Unlike the Duo, Duo Plus, and Ultra, the Instant Pot Max only comes in 6qt. However, what customers potentially sacrifice in size is quickly made up for in customization, as it gives users the ability to carefully fine tune their cooking process.
This product can reach sustained pressure of 15 pounds per square inch and provide users with 8h of cooking time.
Customers also receive more control because they have access to "Unlimited" pre-set temperatures, compared to the 21 seen in the Ultra. Furthermore, they receive "Unlimited" Smart Built-In Programs, versus the 16 in the Ultra. The Max provides customers with temperature control to within half a degree Celcius, which the company says allows them to prepare "gourmet style meals."
The Max provides two more safety features than the Ultra, giving users automated venting and a lid lock. It consists of the same stainless steel as models discussed previously. It measures 12.2" x 12.6" x 13" although it is a bit heavier, weighing 15.7 pounds. This model requires a bit more wattage to operate, as it needs 1100 watts. The other models discussed in this post all require 1000 watts.
The Max is noticeably different than other models because of its "NutriBoost" technology. This setting creates a boiling motion during the cooking process.
Replaces 10 Kitchen Appliances
The company says that this not only helps break down food more quickly but that it also adds flavor and nutrition to liquid foods. This setting works best when making bone broths, soups, and chowders.
This device is best for those who plan to use their Instant Pot frequently and are looking to get the most out of their investment. It's worth noting that this product is an investment, as it is considerably more expensive than other six-quart models in the Instant Pot product line.
This product has just under a four-star rating on Amazon with minimal customer reviews.
Reviews about this product appear inconsistent. Some customers said that although the product took some getting used to, they ended up loving it. Others remarked that although it offered additional features, the Max took longer to heat up than the Ultra. One reviewer expressed the sentiment that the Max was "rushed to market" too quickly. Perhaps the verdict on the Max is still up for debate.
If you're someone who has embraced the smartphone craze while living life on the go, then the Instant Pot Smart WiFi could be right for you. This product, which is more affordable then you may think, allows customers to access their pressure cooker through their phone using an in-home WiFi network. The Smart WiFi product utilizes a 2.4 GHz WiFi connection.
Customers can set this cooker from anywhere while also relying on the more than 750 recipes pre-programmed into the device. This makes it an excellent option for those who are away from home frequently but would like dinner ready when they arrive. Imagine a scenario where you're coming home from work and only have a few minutes to eat before having to take your children to a sports practice.
The Smart WiFi allows you to turn the device on and set it just as you would if you were standing in front of the unit. The product also allows you to share access to the cooker with your entire family.
The product is unfortunately only available in a six-quart option. It too measures 13.2" x 12.2" x 12.5" and weighs approximately 11.5 pounds.
Unfortunately, the convenience that customers receive in the ability to set the device from anywhere yields some sacrifices in the unit's performance. For instance, the product has 13 Smart Built-In Programs, less than those offered in the Duo. Furthermore, there are only 12 pre-set temperatures. This product provides up to six hours of pressurized cooking.
Furthermore, this product comes with 11 safety features. However, in this case, the eleventh feature is a self-diagnostic test. This is not so much a safety feature as it is something that's necessary when using a device remotely. So, in summary, this device is best for those who aren't concerned about maximum functionality, but rather the convenience of being able to control the unit from anywhere.
Replaces 8 Kitchen Appliances
The Smart WiFI device has a four-star rating on Amazon with nearly 70 percent customer reviews. Many people were satisfied with how well the invention cooked their food, but there seemed to be a lot of complaints on the technical side surrounding WiFi connectivity. Customers should note that there was a previous Bluetooth model that Instapot has since discontinued.
The Lux is the inexpensive Instant Pot option.
It's available in three, six, and eight-quart sizes. The product is an Amazon Best Seller in the slow cooper category. The Instant Pot Lux can serve as a pressure cooker, rice cooker, slow cooker, warmer, steamer, and sautéing device. The device uses high pressure to cook foods up to 70 percent faster while also saving energy.
This product could be best for those looking to purchase their first Instant Pot and are searching for a basic model. Unfortunately, this product pales in comparison to others when it comes to features. The six-in-one design is the most simplistic of the best Instant Pot options. This product has 12 Built-In Programs, which is the least of any other Instant Pot model.
This pot also contains a mere seven pre-set temperature settings. Other pots offer anywhere from 12 to unlimited settings.
The Instapot Lux has an LED display. This model is the most affordable Instant Pot option. Despite the inexpensive price tag, the Instant Pot Lux was one of the first to utilize Amazon's Alexa.
The Lux model features an 18/8 stainless steel inner cooking pot, made from food-grade 304 materials. The pot has a three-ply bottom that allows for even heat distribution. The power supply on this unit is 120V – 60Hz, requiring power of 1000 watts. There is also a built-in microprocessor that monitors temperature and pressure while adjusting heat intensity. Specs of the product are as follows:
240 minutes of pressure cooking
Up to 24 hours delayed start time
10 hours of automatic Keep-Warm
Three temperature settings in Sauté and Slow Cook
Height = 13.2" x 12.2" x 12.5"
Weight = 11.5 pounds
Replaces 6 Kitchen Appliances
The product has a 4.5-star rating on Amazon with more than 4,300 customer reviews. Of those who reviewed the product, more than 75% gave the product a five-star review. Less than 10% of customers gave the product a one or two-star review.
Customers seemed to be impressed with the updated safety features on this model.
There have been negative reports about Instapots burning people, but the company has begun adding safety features in their products, with this third-generation Lux model being one of the first times in which they did so.
Many reviews were consistent in saying that they wished they had not waited so long to purchase one of the products. Safety features include:
Steam Release
Safety Lid Lock
Anti-Block Shield
Lid Position Detection
Automatic Temperature Control
Overheat and Burn Protection
Automatic Pressure Control
Thermal Fuse
Leaky Lid Detection
Electrical Fuse
Lastly, customers appreciated that they could move seamlessly from one setting to the other to cook all of their meals. Many reviewers were impressed with this device's ability to hard-boil eggs in less than five minutes. Users also said that they could steam vegetables in about five to six minutes. Customers also used the delayed-start feature so that food was hot and ready to eat when they arrived home.
When you research the best Instant Pots, you'll find that the one thing they all have in common is their ability to function as a multi-purpose device. Each one of the devices in the Instant Pot reviews above offered at least six capabilities, if not more.
Below, you'll find a breakdown of the primary features provided by Instant Pot devices.
Instant Pots have become so popular that they're often used to describe other non-Instant Pot pressure cookers. However there are many key features that separate the Instant Pot from other electric cookers on the market.
The Instant Pot can help customers save money by replacing many common kitchen appliances including a pressure cooker, slow cooker, rice maker, yogurt maker, warmer, and more. In addition, an Instant Pot can also encourage customers to cook at home more often, avoiding expensive takeout or going out to eat.
Instant Pots provide a versatile multi-use appliance that helps customers save time in the kitchen. Its pre-programmed functions and pre-set temperatures making cooking quick and easy. The Instant Pot app also provides users with hundreds of recipes at their fingertips.
Do you live in an apartment or have limited counter space? The Instant Pot can help reduce the clutter, thanks to its multi-purpose, all-in-one functionality. No longer will you need a slow cooker, pressure cooker, rice cooker, yogurt maker, steamer, warmer, and more.
The Instant Pot allows customers to live a healthier lifestyle. While many boil their vegetables, losing key nutrients, cooking them under pressure with the Instant Pot or with steam lets you lock in more essential nutrients. The NutriBoost feature offered with the Instant Pot Max creates internal movement during cook cycles, producing nutritious, healthy and tasty dishes in a convenient and consistent manner.
Instant Pots are fully insulated which prevents loss of heat during the cooking process and reduces energy consumption. In fact, the cooker relies on its heat, produced as a steam byproduct, and recycles it to help cook the food faster.
Instant Pots come easy to clean. The inner pots are dishwasher safe and the outside can be wiped down. A deep clean is recommended every few weeks to prevent cloggings and food residue.
The Instapot's stainless-steel base not only looks great but also help ensure that your food is safe to eat as Instant Pots come with food-grade 304 18/8 material. Customers find the stainless steel to be very easy to clean. The no-stick helps design prevents messes.
Do a quick search for "instant pot recipes" and you'll find an endless supply of delicious recipes. The Instant Pot Smart Wifi comes with 750+ pre-programmed recipes available for customers.
Comparing Instant Pot Models
6-in-1 Multi-Use Programmable Pressure Cooker
7-in-1 Multi-Use Programmable Pressure Cooker
9-in-1 Multi-Use Programmable Pressure Cooker
10-in-1 Multi-Use Programmable Pressure Cooker
Controls:
Button and Wifi tablet or phone
Touch screen, dial and button
What Size Instant Pot Do I Need?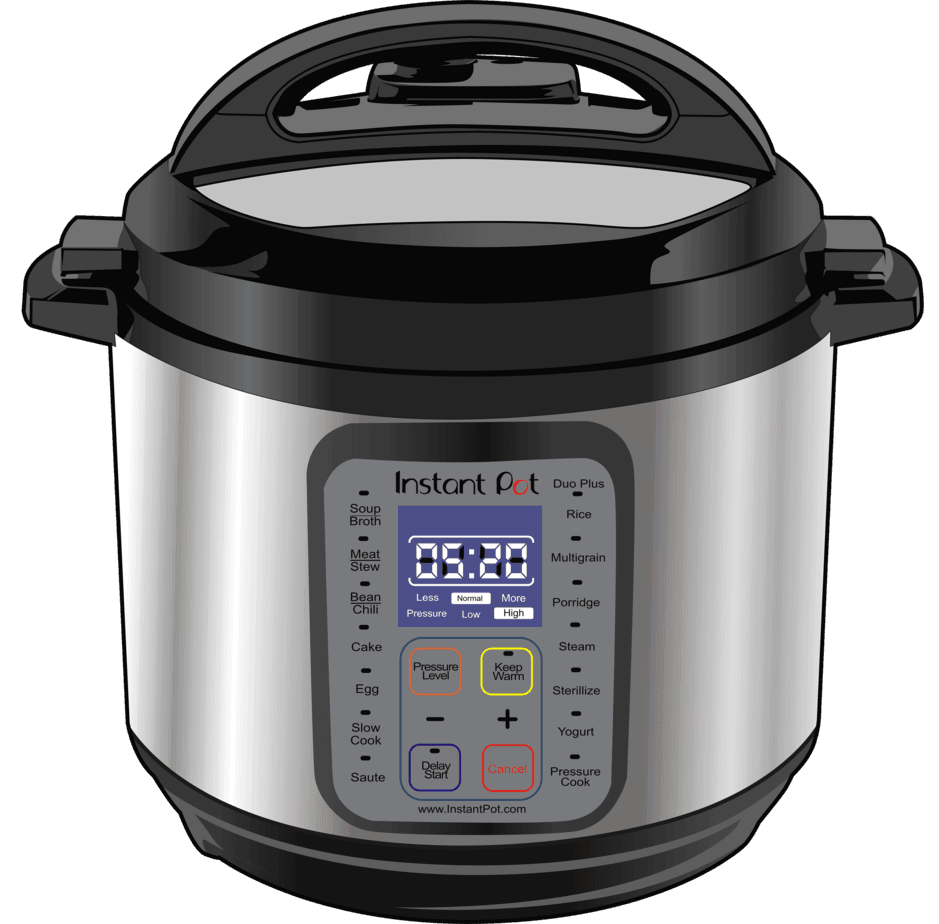 3 Quart
Recommended for 2-3 individuals, ideal for single services, side dishes, and rice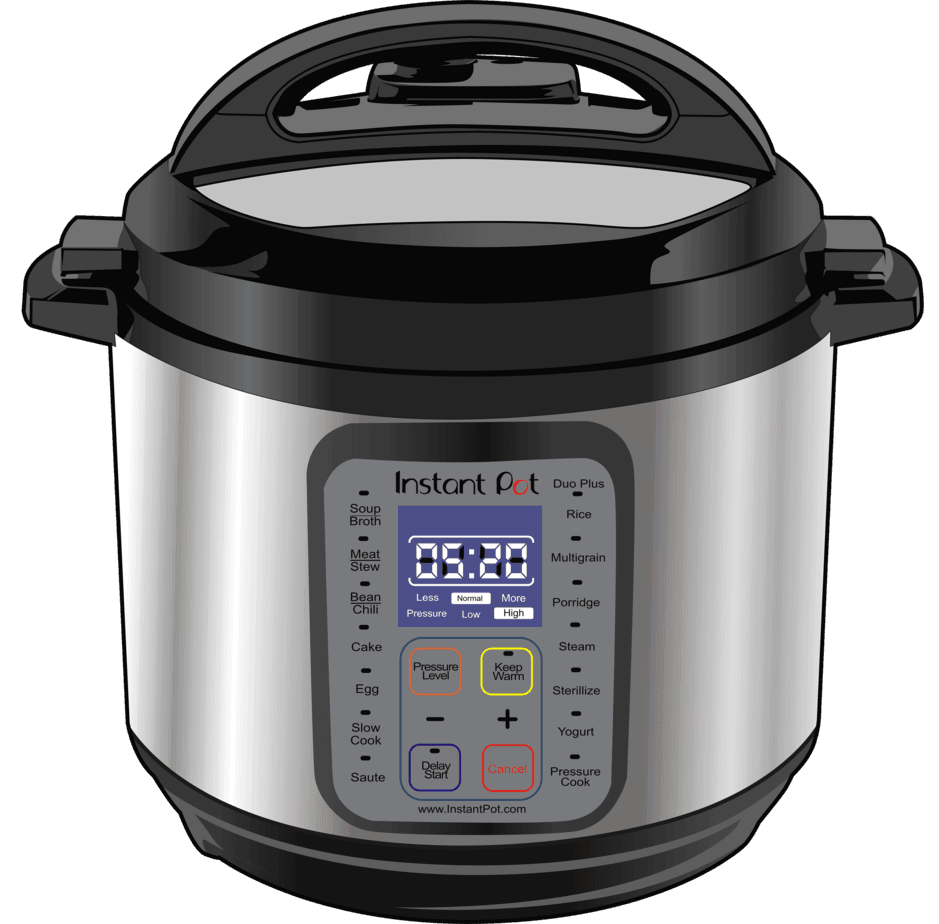 6 Quart
Recommended for families of 3-4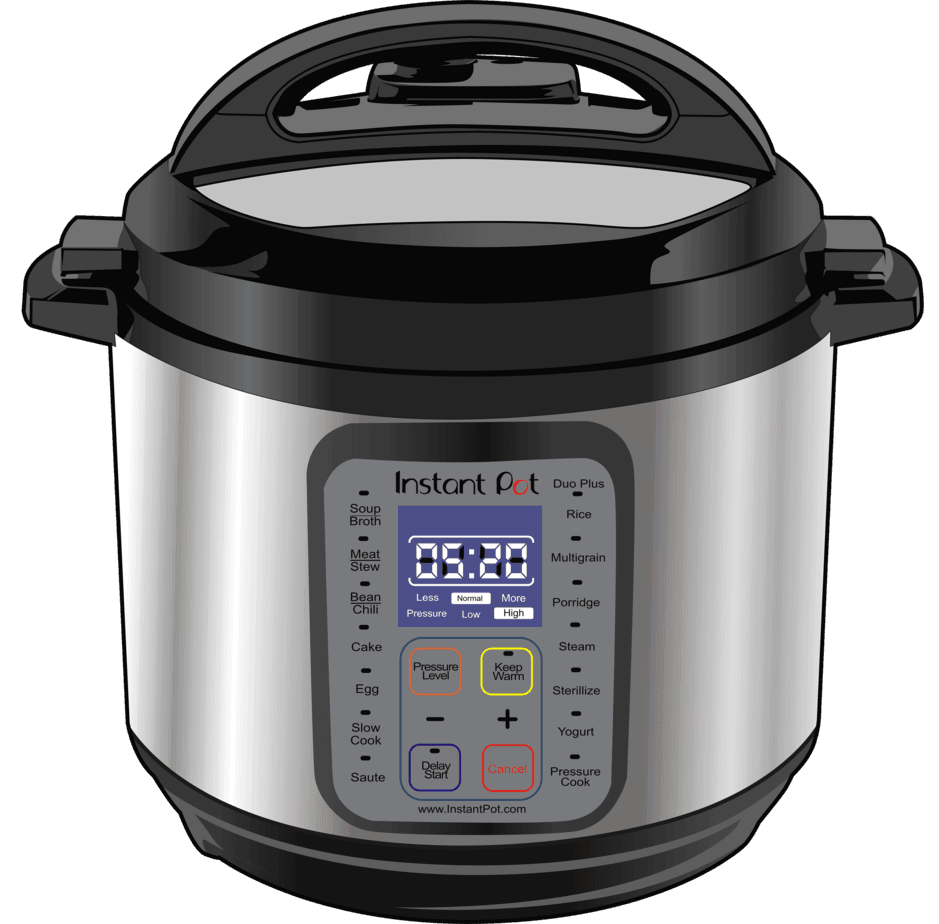 8 Quart
Recommended for large families with 6+
| | | | |
| --- | --- | --- | --- |
| Instant Pot Lux | | | |
| Instant Pot Duo | | | |
| Instant Pot Ultra | | | |
| Instant Pot Duo Plus | | | |
| Instant Pot Smart Wifi | | | |
| Instant Pot Max | | | |
Most Instant Pots are available in three sizes - 3qt, 6qt, and 8qt. To determine which size you need, think about how many people you are normally cooking for.
The 3 quart model is great if your only cooking for yourself and one or two other people. It's perfect for smaller meals, side dishes, and up to 12 cooked cups of rice. Also known as a "mini", the 3qt models take up less countertop space so they're a nice fit for a apartment or smaller kitchen.
The 6 quart version is a great option for many families as it's meant to cook for 4-6 people. It can fit a 7lb bone in turkey.
For those with larger families or a lot of friends, the 8 quart model could be a good fit. It can comfortably fit two 5-6 pound chickens side-by-side.
Keep in mind - the Instant Pot Smart Wifi and Max are only available in 6 quarts.
Pressure cookers are typically used on a stovetop and operate at approximately 15 pounds per square inch. Most of the Instant Pot models do not offer such high pressure (exception being the Max). This means that, depending on which model you use, the cook times on an Instant Pot may be higher than the cook times on a traditional pressure cooker.
However, most modern pressure cookers operate solely as that device. A pressure cooker is one of the six or more features that the company placed into one device. The Instant Pot can also do things such as slow-cook and warm food, bake bread and cakes, cook rice, saute vegetables, and make yogurt. A pressure cooker cannot do any of these. It can only cook foods using steam, just as an Instant Pot can.
Almost anything! Customers have cooked various types of rice, meats, vegetables, fish, and even deserts in their Instant Pot.
There are thousands of Instant Pot recipes available online using different ingredients. We feel that the opportunities are endless. Additionally, you could potentially purchase accessories that increase the number of foods that you can cook in your unit.
For instance, many customers buy an accessory that allows them to cook eggs in the device.
They do this even though their unit does not have the "Egg Making" feature. The trick to using an Instapot is determining the cook times for various products. There are a few products that you'll want to avoid, although the list is small.
First and foremost, you won't want to put noodles in the device. An Instant Pot will not cook pasta. Doing so can produce too much pressure, making the unit dangerous.
Secondly, you can't cook cookies in an Instant Pot. An oven will work best for this, and the multipurpose device is not a viable substitute. The same goes for bread. Although the "Cake Maker" option could allow you to make certain types of bread, the product is not a substitute for a toaster. Lastly, there are two foods that you'll want to avoid for the sake of your taste buds.
Fried foods will not work in an Instant Pot. You cannot fry fresh foods in the device, as the product doesn't serve as an air fryer. More importantly, if you try to cook fried frozen foods like buffalo wings, they'll come out soggy instead of crispy.
You should also avoid creamy sauces. The cream in the sauce will likely curdle, ruining your dinner and resulting in a miserable clean-up session.
Yes! This is one of the primary benefits of the device. If you forget to thaw meat in the freezer, no longer will you have to scramble searching for an alternative. The Instapot allows you to cook frozen foods without a problem.
However, you'll want to make sure that you add additional cook time when doing so. The more frozen the meat is, the longer it will take to cook.
One thing that we recommend is cutting larger meats into smaller pieces before freezing. For instance, if you have a pork loin, don't freeze the meat whole. Instead, slice it into six-ounce sections before putting it in your freezer.
You'll find that it's easier to fit the sliced meat into your Instant Pot and that you'll cut down on cooking times as a result.
When Instant Pots first came to market, there were reports "exploding" or failing to function correctly, leading many to believe the products were not safe.
The company has taken considerable efforts to combat these issues, ensuring that each one of its devices now contains at least ten safety features. Higher-end models offer up to 13 safety features.
Customers should read all guides and manuals included with the product and seek out Instant Pot Customer Service if there are any issues. This article from CNET also offers users with a few safety tips to consider when using their Instant Pot device.
Depending on which Instapot you purchase, you may find that it comes with accessories. Additionally, you'll likely see that there are dozens of third-party accessories available online. Ultimately, you'll find that you don't NEED any Instant Pot accessories besides the ones included with the product.
However, purchasing accessories could enhance your experience and allow you to get more out of your product.
One of the accessories we would suggest is an extra silicone ring. We frequently saw reviews from customers who said that the silicone ring was a magnet for smells. You can only keep your silicone ring clean for so long. If you're cooking foods with a potent aroma, like fish or curry, consider swapping out silicone rings. You'll find that future meals taste better as a result.
Although Instant Pots are incredible products, they're not without their flaws. Most complaints about Instant Pots fall under three buckets: there's a learning curve, the device takes up counter space, and the cooking times are not as excellent as you're led to believe.
Learning Curve

One of the most significant complaints about the Instapot is the learning curve that comes with figuring out how to use the device. Some found it challenging to navigate through the various buttons and settings and wasted food as a result. Practically everyone who has used an Instant Pot indicated that there was a "trial and error" period when cooking foods before they got it down to a science.

Fortunately, there are Reddit groups and other resources dedicated to this very issue, helping streamline the learning curve. Many reviewers noted that once they figured out how to use the product, they were happy they stuck with it.

But to think that you're going to take the product out of the box and use it immediately, as you would a slow cooker, is a little overly optimistic.

Cooking Times

In today's world, we all want immediate gratification. The Instant Pot plays to this, promising cook times that are significantly lower than when using traditional methods. The Instant Pot delivers this without question. However, there are some misconceptions from customers who believe that the Instant Pot will instantly cook their food.

Many customers are disappointed to find that food takes longer to cook than they were expecting when using the device. One of the main reasons for this is the fact that the machine needs to build pressure before it can begin cooking your food.

The denser the food that you're cooking, the more force required for preparation. The Instant Pot typically takes about 15-20 minutes for the pressure to build, so it's important to factor in some extra time.

Counter Space

Instant Pot's primary selling point is the fact that they allow you to clear counter eliminating the need for many other kitchen appliances. However, some may find that the product ends up fitting awkwardly on their counter.

Many find their Instapot too bulky to store in cabinets. It's bigger than an slow cooker or pressure cooker so it'll take up more room.

If you live in a small apartment or have limited counter space, we'd recommend going with the 3 qt Instant Pot or Instant Pot Mini.