If there's one reason why Instant Pot has exploded with popularity, it's because Instant Pot is fast. Like, really fast — no more "Oh my goodness, I forgot to turn on the slow cooker before work and now we don't have dinner."
If you have an Instant Pot, you know that's not ever an issue. Just toss in the ingredients for your favorite recipe and voila: Dinner's ready in a jiffy, even in the least expensive Instant Pot models. While they're not as automated as a Roomba, Instant Pots are a great side kick in the kitchen.
To help you understand just how fast Instant Pots truly are, we broke down the cooking times for more than 50 different ingredients, including potatoes, oats, shrimp, steak, and so much more.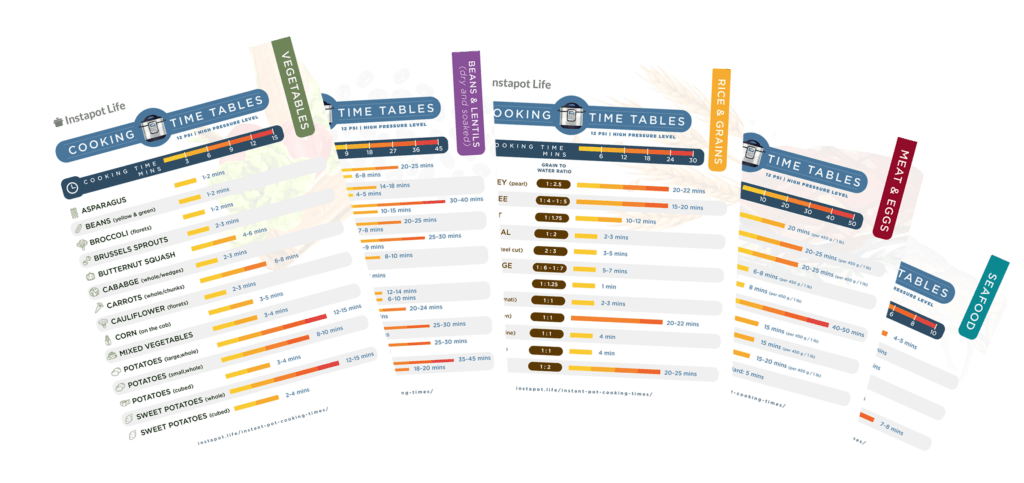 Free Download
Grab a free copy of our full Cooking Times Cheat Sheet
Download PDF
Instant Pot Cooking Times for Vegetables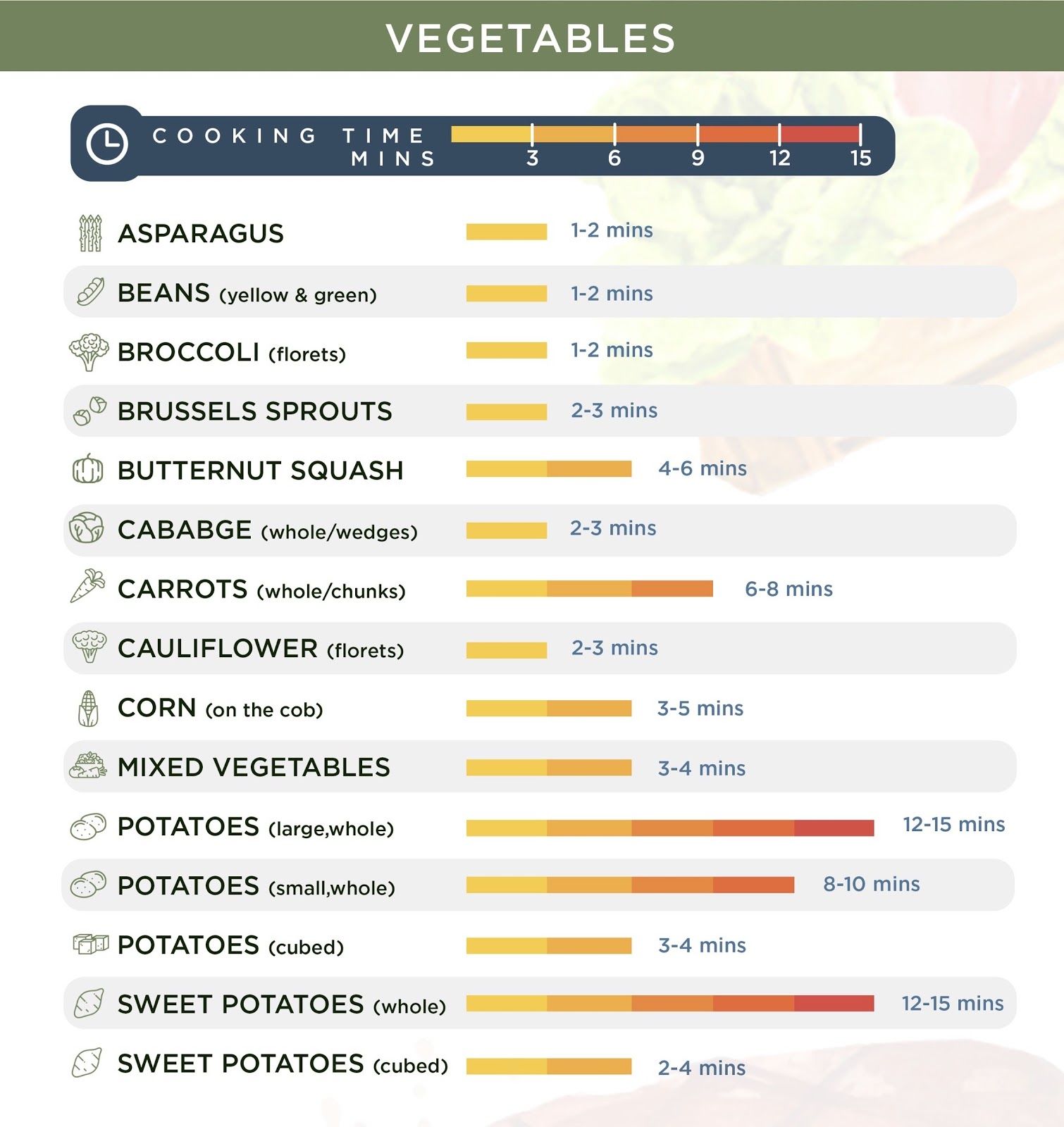 Everyone needs more veggies in their lives. It's important to load up on all of the vitamins, minerals, and antioxidants found in vegetables. But if you're anything like me, you're just at a loss for how to cook them. I've tried everything: roasting, steaming, boiling, grilling, sautéing… But nothing ever did the trick.
Enter: Instant Pot. In the Instant Pot, veggies of all types — from starchy to non-starchy — cook to perfection in mere minutes. Take sweet potatoes for example. In the oven, sweet potatoes can take upwards of an hour to cook, depending on their size and your preferred consistency. But in an Instant Pot, a whole sweet potato takes as little as 12 minutes! Pro tip: If you cube them first, it takes less than five.
Instant Pot Cooking Times for Meat and Eggs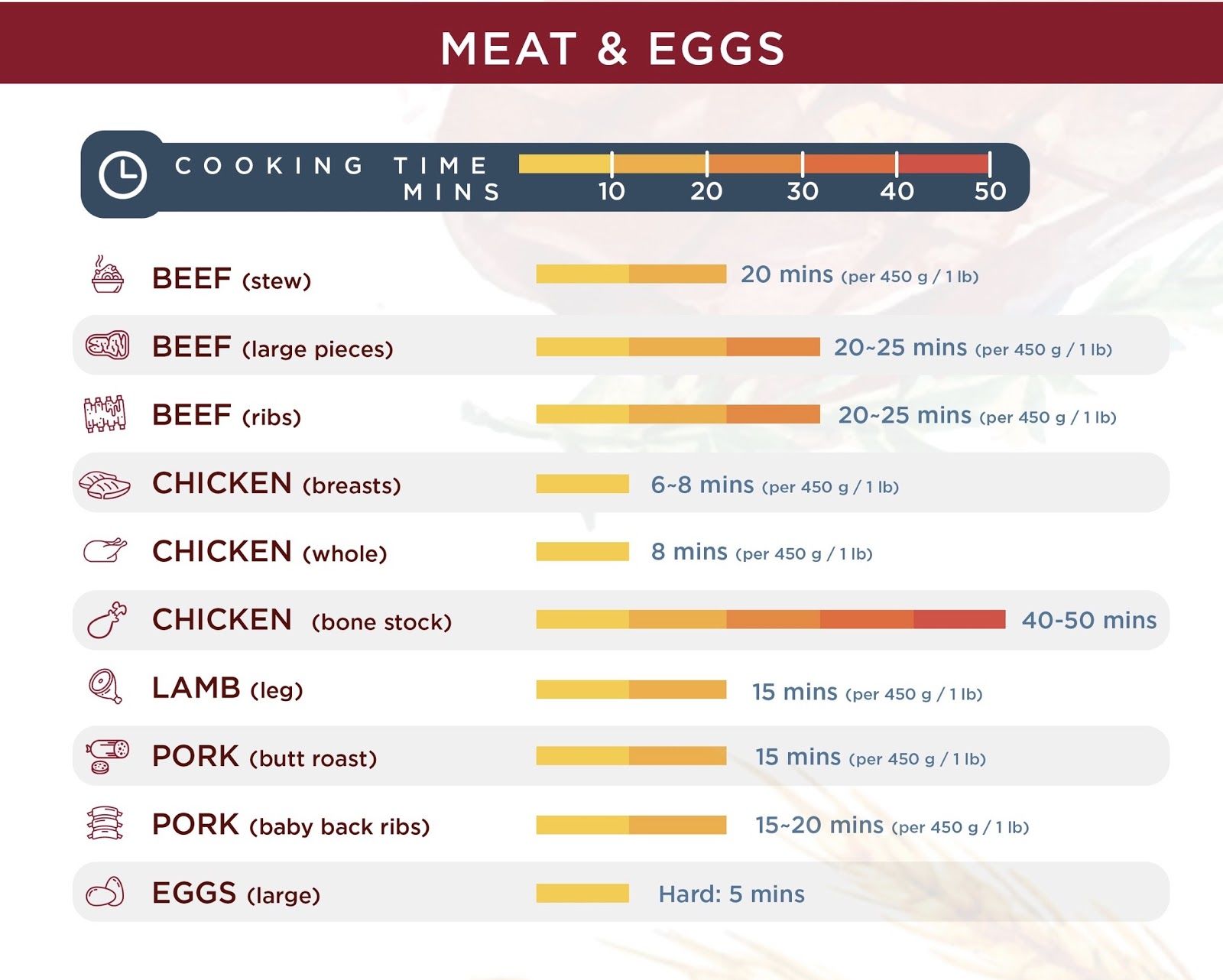 Did you know that protein is the most satiating nutrient? That's right: Eating a lot of protein can make you feel fuller faster and help you eat less. There's a reason that fitness pros encourage their clients to eat more protein! With an Instant Pot, whipping up a protein-rich meal is easier than ever.
Gone are the days of slaving over a grill or waiting hours for a chunk of meat to cook in the oven. Also, no more accidentally overcooking cubed chicken on the stovetop. In an Instant Pot, like the Ultra, most meats cook in less than half an hour, and many cook in less than 20 minutes. You can even cook an entire chicken in just eight minutes — yes, eight!
Not only is that far less time than it takes to cook chicken in the oven, but it's also less time than it takes you to go to the grocery store and get a rotisserie chicken when you don't feel like cooking dinner.
More on protein: How to BBQ like a grill master with your Instant Pot
Instant Pot Cooking Times for Rice and Grains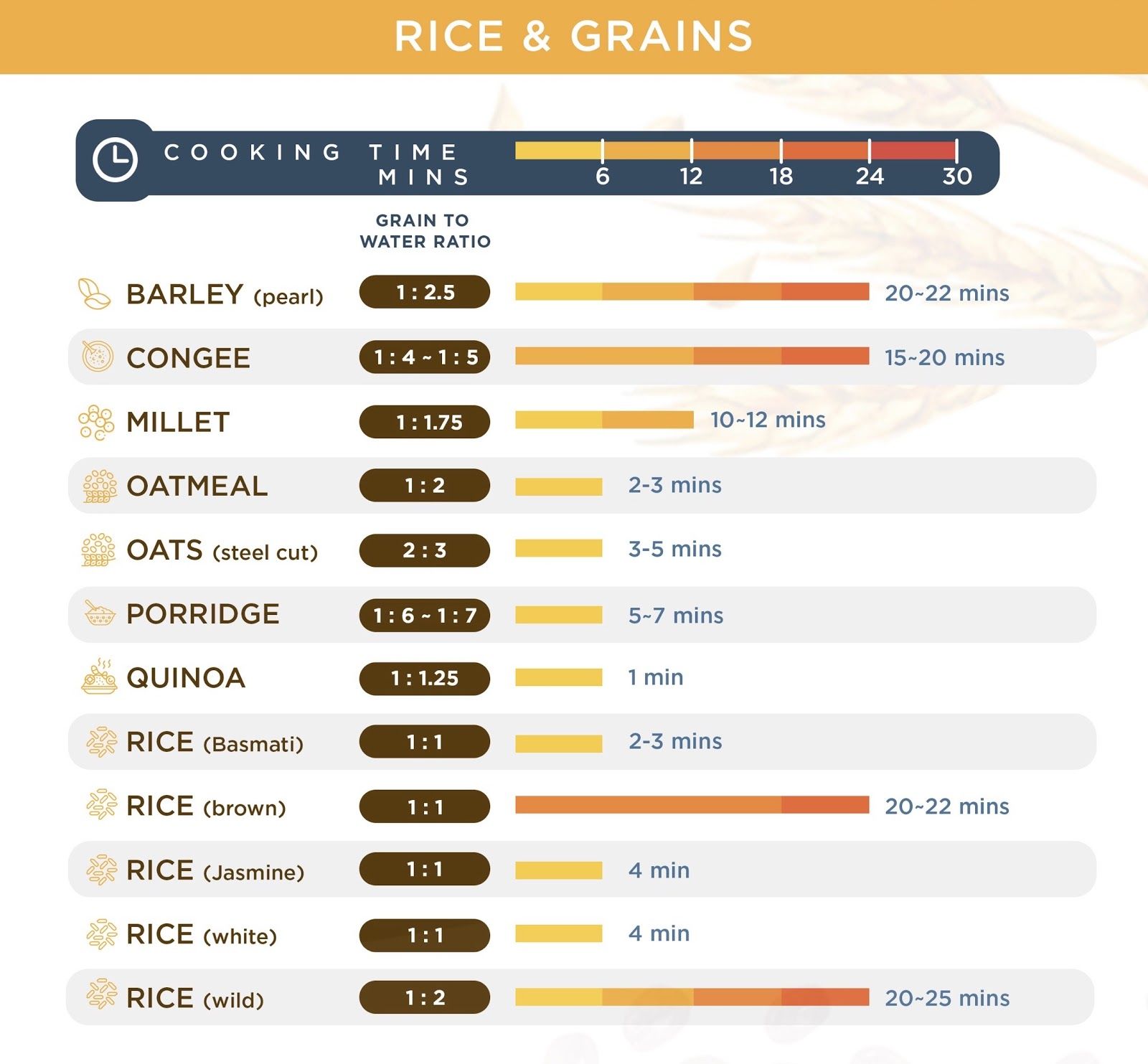 Grains are a staple of most households (unless, of course, you're on a keto or paleo diet). Otherwise, a hearty heap of grains can keep you full, help you focus, give you energy, and much more. Carbohydrates are the body's preferred source of fuel, after all. Luckily, you can prepare a batch of grains in as little as one minute in your Instant Pot. Seriously — quinoa takes just one minute to cook in an Instant Pot.
Other grains, like brown rice, wild rice, and barley, take a bit longer to cook all the way through. This difference is due to the resistant starch content in grains. The more resistant starch, the longer it takes to cook (and the more fiber to keep things running smoothly). Most grains, however, sit in the two- to 10-minute range — keep an eye on them from afar with the Instant Pot Smart WiFi model.
P.S. if you're on the hunt for pasta, check out these seven mouth-watering macaroni and cheese recipes for Instant Pot.
Instant Pot Cooking Times for Beans and Lentils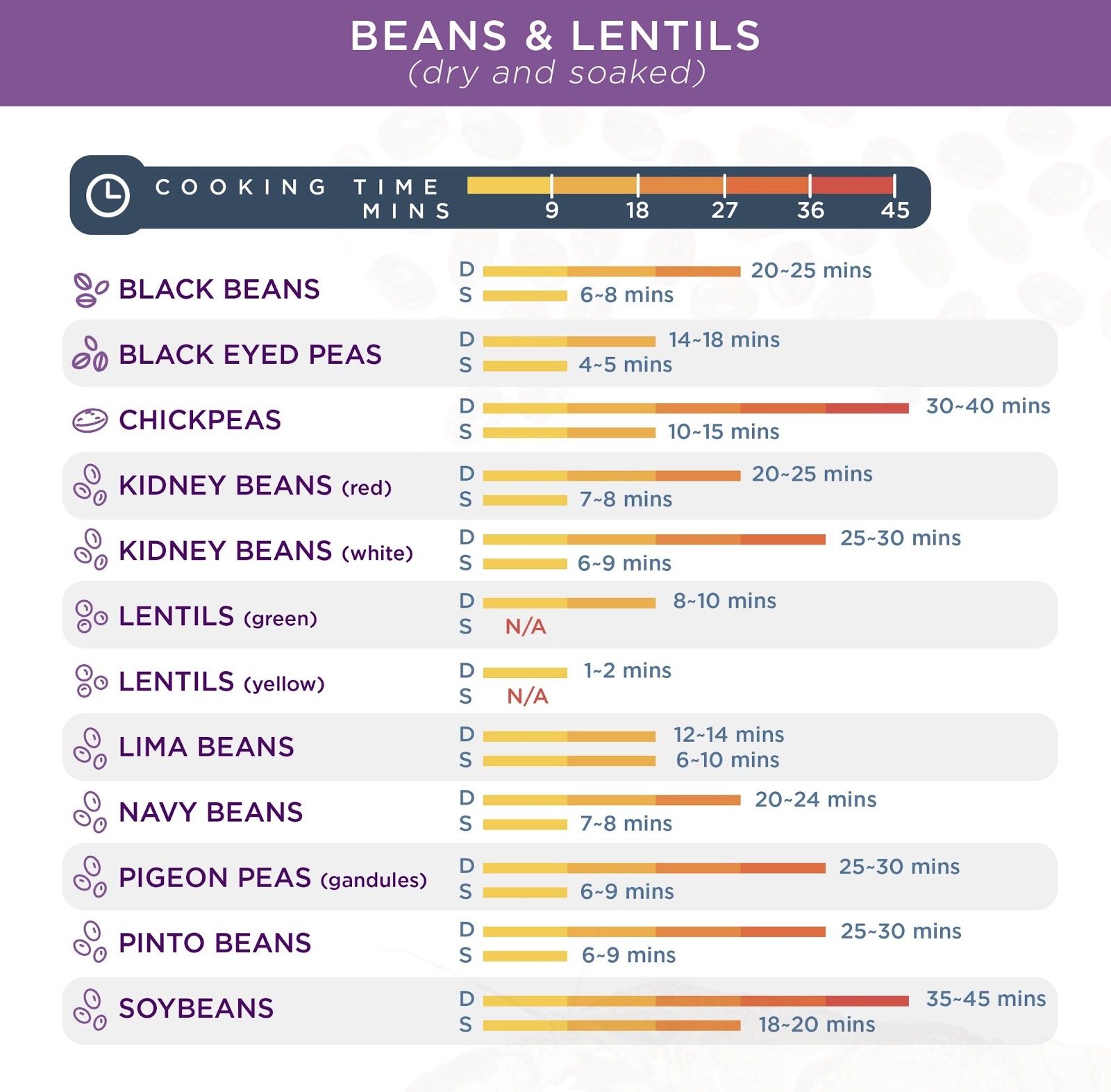 Beans and lentils are chock-full of fiber, along with other important nutrients. Like protein, these fiber-rich foods help to keep you full and are a great addition to any meal. How long it takes to cook beans in an Instant Pot depends on whether you start them dry or soaked. Dry beans take significantly longer to cook than soaked beans, so it's always a good idea to soak them if you know you'll be short on time.
Cooking beans in an Instant Pot is exponentially easier than cooking them on a stovetop, regardless of whether you cook them dry or soaked. On a stovetop, you have to babysit the pot to make sure the water doesn't boil over and the beans don't burn, as well as poke the beans with a fork periodically to check for doneness. In an Instant Pot, all you do is pop them in with your preferred cooking liquid (broth or water) and pressure cook.
Instant Pot Cooking Times for Seafood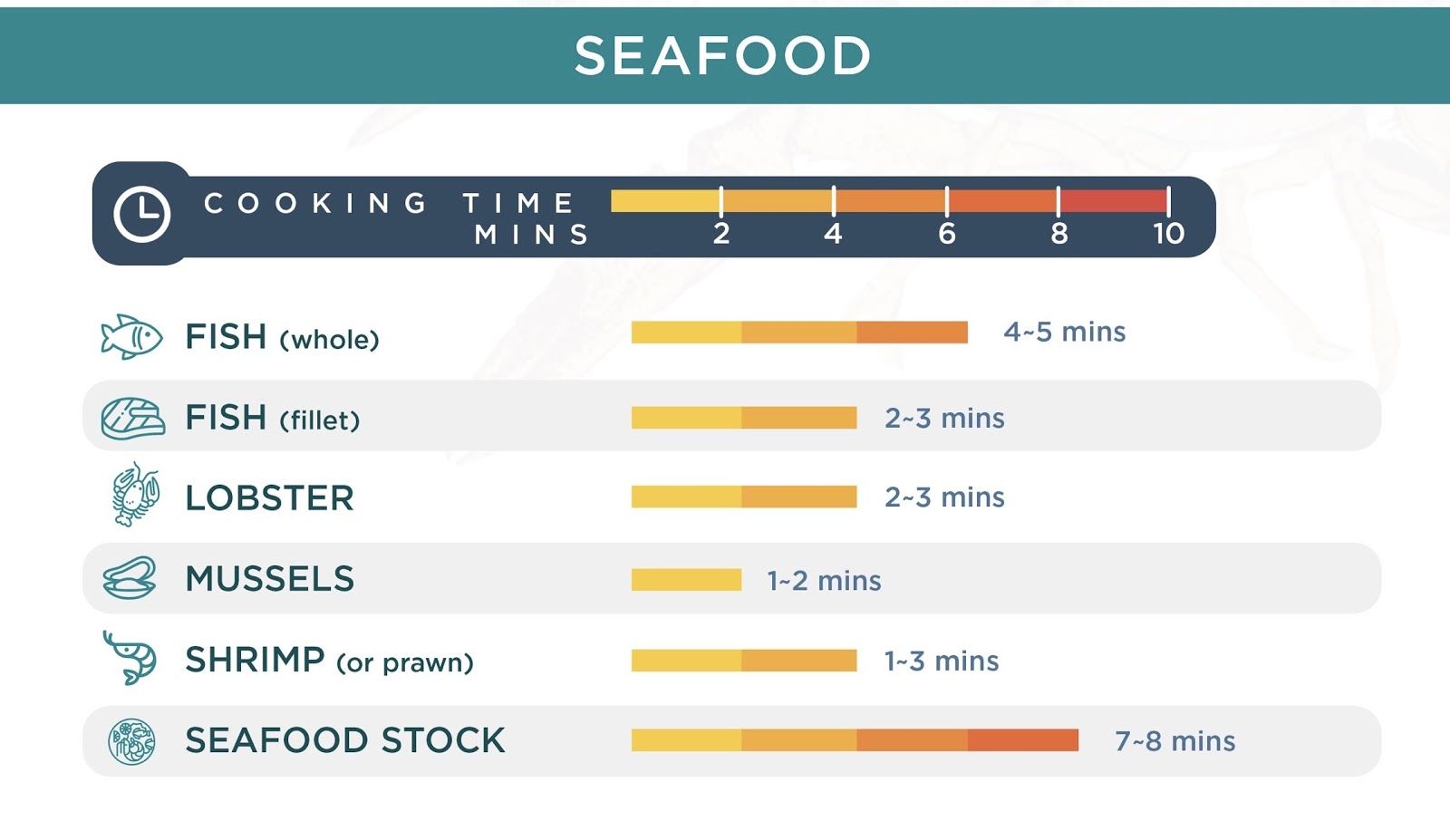 Raise your hand if you avoid cooking seafood because you botch it every time! (*Timidly raises hand*). Before I entered the wonderful world of Instant Pot, I never even glanced at the seafood aisle in the grocery store. Nope, you wouldn't find me there — I'd stick to proteins I knew I couldn't mess up, like chicken and eggs. Once I got an Instant Pot, though, I garnered some courage.
The thousands of Instant Pot seafood recipes online inspired me to brave the seafood aisle and expand my cooking horizons. And boy, was I pleasantly surprised. I realized that I could simply place my favorite seafood in my Instant Pot for a few moments and it would come out perfect every time. I started to make miniature versions of the seafood boils I enjoyed when I lived in South Louisiana — a delicacy you just can't find in the state of California.
Read next: Don't know which kind of Instant Pot to buy? We detail all of the models here.