Mealthy Multipot Pressure Cooker Review
Everything you need to know about this 9-in-1 pot
Has the Instant Pot met its long-lost cousin? The Mealthy MultiPot 9-in-1 programmable electric pressure cooker sure looks a lot like the Instant Pot, but we have no complaints about that. They do say imitation is the sincerest form of flattery, after all — and the Mealthy MultiPot has done a great job at implementing some of Instant Pot's best features in unique ways (and with a sleek monochromatic design).

If you're an Instant Pot die-hard, don't get in a tizzy about the MultiPot looking so much like your beloved: Brands copy each other's best features all the time in all industries, and it's how we as consumers end up with tons of great products to choose from.
In this review, I cover what's great about the Mealthy MultiPot and what's not (spoiler: There's much more of the first).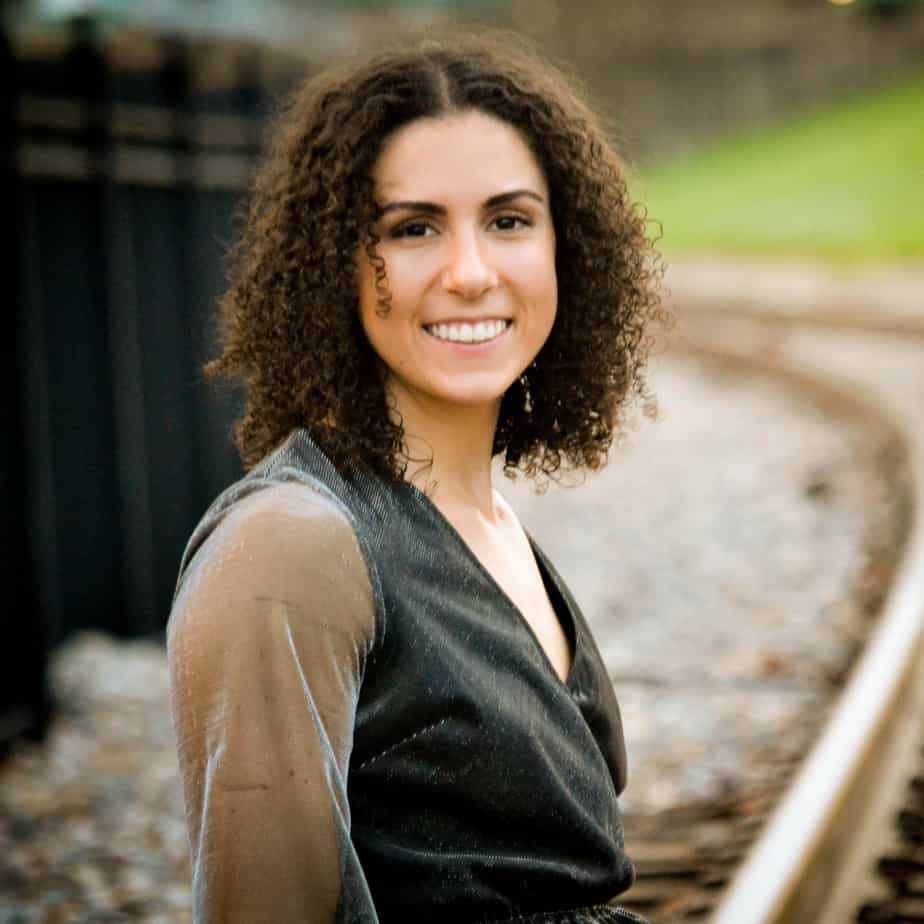 The Mealthy MultiPot may have a funny name, but this pot is far from funny business — it's the real deal. The MultiPot is an electric, multi-functional pressure cooker that encompasses just about anything a home chef could need. This Mealthy product can replace up to nine kitchen appliances you already own, and makes mealtime easy with 14 one-touch cook settings.
Amazon reviewers praise this pot for being extremely user-friendly, durable, lightning fast (some say even faster than an Instant Pot), and beautifully designed. Instant Pot might've met its match with the Mealthy MultiPot, but I expect to see both brands continue to innovate and put out more fantastic products. The more, the better, I say!
9-in-1 programmable pot

Allow the Mealthy MultiPot to declutter your kitchen and save space with its nine appliance settings: pressure cooker, slow cooker, rice cooker, sauté pan, steamer, cake maker, egg maker, yogurt maker, and a warmer.Even if you've never owned (or never planned to own) an egg maker or a yogurt maker, these are still cool things to have.

14 one-touch preset cook settings

In addition to the nine cooking programs, the Mealthy MultiPot also features 14 (yes, fourteen) one-touch cooking presets. Those are: poultry, meat/stew, bean/chili, soup, sauté/simmer, cake, rice, multigrain, porridge, steam, slow cook, keep warm, yogurt, and pressure cook (which is the manual/default setting).
Delay start and keep-warm functions

Like any good pressure cooker, the Mealthy MultiPot features delay start and keep-warm functions, two essential components for convenient cooking. You can delay the start for any time, and your pot will automatically switch to keep-warm if you aren't there to serve the food.

Two dish functionality

One of the coolest things about the Mealthy MultiPot is the included stainless steel steamer basket that allows you to cook two dishes at once — think cooking meatloaf and potatoes at the same time, in the same pot. Now that's versatility.

7 accessories come standard

The Mealthy MultiPot comes with many accessories that many pressure cooker users deem necessary, including two silicone gaskets, a metal trivet, a steamer basket, a ladle, a rice paddle, a rice measuring cup, and two silicone mini mitts to keep your fingers safe.
Professional-grade materials

The Mealthy MultiPot features a sturdy build: The inner pot is made of thick, three-ply professional-grade stainless steel, while the display uses the latest LCD technology. The MultiPot and all of its standard accessories are 100 percent BPA-free. The lid, stainless steel cooking pot, steam basket, and trivet are all dishwasher safe.

Easy-touch control panel

The LCD display is easy to navigate and appealing to look at. It's clean and precise, with all of the one-touch preset buttons lined up in two neat columns. The control buttons reside in between the two columns. The display also features a status bar that lets you know where your food is in the cooking process. It even says "pressurizing" while the pot is rising to pressure, which I think is a fun extra feature.

Companion app

If you purchase a Mealthy MultiPot, you should definitely download the companion app to your phone to access oodles and oodles of helpful tips, guides, recipes, and more. Mealthy MultiPot users can submit recipes, but the brand enlists professional chefs and food bloggers to upload recipes, too. You'll also find instructional how-to videos if you're ever at a loss for how to cook with your MultiPot — Mealthy really catered to beginners with this product.
The Mealthy MultiPot is available in two sizes: 6-quart and 8-quart.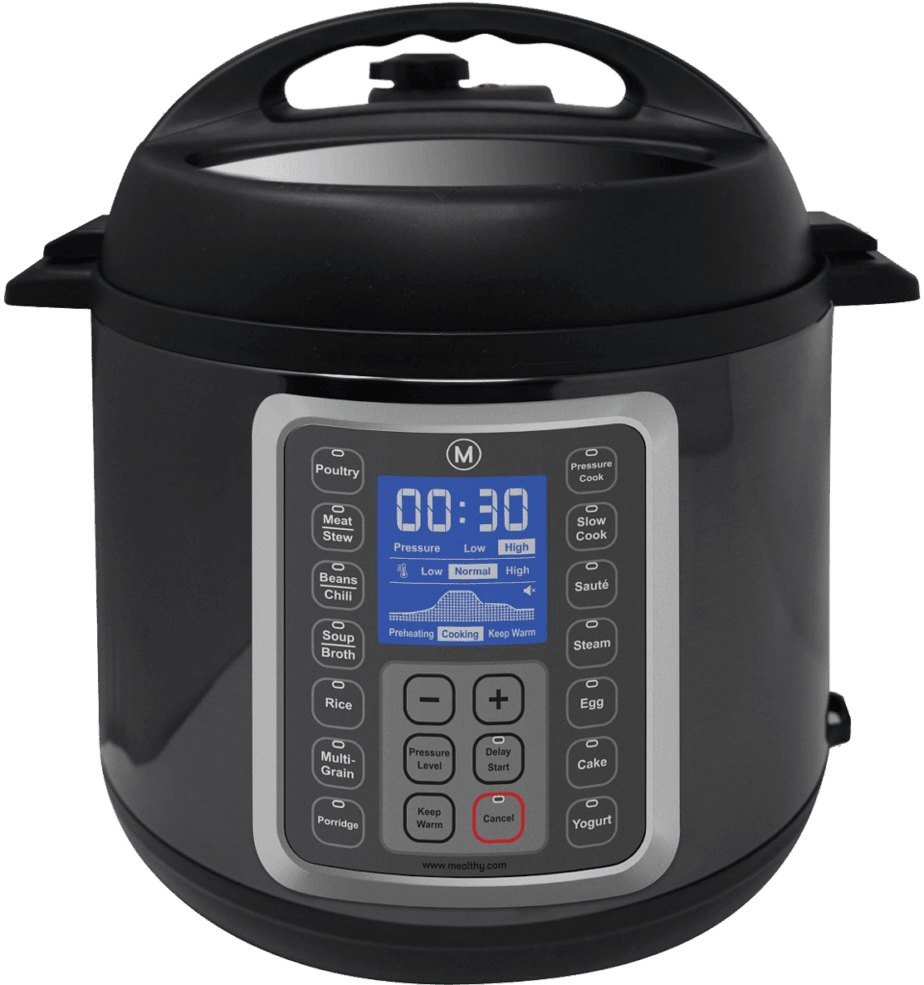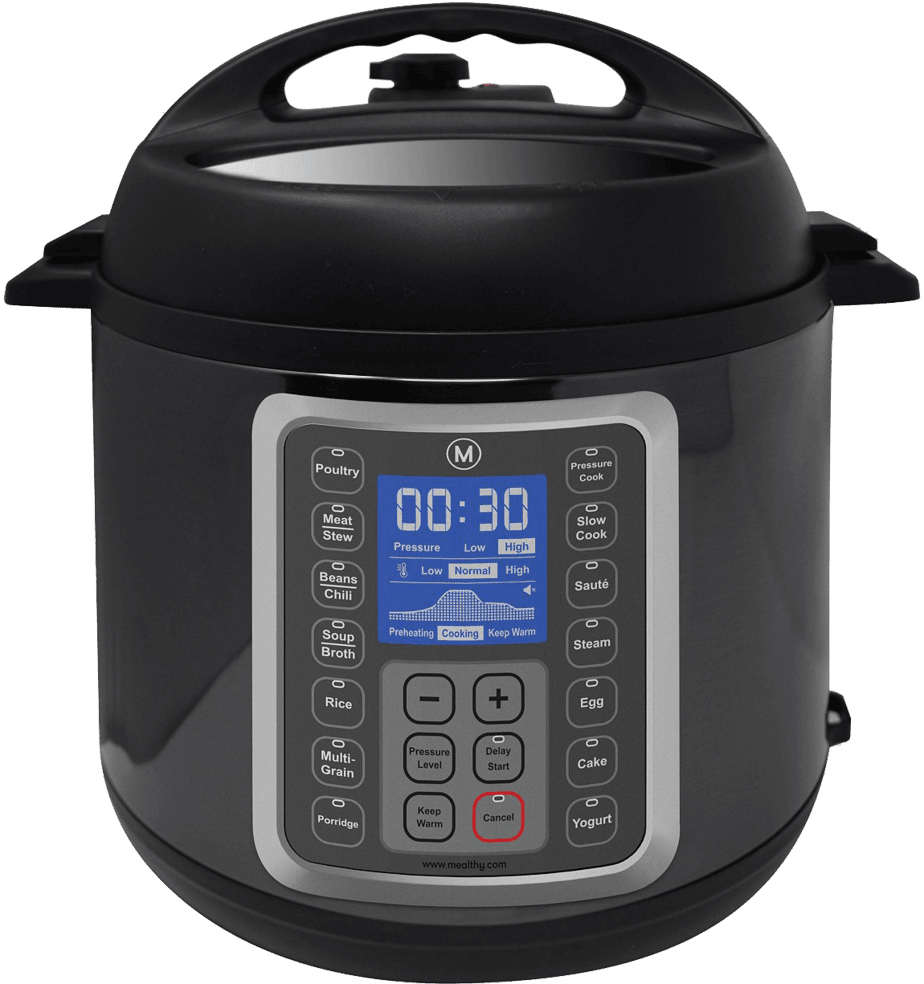 6-quart
A good fit for serving couples and small families of three to five people.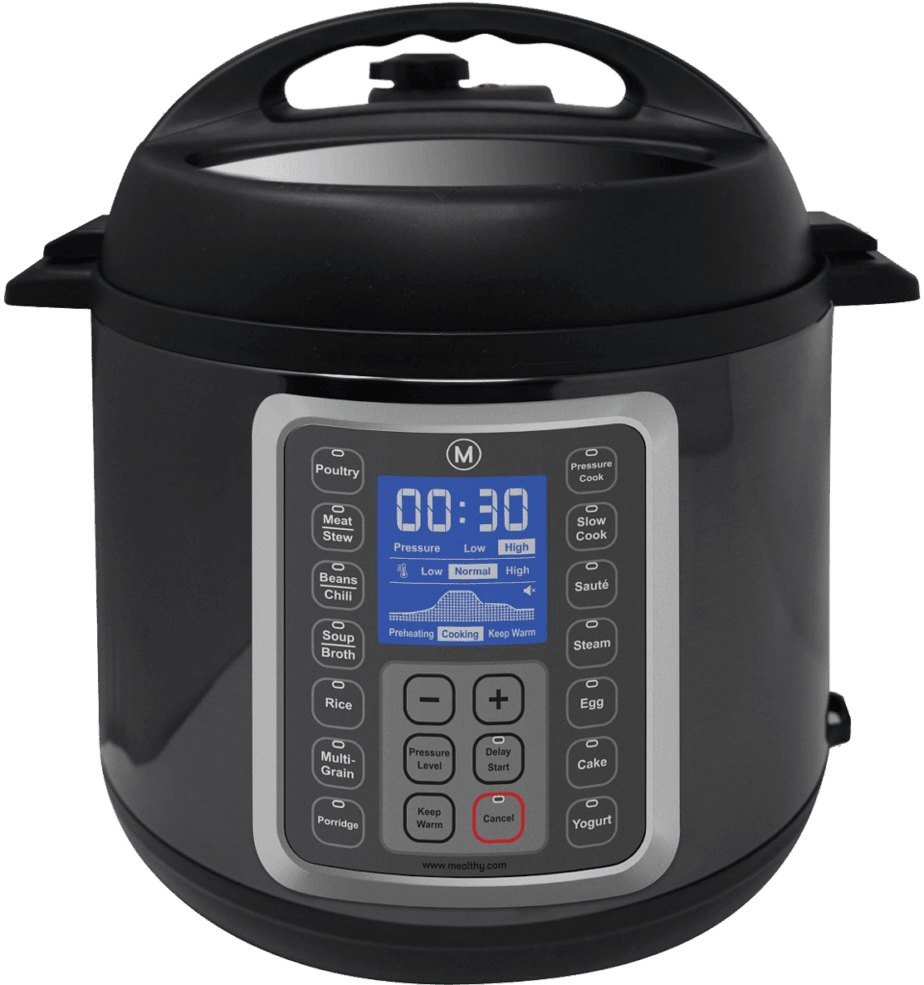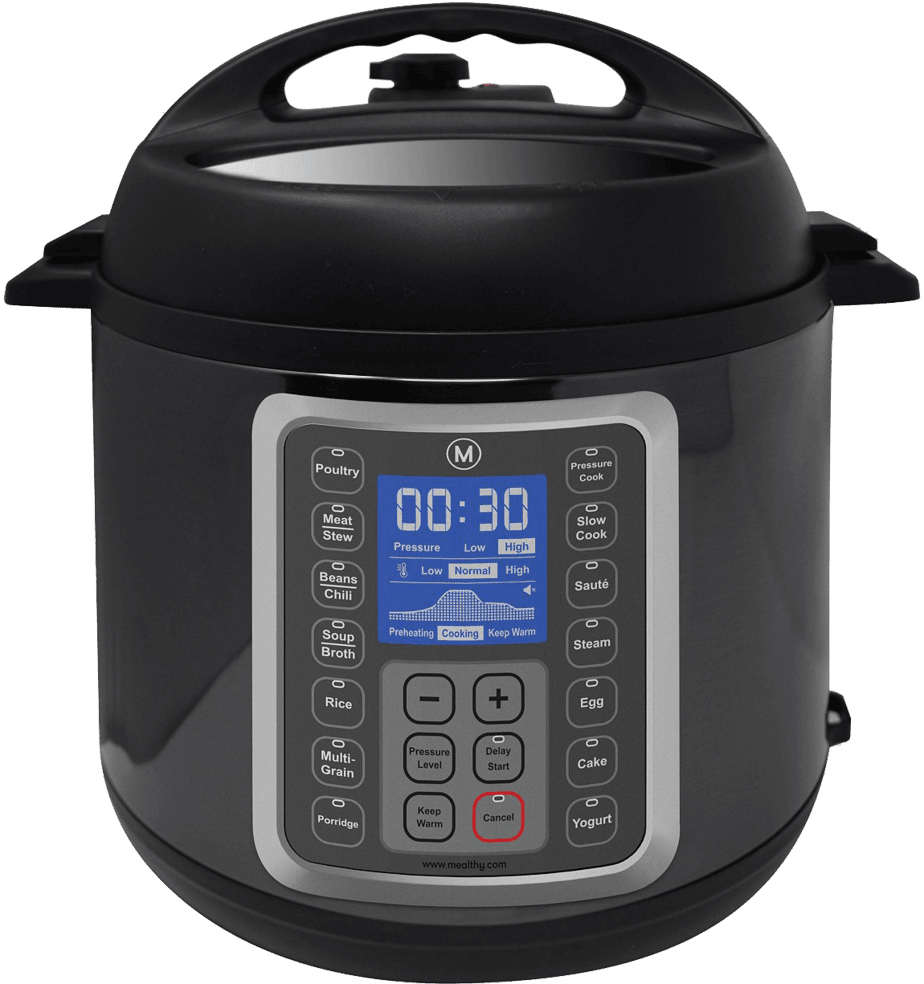 8-quart
Great for feeding larger families of six to eight people, as well as for making dips and appetizers for small get-togethers.
14 great cook settings

You can easily make almost any meal imaginable with the touch of a single button, thanks to the many preset options on the Mealthy MultiPot.

High-quality build

Mealthy did a great job with the actual structure of the MultiPot, using very high-quality materials for a sturdy, safe appliance with a clean and aesthetic appearance.

Suite of accessories

Unlike many pressure cookers on the market, the Mealthy MultiPot comes with nearly 10 accessories to kickstart your pressure cooking journey. You can also purchase additional accessories for relatively inexpensive prices, including silicone and glass lids, and a ceramic inner pot.

Great for beginners

Between the Mealthy MultiPot companion app and the comprehensive user guide with full illustrations, the MultiPot may be the best pressure cooker for beginners available on the market.
Limited Sizes

If you need to feed a large family or plan on using a pressure cooker to make dishes for large gatherings, the Mealthy MultiPot might not be right for you as it only comes in 6-quart and 8-quart options.

Some confusion with settings

Some Amazon reviewers have expressed confusion or frustration about the cook settings on the MultiPot. Mainly, the confusion comes from the fact that the low, normal, and high settings are not pressure settings — instead, they are time settings that adjust the cook time for each preset. For example, if you wanted extra tender beef, you would use the high setting for a longer cook time.
Mealthy MultiPot Pressure Cooker