The Instant Pot quickly became a kitchen staple for busy families, workaholics, and even college students from its introduction in 2010. They're beloved for their convenience and skill in preparing almost any kind of food. Plus, the results are always delicious meals that take half the time of traditional cooking techniques.
It's no surprise that other brands began releasing their own versions of the Instant Pot to capitalize on its popularity. Traditionally, Ninja is a top brand in personal blenders, but recently they expanded with a pressure cooker of their own. Their Ninja Foodi blends pressure-cooking functions with air frying for a truly unique and versatile appliance.
So, what's the difference between these devices? Here's an in-depth comparison of the Ninja Foodi vs Instant Pot to help shoppers pick the best one for them.
Ninja Foodi Overview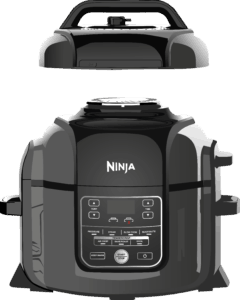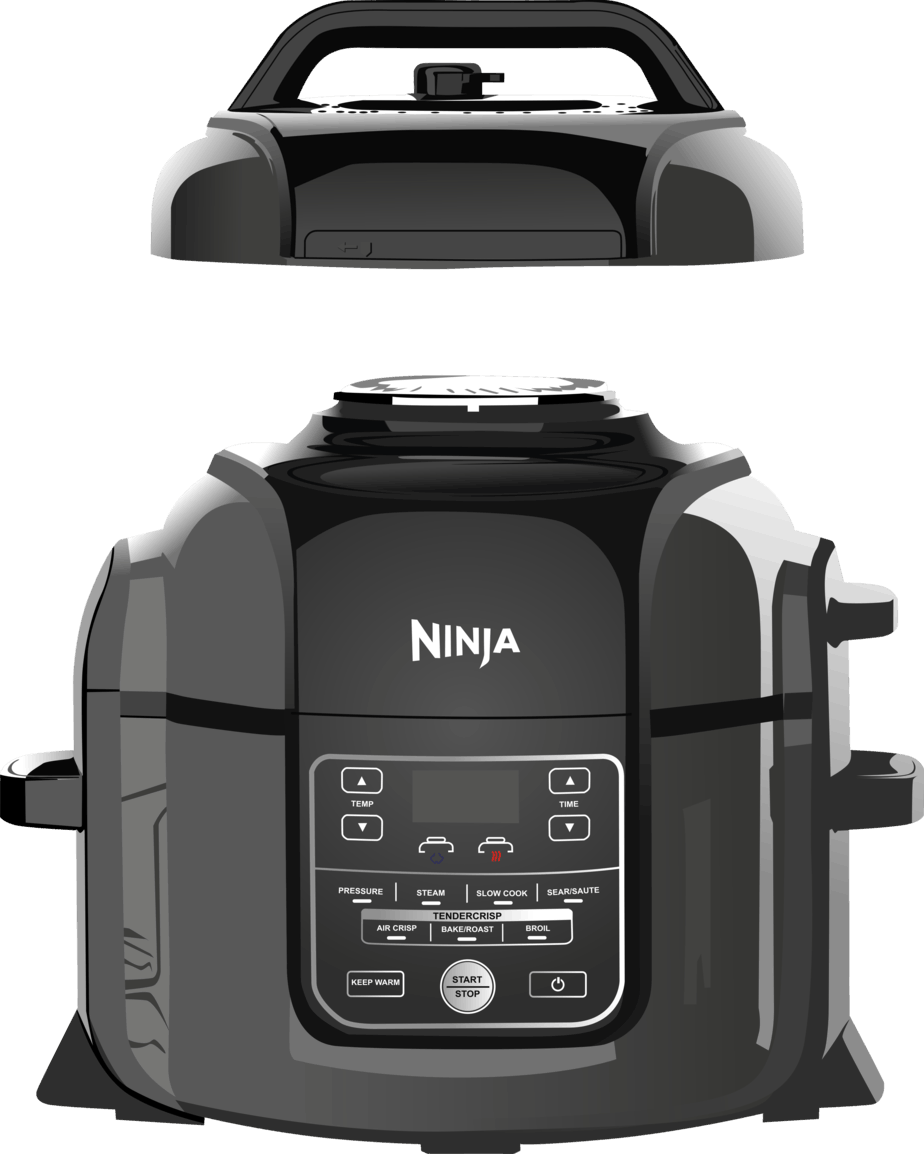 The Ninja Foodi pressure cooker launched in 2018, offering an alternative to Ninja's usual blenders and food processors. This device combines the functionality of a pressure cooker and an air fryer with a total of eight cooking methods, including searing, baking, broiling, steaming, slow cooking, and dehydrating. The Deluxe version includes a yogurt setting, too.
The Ninja Foodi is so efficient that it promises to cook frozen meats in about 20 minutes from defrosting to cooking and crisping. With a stainless steel finish and ceramic-coated inner pot, this machine has a durable construction built to last. With the Foodi, you also receive a reversible rack and crisping basket to simplify cooking.
Consumers can feel safe purchasing this cooker due to the 14 safety features that passed demanding certification testing. It even bears a UL safety certification, the highest recommendation in appliance safety.
Helpful additions to this machine are the cookbook and cooking cheat sheet, which contains 45 recipes and tons of tips to help cooks expand their mealtime repertoire and take complete advantage of all the Foodi has to offer.
Instant Pot Overview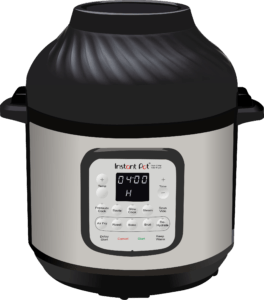 Instant Pot products have made a name for themselves since 2010 when they first hit shelves. Their cookers offer a convenient way to make delicious food, and their wide range of models provide consumers with plenty of options to choose what's right for them. Here are all of Instant Pot's available models:
This article will focus on the Duo Crisp + Air Fryer in this comparison because it's the most similar to the Ninja Foodi. The Duo Crisp is Instant Pot's first pressure cooker and air fryer combo with 11 cooking functions, from steaming and slow cooking to roasting and dehydrating.
With stainless steel construction, this device is dishwasher safe and durable. Plus, with two separate and removable lids, you can easily alternate between air frying and other kinds of cooking. The intuitive display screen contains evenly spaced, one-touch buttons to prevent cooks from accidentally pushing the wrong setting.
The Duo Crisp also comes with ten safety features, including an anti-block shield, automatic pressure and temperature controls, overheat protection, safety lid lock, and thermal and electrical fuses. This device also earned UL and ULC safety certifications. Accessories include a basket for air frying, a tray to change the basket's height, and a tray for crisping.
Ninja Foodi vs Instant Pot: How Do They Compare?
The Ninja Foodi and Instant Pot Duo Crisp + Air Fryer both offer tons of functionality and versatility for cooks, but they have several significant differences, too. Analyzing these distinctions will give you a better idea of which machine best serves particular needs.
To compare Ninja Foodi vs Instant Pot Duo Crisp + Air Fryer directly, here's a closer look at how their design, features, ease of use, and value differ.
Design
Apart from their 8-quart capacity, the Ninja Foodi and the Instant Pot Duo Crisp + Air Fryer have several significant design differences. Primarily, with the Instant Pot model, both the crisping and air frying lids detach completely, whereas the Foodi's crisping lid stays on its hinges, making it more challenging for the cook to move food into and out of the inner pot.
At 14.29 inches high, the Foodi has a short, wide build that fits in small kitchens. The Foodi Deluxe has a stainless steel inner pot, while less expensive models contain a non-stick interior. Both are durable for long-term use. The Foodi's interior handles are broader and easier to grasp than the Duo Crisp, so users can remove hot food without getting burnt.
Instant Pot's Duo Crisp stands slightly taller at 15.28 inches with the air fryer lid. This device is more adaptable in the kitchen and more comfortable to store because of its narrow shape. It's lighter than the Foodi, making it easier to transfer between surfaces. The Duo Crisp has two slotted handles near the top of the device that give better support when carrying it.
The control panels differ slightly, but each includes simple one-touch controls for sautéing, slow cooking, pressure-cooking, steaming, frying, baking, roasting, and broiling. The Foodi combines the bake and roast controls, which makes it more difficult to use. The Duo Crisp's buttons also have more space between them, so you're less likely to push the wrong one.
Features
Both of these cookers offer a variety of features that help them stand out from the crowd. The primary difference in their features is the number of functions. The Duo Crisp is more versatile for cooks with 11-in-1 functionality, whereas the Ninja Foodi Deluxe is only a 9-in-1 machine. Older and smaller versions of the Foodi are more limited with just seven or eight functions.
A couple of the cooking functions differ with the Ninja Foodi Deluxe offering a yogurt feature not available with the Duo Crisp. On the other hand, the Duo Crisp provides a sous-vide function, which the Foodi lacks. Users will have to decide which one they would rather have depending on their cooking habits.
The Ninja Foodi operates with TenderCrisp air frying technology, while the Duo Crisp utilizes its own version called EvenCrisp. Despite the difference in name, both TenderCrisp and EvenCrisp use a similar method of frying with hot air, minimal oil, and less mess. Both machines perform this function well, and users won't be disappointed with either one.
The Foodi has a crisping basket and a reversible rack, while the Duo Crisp includes a crisping tray, an air-frying basket, and a tray to adjust the height of the basket. The Foodi comes in a 5, 6.5, and an 8-quart size, while the Duo Crisp only comes in an 8-quart. The Foodi's range of accessories and sizes make it more versatile in the kinds of recipes users can make in it.
Ease of Use
Neither of these cookers is very difficult to control. Both are straightforward, making a range of cooking styles as simple as the touch of a button. Speaking of buttons, both have multiple wet and dry functions with one-touch controls that only require the cook to switch lids between pressure-cooking and air frying.
The Instant Pot Duo Crisp + Air Fryer may be a bit easier to use since both of the lids are totally removable, making it simple to add and take out food when alternating between cooking methods. Having to maneuver around the Foodi's hinged crisping lid can be cumbersome, especially when removing hot food from the inner pot.
That said, the Ninja Foodi accommodates large cuts of meat better with an extra-large inner pot capacity, and the included reversible rack streamlines cooking. The handles on the inner pot are wider than those of the Duo Crisp, making it easier to hold when wearing oven mitts.
However, for improved portability, the Instant Pot Duo Crisp + Air Fry may be the smarter choice. It's lighter and less bulky than the Foodi. The Foodi's unusual short yet wide dimensions also mean that accessories from other pressure cooker brands may not fit. Meanwhile, the Duo Crisp accommodates most other pressure cooker accessories.
Value
The Instant Pot Duo Crisp + Air Fryer has a more affordable price than the Ninja Foodi Deluxe. Older or smaller models of the Foodi have less expensive prices but don't include as many features, accessories, and high-quality materials.
Both of these machines occasionally go on sale, giving shoppers a chance to save a little money. At a more reasonable price and with more features, the Duo Crisp seems the wiser choice for shoppers who want to explore many different cooking methods with a more portable machine. It's also useful to have the two completely removable lids.
However, the Ninja Foodi Deluxe has more functional space inside and comes from the very best materials for extra durability. It also features enough cooking functions to prepare a variety of meals, including yogurt, and comes with a handy reversible rack that adds significant value to the overall product.
Ultimately, many cooks choose the Instant Pot Duo Crisp + Air Fryer thanks to its broader range of functions and lower price point. But, the Ninja Foodi still offers excellent benefits worthy of consideration. No matter which of these appliances they choose, cooks are sure to be impressed by their versatility and how easy they make preparing delicious meals.