The Instant Pot has quickly become a bestseller in the cooking world. Everyone seems to have one because they're handy for preparing multiple parts of a menu in a short amount of time. There are many great Instant Pot cookbooks on the market so choosing the best one can be overwhelming.
Don't worry, we've done the work for you and found 7 best-selling instant pot cookbooks.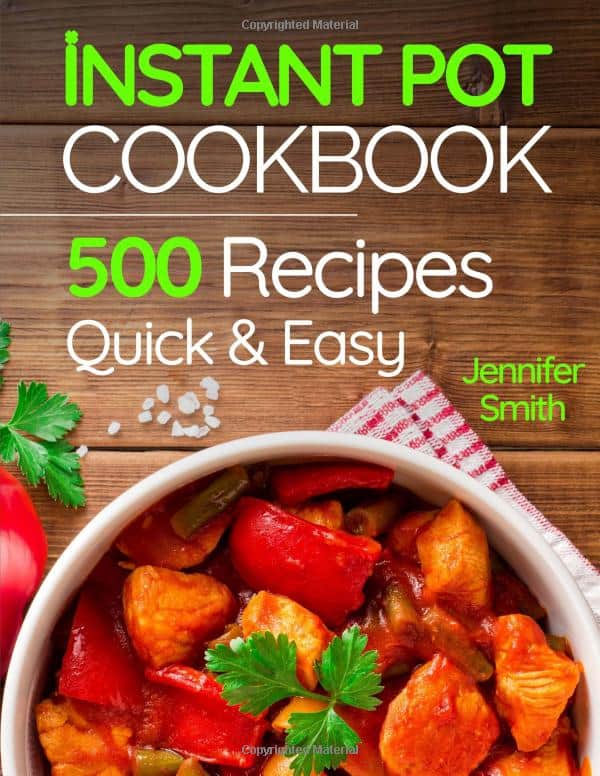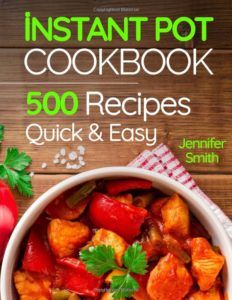 1. Instant Pot Pressure Cooker Cookbook: 500 Everyday Recipes for Beginners and Advanced Users
This Instant Pot cookbook is an Amazon Best Seller. It ranked #1 in Pressure Cooker Recipes as well as Native American Cooking, Food and Wine, and Midwestern U.S. Cooking, Food and Wine. Hundreds of Instant Pot owners have used it to cook faster, better, and tastier family meals.
Eating should be a fun experience shared with friends and family. The cookbook says that you'll find:
Tips and tricks to make these recipes family favorites
Incredible meals your whole family will enjoy
Each dish has clear, step-by-step instructions
Vegetarian recipes
Many of the recipes are for people with busy lives and little time to prepare meals
Ingredient lists that are detailed along with exact cooking times so you can replicate each dish perfectly
More helpful instant pot information
With 500 budget-friendly recipes, it's clear that readers really liked this cookbook. It takes the stress off people who want to free themselves from fast food and take out. It meets the needs of those that don't want to buy fancy ingredients, nor do they want to buy cans of ingredients that they never cook with. There's no need to buy spices that you'll only use once.
There are satisfying meals for everyone, even the pickiest eaters. The book is set up logically so that recipes are easy to find. It has a well-organized table of contents that categorizes recipes by their main ingredient.
This book has great recipes such as:
Thanksgiving Turkey
Cranberry-Almond Quinoa
Braised Duck with Potato.
Marinated Steak
Cheese Steak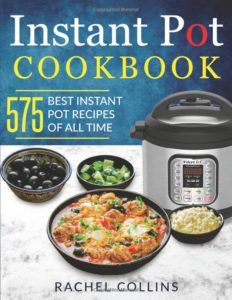 2. Instant Pot Cookbook: 575 Best Instant Pot Recipes of All Time
This well-organized cookbook by Rachel Collins is full of the very best planned-out and tested recipes for the Instant Pot. Unlike other unorganized cookbooks, these 575 recipes have an excellent recipe index, so it's easy to find your favorite meals to cook again. Each meal also includes nutritional information, so you understand just what goes into every dish that you prepare.
The people that created the cookbook are real people who prepare these recipes for their families and friends, so every dish was tried and perfected. They theorize that the way to win over your significant other and family is to put amazing food on the table.
They made sure that they didn't cut corners, and they provide excellent support. Collins and the rest of the cookbook team guarantee you the best product and service, or they'll refund your money. That's not something you see all of the time with recipe books!
The book includes the 575 recipes that utilize natural and budget-friendly ingredients. It has excellent tips on adapting your favorite recipes to the Instant Pot as well as helpful charts that illustrate measurement conversions and Instant Pot cooking times and temperatures.
Some examples of recipes in the book are:
Cherry Cheesecake
Sesame Vegetable Teriyaki
Tuna Chowder
Seafood Jambalaya
Instant Thai Chicken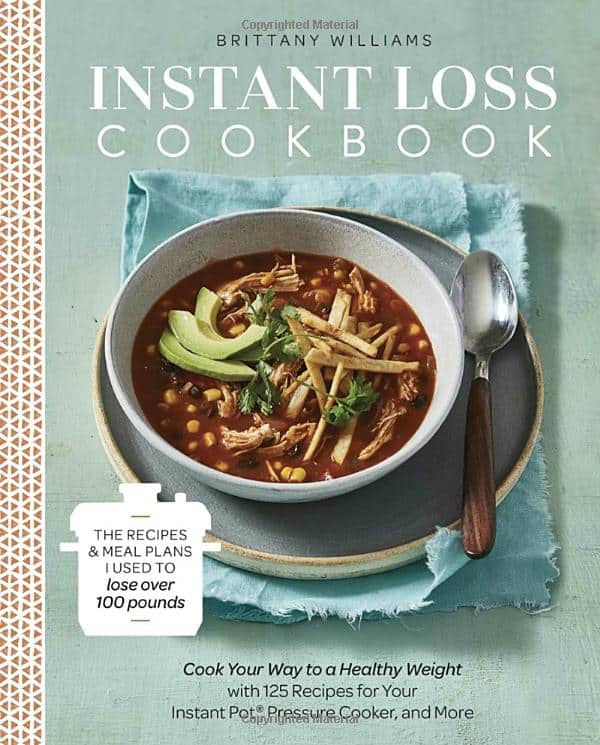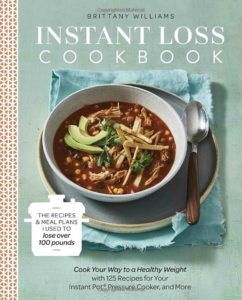 3. Instant Loss Cookbook: Cook Your Way to a Healthy Weight with 125 Recipes for Your Instant Pot
Almost everyone wants to lose weight or eat better at some point in their lifetime. Now you can with quick and healthy Instant Pot recipes in this incredible cookbook by Brittany Williams. Brittany struggled with weight loss her whole life. Like many of us, she grew up on processed, frozen, fried, and fast food until she hit her highest weight of 260 lbs.
Soon she found that her young daughter's autoimmune disease was better when she ate a whole-food based, dairy-free, low-sugar, and grain-free diet. Realizing that her body deserved the same treatment, she vowed to herself that every meal she made would be home-made and she used her Instant Pot to make it easier. Now she's sharing these tasty, family-friendly recipes with the world.
The Instant Pot made these tasty meals a breeze in under 30 minutes which is perfect for the busy family. Brittany lost an amazing 125 lbs. while feeding her family healthy, scrumptious meals.
The cookbook includes the meal plan that Brittany used to lose all of her weight, and 75 percent of these meals are for a multicooker or the Instant Pot. She used ingredients that you can find in your local store and highlighted vegetables. Not only that, her recipes provide an excellent guide on learning how to use your Instant Pot. Use her recipes for convenient, healthy meals that help keep that weight off.
You'll find that you use this recipe book all the time. Many readers say that they use it so often they never put it away. If you can only buy one Instant Pot recipe cookbook, perhaps this is the one you should choose. It's all-inclusive and allows you to find everything you need in one handy recipe book.
Some recipes included in this cookbook are:
Coconut Flour Pancakes
Simple Chicken Caesar Salad
Shepherd's Pie
Classic Tostadas
Kale and Chicken-Sausage Alfredo Pizza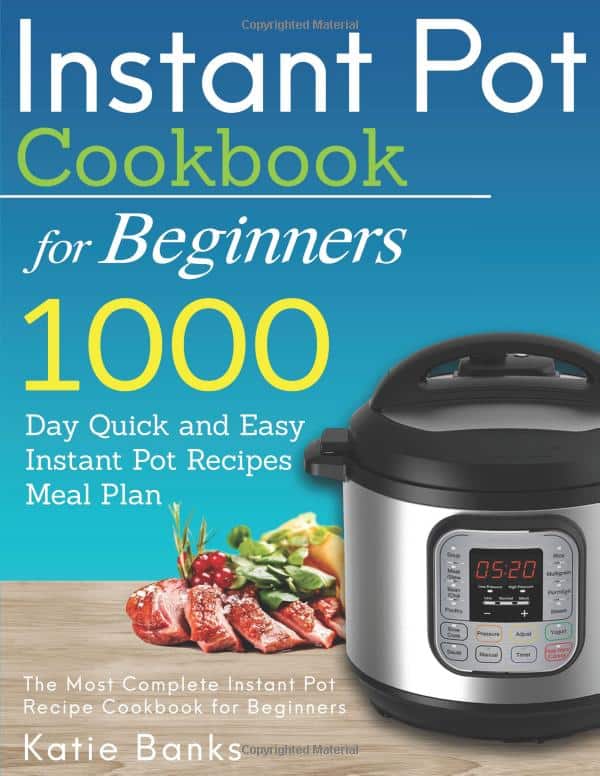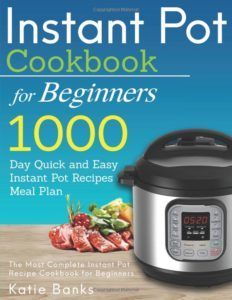 4. Instant Pot Cookbook for Beginners: 1,000 Day Quick and Easy Instant Pot Recipes Meal Plan
Katie Banks wrote what could be the best, most complete Instant Pot recipe book ever written specifically for beginners. If you're new to the Instant Pot universe, this cookbook may be the only one you need. It provides clear, detailed instructions that even advanced users will find helpful.
This cookbook promises that you'll find in this book:
Instant Pot recipes that work for all users
Tasty recipes organized within the book by ingredient
A complete guide on the Instant Pot's essential functions and how to use it
1,000 days of Instant Pot meals to make meal planning simple
This recipe book also has comprehensive nutritional information on all of the recipes as well as how many people each meal serves. This detailed information also helps people following a diet or counting calories.
There is a broad range of recipes that provide enough diversity to make any picky eater happy. Some recipes included are:
Lamb Chops in Masala Sauce
Portobello Turkey Legs
Parma Lemon Fish
Hainanese Chicken
Cottage Berry Pancake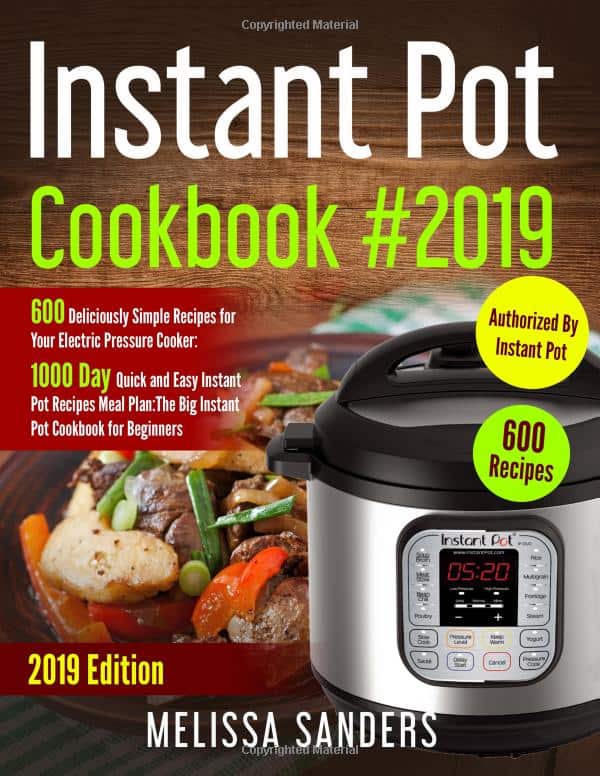 5. Instant Pot Cookbook #2019: 600 Deliciously Simple Recipes for Your Electric Pressure Cooker
Melissa Sanders created this cookbook with quick and simple meals in mind. It's one of the best all-inclusive Instant Pot cookbooks for beginners. This detailed recipe book has over 1,000 days of recipes and helpful hints for those just starting out with an electric pressure cooker or multicooker.
This cookbook made the Amazon best sellers list too as well as #8 in Cooking Encyclopedias and #8 in Cooking, Food & Wine Reference Books. Its ranking illustrates that it's a great go-to Instant Pot recipe book.
Recipes focus on how easy the Instant Pot is to use compared to traditional pressure cookers. Traditional pressure cookers have intimidating valves to release pressure and hot, dangerous steam to worry about. The Instant Pot creates succulent and tender meals that are easy and quick to prepare for even the busiest person.
Sanders shows how to cook yummy homemade bean soup in 40 minutes without soaking dry beans for hours or overnight. A whole chicken cooks in less than an hour. The Instant Pot allows you to prepare and cook an endless variety of delicious foods in minutes instead of hours. It's much quicker than your favorite slow cooker.
Some of the recipes in this book include:
Crab-Stuffed Mushrooms
Buffalo Meatballs
Pumpkin Coffee Cake
Curry Beef Stew
Chocolate Almond Fudge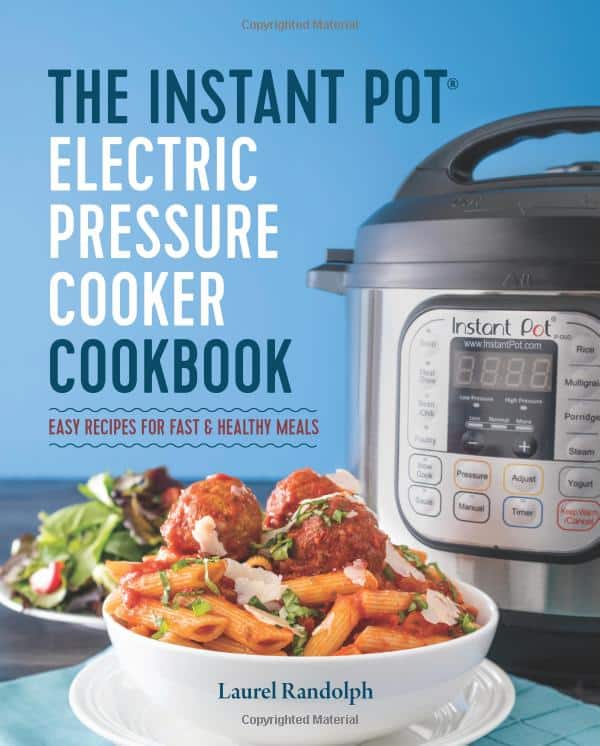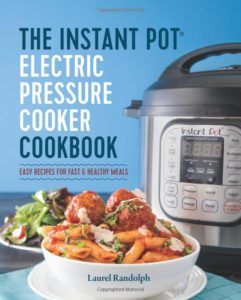 6. The Instant Pot Electric Pressure Cooker Cookbook: Recipes for Fast & Healthy Meals
This Instant Pot cookbook placed #1 in Poultry Cooking on Amazon's Best Seller list. It ranked #6 in Pressure Cooker recipes and #12 in the category Quick & Easy Cooking Books. Author Laurel Randolph is a Los Angeles-based recipe developer and food writer. She created this recipe book to teach readers how to make simple, healthy recipes in the Instant Pot.
This book has sold over 500,000 copies. It includes more than 100 recipes that you can customize to your preferences. This book has:
Easy recipe guidelines that include cooking times and pressure levels
More than 100 meals with options for Paleo-friendly, vegetarian, and gluten-free choices
Helpful prep-time labels tell you the meals that cook in 20 minutes versus 45+ minutes and kid-friendly recipes.
Whether you're a long-time user of the Instant Pot or a beginner this book satisfies all things multicooker. It's perfect for busy parents who still want to put quality meals on the table. You'll find handy tips and tricks that help you cook perfectly with the Instant Pot. Even Instant Pot confirmed that this high-quality recipe book legitimately uses its name with their permission since there are so many books floating around that weren't authorized to use the name.
Randolph understands that the Instant Pot can be intimidating to the novice, so her recipe book is much more than a simple cookbook. It includes everything that you need to know about the Instant Pot and has an introduction to pressure cooking and the Instant Pot in the beginning.
Some of the recipes in this book are:
Chicken Pot Pie
Classic Chicken Wings
Apple and Cinnamon Oatmeal
Sunday Pot Roast
Molten Brownie Pudding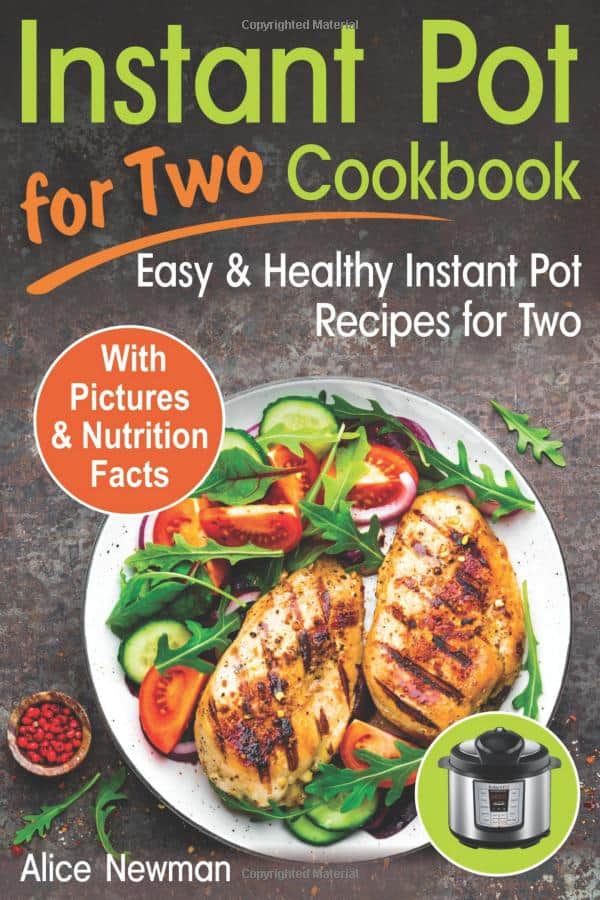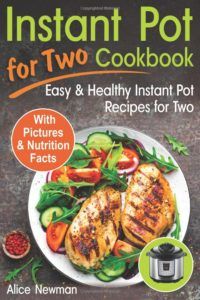 7. Instant Pot for Two Cookbook: Easy and Healthy Instant Pot Recipes Cookbook for Two
This great cookbook was written by a woman who understands that not everyone has a big family to cook for. Sometimes preparing food for 1 or 2 is more difficult than cooking for a whole crew of people. Alice Newman made the Amazon Best Seller list with this cookbook in the category New England Cooking, Food and Wine. This book also placed #2 in Baby Food Cooking and #3 in Cooking for One or Two.
Alice focused on tasty and nutritious Instant Pot meals that are scaled down for two people. She's a personal trainer who needed to eat healthily but didn't want to spend forever in the kitchen making meals.
Newman is also a Certified Diet and Nutrition Specialist as well. It was difficult for her to put a nutritious meal on the table after she came home from an exhausting day of work. You won't need to worry anymore about what to make for dinner. It's in this recipe book and takes less than 30-40 minutes to cook.
This book includes:
What the Instant Pot is and how to use it
Breakfast ideas for two people
Pork, chicken and beef recipes
Romantic vegetarian and seafood meals
It comes in a full-color or black and white paperback format. See why hundreds of people have bought this book and love it. Instant Pot for Two Cookbook is great for beginners or advanced users. People with health problems really like this book because of the healthy recipes in it. They said that the recipes were easy to follow and even brought some couples closer together.
Recipes in the book include:
Cheesy Chicken
Instant Pot Steak
Teriyaki Chicken
Instant Pot Mahi-Mahi
Cherry Apple Pork
We hope that one of these 7 best Instant Pot cookbooks meets your needs. Whether you're only cooking for two or a whole family, there is a book on this list that surely fits your needs.
Most of these books are excellent for advanced or beginning electric pressure cooker users. Many include a section on how to use the Instant Pot and helpful tips and tricks for cooking with one efficiently.
The Instant Pot is a time-saver for many busy people looking to put quick and delicious meals on the table after a long day of work. If you haven't purchased a multicooker yet, hurry out and get one to go with one of these incredible and best healthy Instant Pot cookbooks.