COSORI Premium Pressure Cooker Review
Take a closer look at the versatile Cosori Premium Pressure Cooker
Pressure cookers are known for their convenience as well as their ability to cook a wide variety of foods. The Cosori Premium Pressure Cooker offers the perfect combination of technology to help master some of your favorite recipes, while also adding some new flavors to your repertoire.
The makers of the Cosori Premium Pressure Cooker claim that the product uses advanced steam technology, which cooks meals up to 70% faster than other appliances, while locking in more nutrients and vitamins. This allows you to save time and energy to prepare healthy meals that you want, no matter how complicated your schedule is.
The Cosori Premium Pressure Cooker's easy-to-use LED digital display makes cooking simpler than ever before. Even if you aren't a master chef, this cooker will put your mind at ease knowing that a delicious meal is as easy as pressing a button.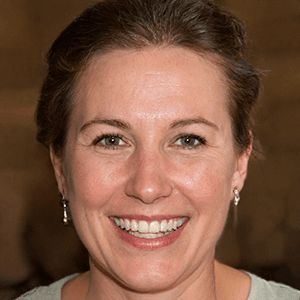 The Cosori Premium Pressure Cooker is relatively affordable in comparison to some of the better known pressure cooker brands, such as Instant Pot or Ninja. However, don't let the price fool you; this cooker can hold its own against the competition, and it comes with its own recipe book to help you get started.
This particular model comes in a sleek stainless steel that offers a clean look that could fit perfectly in any kitchen. The 8 quart model is 14.2 inches wide and 14.2 inches tall, while the 6 quart model is 12 inches wide and 13.2 inches tall. Whether your feeding a small family or a whole party, the Cosori Premium Pressure Cooker should have no problem fitting right in your kitchen.
8 Cooking Functions

The Cosori Premium Pressure Cooker offers 8 different cooking functions: bake, sauté or brown, boil, steam, yogurt, slow cook, and hot pot or pressure cook. In addition to these preset functions, the manual cooking mode allows you to cook freely, customizing some of your favorite dishes.

17 Smart Programs

These programs include the following: meat/stew, poultry, soup, beans/chili, white rice, multigrain, steam vegetables, slow cook, yogurt, pasta/boil, steam potatoes, hot pot, sauté/brown, bake, reheat, and keep warm.
Customizable Cooking

Cook times are customizable, making it easy to ensure your meal is cooked to perfection. As with most pressure cookers, this feature makes it simple for you to set it and forget it. In addition to customizable cook times, the Cosori Premium Pressure Cooker has 6 different pressure levels, as well as 2 manual pressure cooking modes.

Advanced Steam Technology

The advanced steam technology is both eco- and user-friendly. The technology locks in more steam to help cook meals 70% faster than they could be cooked on the stove or in an outdated slow cooker. No steam is emitted during the cooking process, which makes it safe to handle when in use. Perhaps the most enticing part about the technology is that it locks in nutrients and vitamins in some of your favorite healthy meals.

Dishwasher Friendly

The stainless steel inner pot and glass lid are dishwasher friendly, making even the messiest meals an easy clean up. The bonus steam rack can also be washed in the dishwasher.
Safety Features

Modern day pressure cookers can help alleviate some of the stress surrounding safe cooking practices. The Cosori Premium Pressure Cooker utilizes technology to help making pressure cooking as safe as possible, no matter what your skill level is in the kitchen.

Pressure Limiter - Prevents the pressure from rising to unsafe levels
Lid Lock Safety - Locks the lid whenever the cooker is pressurized
Anti-Clog Protection - Prevents food particles from blocking pressure valve
Lid Position Monitor - Stops the cooking process if the lid is not properly sealed
Pressure Auto-Control Guard - Maintains a safe range of pressure
Electrical Current Monitor - Turns off the cooker whenever the electrical current rises above a safe operational level
Excessive Pressure Protection - Releases pressure internally
Temperature Controller - Ensures that food is thoroughly cooked without being burned
Excess Temperature Monitor - Cuts power if the cooker temperature reaches an unsafe level
The Cosori Premium Pressure Cooker is available in 6qt and 8qt models.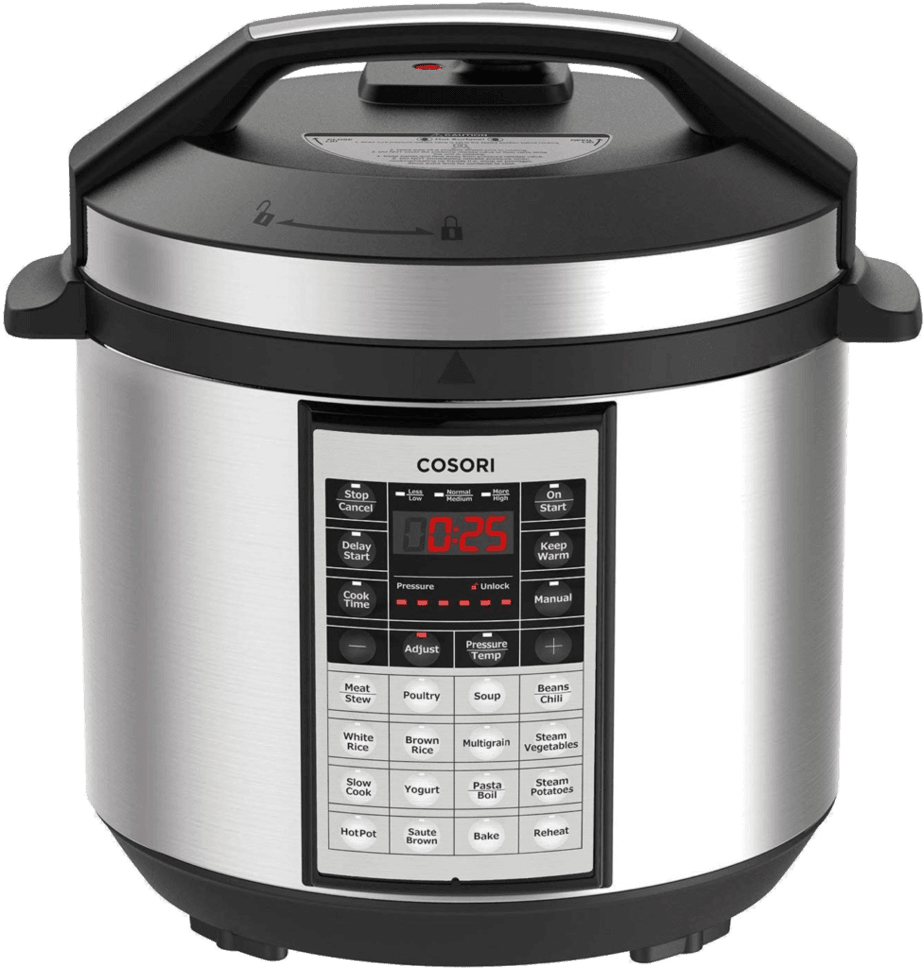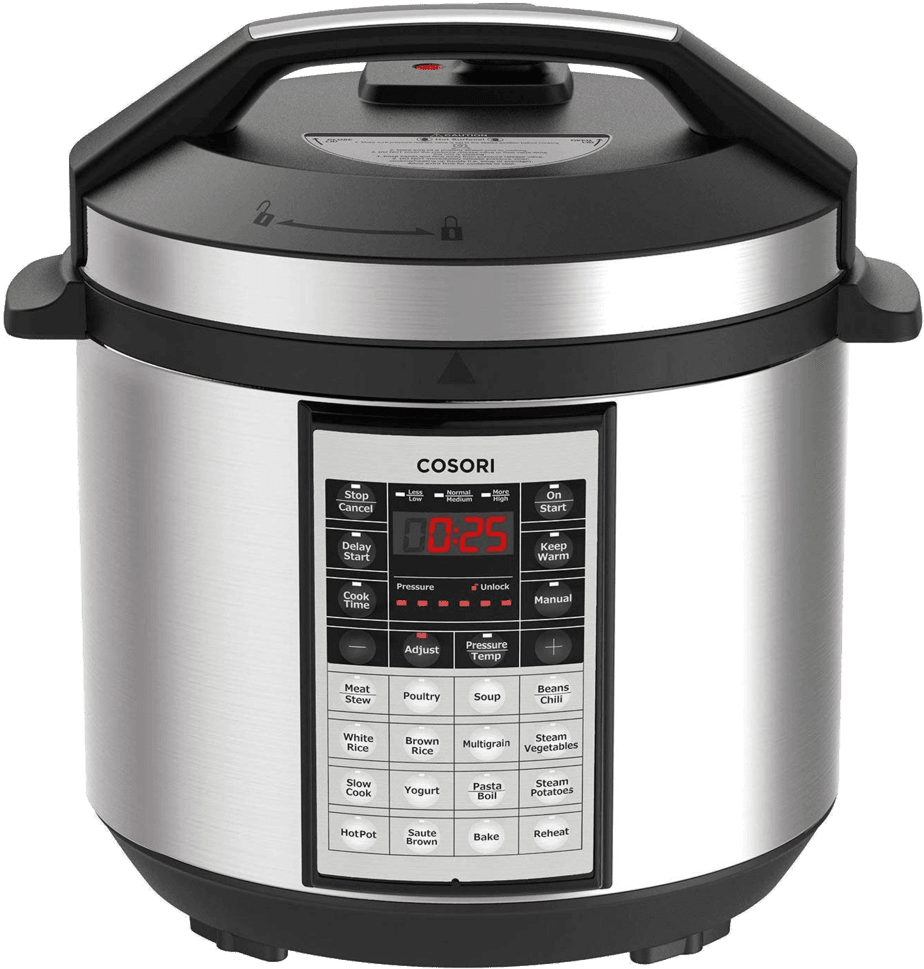 6qt
The 6 quart model is perfect for any family, serving 3-6 people. This size would be the perfect fit for any mom and dad who were looking to diversify their family meals.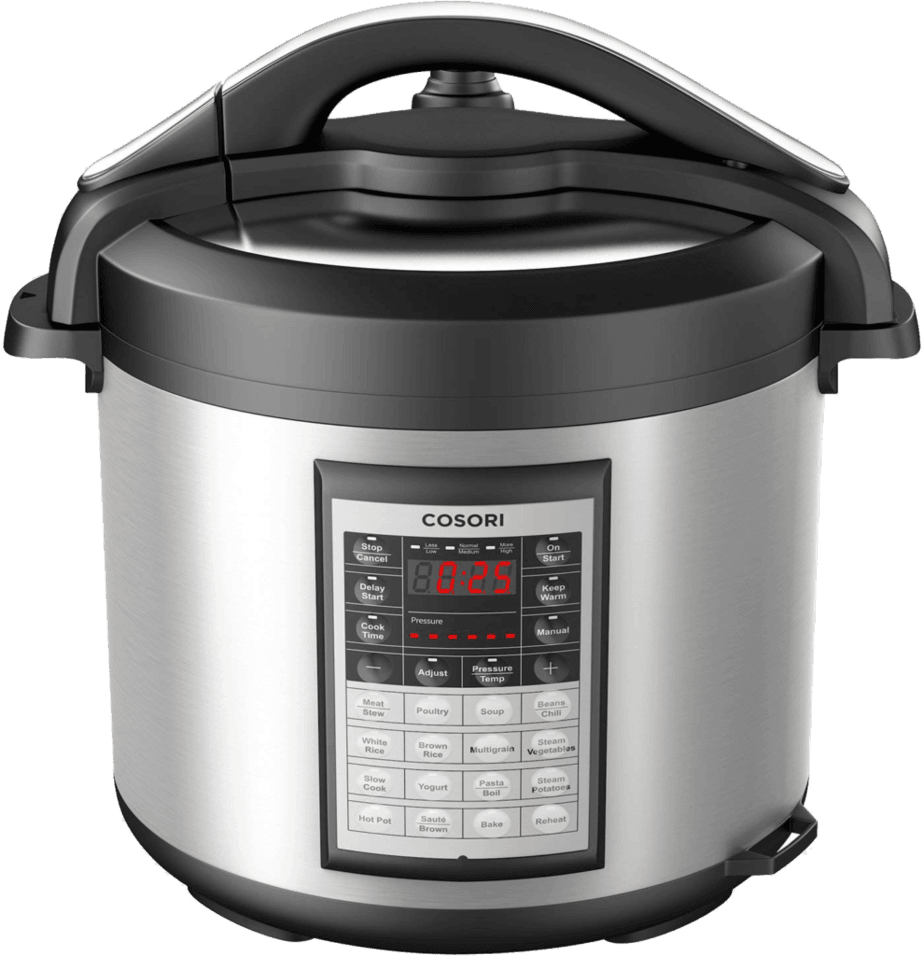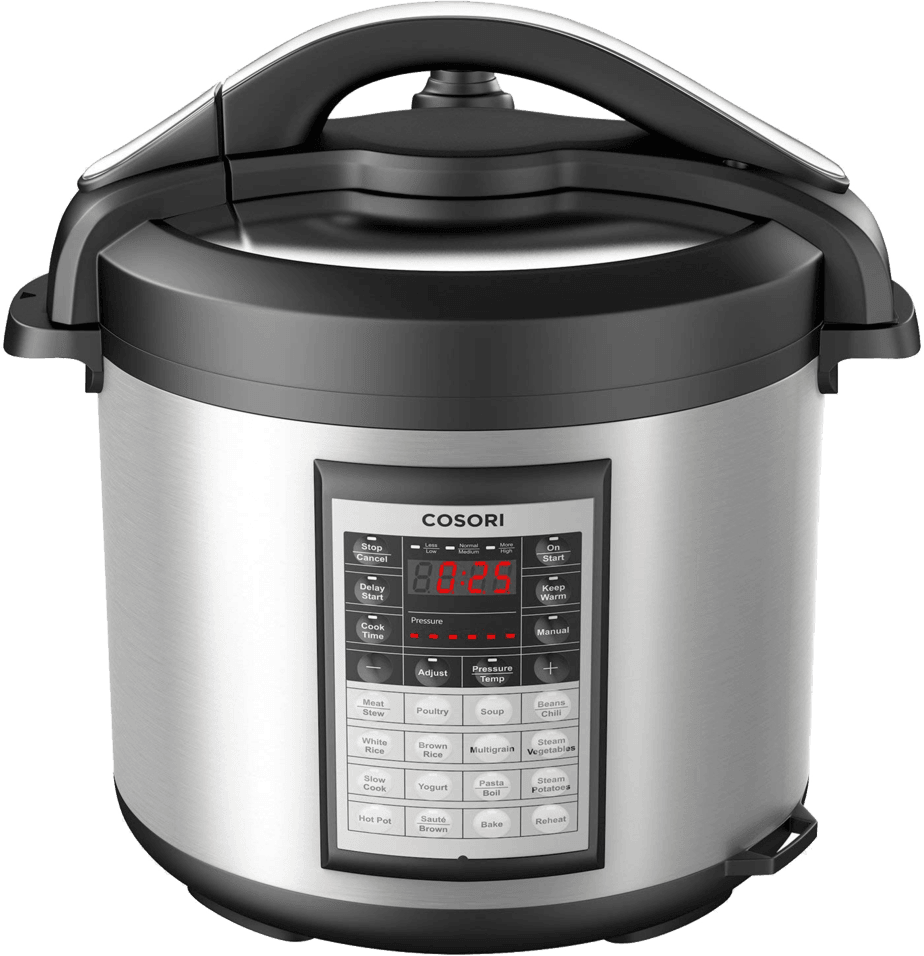 8qt
The 8 quart model is perfect for large families or parties. This model can cook up to 6-8 pounds of meat and can serve 6 people or more.
Size

Many Amazon reviews praised the 8 quart model for its ability to feed large families and parties, or to simply prepare large amounts of food that could be saved for leftovers. The 8 quart model is larger than a number of comparable appliances and offers a nice alternative for preparing larger meals.

Versatility

The Cosori Premium Pressure Cooker's 8 cooking functions and 17 smart programs make it a valuable asset in any kitchen. With the touch of a button, you can prepare a wide variety of meals that from some of your favorite cookbooks. With its digital display, users can make a new meal every day.

Easy-to-Use

Many Amazon reviews praised this model for its user-friendly design, making it easy for even beginners to start using cutting edge pressure cooker technology. Whether you're buying your first pressure cooker or your 10th, the Cosori Premium Pressure Cooker is sure to be an approachable option.

Value

The Cosori Premium Cooker has been touted on Amazon's reviews for its value in comparison to some of its competitors. A few Amazon users said that this particular model offered features that are nearly indiscernible from those offered by its Instant Pot counterpart. However, the Cosori model comes at a more reasonable price, giving is a slight edge over its competitors.

Customer Service

In today's tech world, the customer service industry is booming; however, it's rare that you find 24-hour customer service paired with a kitchen appliance. The Cosori Premium Cooker's 24-hour customer service is a feature that is completely unique. Many Amazon reviews stated their pleasure at the fact that any problems they had could be solved with a simple phone call.
Faulty Timer

Some Amazon reviews mentioned issues with the timer.. A few folks said the timer was only cooking for about half the time that they had set it for. Most of these issues were resolved through the help of customer service and replacement machines.

Pressure Seal

There are some reported issues with the pressure seal not sealing properly or the pressure failing to reach the desired PSI.
Cosori Premium Pressure Cooker